Perfect Tunes (Hardcover)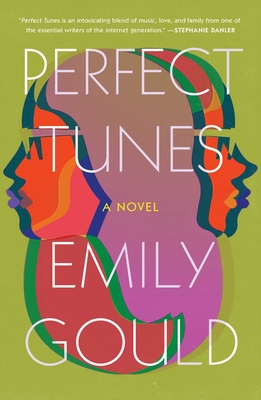 $26.00
Coming Soon - Available for Pre-Order Now
Description
---
"Perfect Tunes is an intoxicating blend of music, love, and family from one of the essential writers of the internet generation." —STEPHANIE DANLER

"Perfect Tunes is a zippy and profound story of love, loss, heredity, and par­enthood. I gulped it down, as will all mothers, New Yorkers, music fans, and lovers of quick-moving novels that are both funny and deep. I loved every page." —EMMA STRAUB

"Perfect Tunes is mind-blowing….Full of unspeakable insights, or at least I thought they were unspeakable, but there they are. Now I want everyone I know to read this book and talk about it with me." —ELIF BATUMAN

The breakout novel from Emily Gould: a story of music and motherhood, ambition and compromise—of life, in all its dissonance and harmony

It's the early days of the new millennium, and Laura has arrived in New York City's East Village with the hopes of recording her first album. A songwriter with a one-of-a-kind talent, she's just beginning to book gigs when she falls hard for Dylan, a troubled but magnetic musician whose star is on the rise. Their time together is stormy and short-lived—Dylan dies a few months into their relationship—but will reverberate for the rest of Laura's life.

Flash forward fourteen years: Laura's daughter, Marie, is asking ques­tions about the father she never knew, questions that Laura does not want to answer. Laura has built a quiet life that bears little resemblance to the one she envisioned when she left Ohio all those years ago, and she's taken pains to close the door on what was and what might have been. But Marie won't let her, and when she attempts to track down Dylan's family, both mother and daughter are forced to confront the heartbreak at the root of their relationship.

Funny, wise, and utterly immersive, Perfect Tunes explores the fault lines between parents and children, and asks whether dreams deferred can ever be reclaimed.
About the Author
---
Emily Gould is the author of the novel Friendship and the essay collection And the Heart Says Whatever. With Ruth Curry, she runs Emily Books, which publishes books by women as an imprint of Coffee House Press. She has written for the New York Times, New York, The New Yorker, Bookforum, and many other publications. She lives in New York City with her family.
Praise For…
---
"Perfect Tunes is an intoxicating blend of music, love, and family from one of the essential writers of the internet generation. From the obsessive spark of first love to the complexities of mother-daughter relationships, Emily Gould captures life's ups, downs, and in-betweens with wisdom and wry humor, giving us one of the great New York coming-of-age stories."
—Stephanie Danler

"Perfect Tunes is mind-blowing. I have yet to read any text longer than like one page by Emily Gould in which she doesn't articulate something I often thought, or felt, but never previously articulated or acknowledged. She is brilliant and fearless. Her take on mothers and daughters, and daughters' boyfriends, and daughters' boyfriends' mothers, and daughters' daughters boyfriends, is full of unspeakable insights, or at least I thought they were unspeakable, but there they are. Now I want everyone I know to read this book and talk about it with me."
—Elif Batuman

"Perfect Tunes is a zippy and profound story of love, loss, heredity, and parenthood. I gulped it down, as will all mothers, New Yorkers, music fans, and lovers of quick-moving novels that are both funny and deep. I loved every page."
—Emma Straub