Make Trouble: Standing Up, Speaking Out, and Finding the Courage to Lead--My Life Story (Hardcover)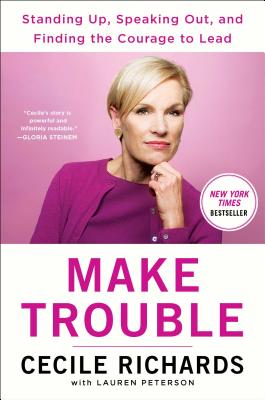 $27.00
Email orders@greenlightbookstore.com for information about this item.
Description
---
INSTANT NEW YORK TIMES BESTSELLER

"Richards offers practical advice and inspiration for aspiring leaders everywhere."—Hillary Rodham Clinton

"An enthralling memoir." —Booklist (starred review)

To Make Change, You Have to Make Trouble

From Cecile Richards—president of Planned Parenthood Federation of America and the Planned Parenthood Action Fund for more than a decade, daughter of the late Governor Ann Richards, featured speaker at the Women's March on Washington, and a "heroine of the resistance" (Vogue)—comes a story about learning to lead and make change, based on a lifetime of fighting for women's rights and social justice.

Cecile Richards has been an activist since she was taken to the principal's office in seventh grade for wearing an armband in protest of the Vietnam War. She had an extraordinary childhood in ultra-conservative Texas, where her civil rights attorney father and activist mother taught their kids to be troublemakers. In the Richards household, the "dinner table was never for eating—it was for sorting precinct lists."

From the time Richards was a girl, she had a front-row seat to observe the rise of women in American politics. She watched her mother, Ann, transform from a housewife to an electrifying force in the Democratic party who made a name for herself as the straight-talking, truth-telling governor of Texas. But Richards also witnessed the pitfalls of public life that are unique to women. Her experiences paint a powerful portrait of the misogyny, sexism, fake news, and even the threat of violence confronting those who challenge authority.

As a young woman, Richards worked as a labor organizer alongside women earning minimum wage and learned that those in power don't give it up without a fight. Now, after years of advocacy, resistance, and progressive leadership, she shares her story for the first time—from the joy and heartbreak of activism to the challenges of raising kids, having a life, and making change, all at the same time.

She shines a light on the people and lessons that have gotten her through good times and bad, and encourages readers to take risks, make mistakes, and make trouble along the way. Richards has dedicated her life to taking on injustice, and her memoir will inspire readers to hope and action.
About the Author
---
Cecile Richards is a national leader for women's rights and social and economic justice. She began her career fighting for better wages and working conditions in the labor movement, then moved back home to Texas to help elect the state's first Democratic woman governor: her mother, Ann Richards. She went on to start her own grassroots organizations, and later served as deputy chief of staff to House Democratic Leader Nancy Pelosi. In 2011 and 2012, she was named one of Time magazine's 100 Most Influential People in the World. As president of Planned Parenthood Federation of America and Planned Parenthood Action Fund for more than a decade, Richards worked to increase affordable access to reproduction health care and strengthen the movement for sexual and reproductive rights. She is a frequent speaker and commentator on issues related to women's rights and activism. She and her husband, Kirk Adams, have three children and live in New York City and Maine. She spends most of her free time baking pies.
Praise For…
---
"By detailing her own political battles, Cecile Richards has crafted a blueprint for budding activists.... Genial, engaging, and humorous ... If you're looking for books to fill you with energy for the long haul that lies before us, this one is a great place to start."
—New York Times Book Review

"For more than a decade, America has known Cecile Richards as the fierce and fearless president of Planned Parenthood. Make Trouble offers a window into her life: the early organizing effort that landed her in the principal's office; the historic campaign of her mother, Ann Richards, for governor of Texas; her courageous leadership on behalf of women; her travels during the 2016 presidential election; and the lessons she's learned from the outpouring of activism America has seen since. With humor, heart, and hope, Cecile Richards offers practical advice and inspiration for aspiring leaders everywhere."
—Hillary Rodham Clinton

"Cecile Richards's story is powerful and infinitely readable. Whether you are newly 'woke,' a longtime activist, or just a caring citizen wondering how to advance democracy in hard times, Make Trouble has the answers. Cecile takes the mystery out of activism, gives you practical examples of how it's done, and tells stories that melt the distance from your front porch to Washington. She is the best teacher on earth—someone you trust."
—Gloria Steinem

"Make Trouble is a timely reminder that each of us has the power to fight for justice and create the change we want to see. With insight and humor, Cecile Richards offers a call to action for aspiring organizers and leaders. A must-read for anyone hoping to make a difference and trying to figure out where to start."
—Senator Kamala Harris

"Cecile Richards is whip-smart, clear-eyed, quick-witted, levelheaded and lionhearted. She employs all of these virtues in her fight for women's health and women's rights. She's also employed them in the writing of this wonderful memoir, Make Trouble. The book, like its author, is a powerhouse."
—Ann Patchett

"With Make Trouble, Cecile Richards—the fiery feminist icon to whom we are indebted—is now also the relatable warrior we adore. By inviting us beyond her frontline fight for justice and into her heart, Richards shows us that a life of activism isn't reserved for the perfect—it's for the passionate—and that it's never too early or too late for women to show up for themselves and each other. In these difficult times in which equality-minded folks are desperate to find purpose and connection, Make Trouble is a roadmap to both."
—Glennon Doyle

"An intimate yet wide-ranging chronicle of a life in the trenches and at the pinnacle of her profession, Richards' enthralling memoir will provide rousing motivation for anyone passionate about social and political causes."
—Booklist (starred review)

"[T]he guidelines for starting any organization are spot-on: direct, down-to-earth, and highly practical… A memoir that makes palpable the immense influence of an organization that has improved so many women's lives."
—Kirkus

"In this passionate self-portrait, activist Richards maps her road to success from union organizer to her tenure as president of Planned Parenthood, recalling the experiences that shaped her career… It serves as a call to action for women who are mobilizing to make a difference in government and healthcare policies."
—Publishers Weekly

"Part autobiography, part handbook for the resistance, this inspiring tale of advocacy is a must-read for every Nasty Woman out there."
—Bustle

"This memoir/feminist manifesto from Planned Parenthood president Cecile Richards will inspire you to make waves and be brave."
—Glamour

"Truly inspiring."
—Redbook

"Documenting an inspiring life and offering a call to action, this timely volume is for all readers."
—Library Journal