Sadness Is a White Bird: A Novel (Hardcover)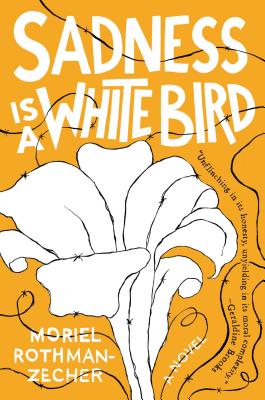 $26.00
Email or call for price.
Description
---
**A 2019 Dayton Literary Peace Prize Finalist**
**A 2018 National Jewish Book Award Finalist for Debut Fiction**

"Nuanced, sharp, and beautifully written, Sadness Is a White Bird manages, with seeming effortlessness, to find something fresh and surprising and poignant in the classic coming-of-age, love-triangle narrative, something starker, more heartbreaking: something new." —Michael Chabon

"Unflinching in its honesty, unyielding in its moral complexity." —Pulitzer Prize–winning author Geraldine Brooks

In this lyrical and searing debut novel written by a rising literary star and MacDowell Fellow, a young man is preparing to serve in the Israeli army while also trying to reconcile his close relationship to two Palestinian siblings with his deeply ingrained loyalties to family and country.

The story begins in an Israeli military jail, where—four days after his nineteenth birthday—Jonathan stares up at the fluorescent lights of his cell, and recalls the series of events that led him there.

Two years earlier: Moving back to Israel after several years in Pennsylvania, Jonathan is ready to fight to preserve and defend the Jewish state, which his grandfather—a Salonican Jew whose community was wiped out by the Nazis—helped establish. But he is also conflicted about the possibility of having to monitor the occupied Palestinian territories, a concern that grows deeper and more urgent when he meets Nimreen and Laith—the twin daughter and son of his mother's friend.

From that winter morning on, the three become inseparable: wandering the streets on weekends, piling onto buses toward new discoveries, laughing uncontrollably. They share joints on the beach, trading snippets of poems, intimate secrets, family histories, resentments, and dreams. But with his draft date rapidly approaching, Jonathan wrestles with the question of what it means to be proud of your heritage and loyal to your people, while also feeling love for those outside of your own tribal family. And then that fateful day arrives, the one that lands Jonathan in prison and changes his relationship with the twins forever.

Powerful, important, and timely, Sadness Is a White Bird explores one man's attempts to find a place for himself, discovering in the process a beautiful, against-the-odds love that flickers like a candle in the darkness of a never-ending conflict.
About the Author
---
Moriel Rothman-Zecher is an Israeli-American novelist and poet. He is a 2018 National Book Foundation "5 Under 35" honoree and received a 2017 MacDowell Colony Fellowship for Literature. His writing has been published in The New York Times, The Paris Review's "The Daily," Haaretz, and elsewhere. He lives in Yellow Springs, Ohio, with his wife, Kayla, and daughter, Nahar. Read more at TheLefternWall.com and follow him on Twitter @Moriel_RZ.
Praise For…
---
"Rarely does one come across a debut novel as artistically accomplished, politically unsettling, and emotionally unflinching as Moriel Rothman-Zecher's Sadness Is A White Bird. A richly empathic story of Israel and Palestine, history and memory, explored through the intimate bonds between young Jewish and Muslim Israelis, it offers all that one could wish for in a coming-of-age story. . . . At once a celebration of youth and love, and a lamentation for the daunting odds of sustaining either in the tragic circumstances of the Middle East, this novel of inconvenient truths is a triumph of the aesthetic and moral imagination, one that will likely leave its readers (one can only hope that many Israelis and Palestinians will be among them) feeling unsettled and perhaps utterly transformed."—Jewish Book Council

"Nuanced, sharp, and beautifully written, Sadness Is a White Bird manages, with seeming effortlessness, to find something fresh and surprising and poignant in the classic coming-of-age, love-triangle narrative, something starker, more heartbreaking: something new." —Michael Chabon

"Conveys the complexities of Israeli and Palestinian life with passion, nuance and tenderness… Rothman-Zecher is an incredibly talented young writer...He has shown a fearlessness and vulnerability on these pages that speak to his ability to explore difficult terrain without feeling the need to draw any neat or concise conclusions. That is the gray matter of great fiction. It shuns certainty and is open, nuanced, inconclusive and often contradictory. Just like Israeli reality."

—Jerusalem Post

"A passionate, poetic coming-of-age story set in a mine field, brilliantly capturing the intensity of feeling on both sides of the conflict." —Kirkus (Starred Review)

"Passionate, topical, and thoughtful, this heartbreaking tale is vital reading for anyone who cares about the future of this part of the world." —Library Journal (Starred Review)

"I loved Sadness is a White Bird for its profound meditation on how we each strive to hold ourselves morally and politically to account, an individual resistance to a world of walls and violence, in defiance of the belief that 'Each man has limited space in his heart, for sadness and for sorrow and for regret.'" —Madeleine Thien, author of the Man Booker Prize Finalist Do Not Say We Have Nothing

"Unflinching in its honesty, unyielding in its moral complexity, Sadness Is a White Bird offers thoroughly original insights into the holy and the broken place that is modern Israel. Moriel Rothman-Zecher is a piercing observer and a relentless interrogator who peels back layers of pain to lay bare the difficult truths of his homeland, and the heavy price paid by those for whom love trumps hatred." —Geraldine Brooks, author of Pulitzer Prize-winning novel March

"In a sense, one must travel to Palestine in order to experience the grief and the rage of life under occupation. What can go too often ignored is the complexity and the humanity: the love, lies, lust alive in the same. Rothman-Zecher's brilliant debut eschews political polemic in favor of nuanced narrative, giving us a love triangle to rival Bertolucci's The Dreamers, set against the backdrop of the most heartbreaking conflict of our time. Intelligent, sexy, dazzlingly beautiful—no less for being utterly heartwrenching." —Taiye Selasi, author of Ghana Must Go