One of the Boys: A Novel (Hardcover)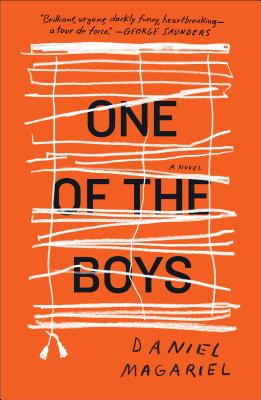 $22.00
Email orders@greenlightbookstore.com for information about this item.
March 2017 Greenlight First Editions Club Selection
March 2017 Indie Next List
---
"The intensity of this novel is such that you'll be relieved that it is not longer than its 176 powerful pages. When 'the war' with his wife ends, a man uses devious methods to win custody of his two sons, 12 and 14, packs them in his Jeep, and heads from Kansas to start a new life in Albuquerque. The boys are aware that their father uses drugs, but their loyalty to him and their youth keep them trapped in a home that soon becomes little more than a torture chamber as their father sinks further into his addiction. Narrated in excruciating detail by the younger son, this is a moving story about how parent/child love can be turned on its head by drug abuse. Excellent writing keeps one riveted in hope that the boys will survive."
— Alice Meloy (M), Blue Willow Bookshop, Houston, TX
Description
---
A New York Times Book Review Editors' Choice
A "gripping and heartfelt" (The New York Times Book Review) story about two young brothers contending with the love they have for their abusive father, One of the Boys is a stunning, compact debut by a major new talent.

The three of them—a twelve-year-old boy, his older brother, their father—have won the war: the father's term for his bitter divorce and custody battle. They leave their Kansas home and drive through the night to Albuquerque, eager to begin again, united by the thrilling possibility of carving out a new life together. The boys go to school, join basketball teams, make friends. Meanwhile their father works from home, smoking cheap cigars to hide another smell. But soon the little missteps—the dead-eyed absentmindedness, the late night noises, the comings and goings of increasingly odd characters—become worrisome, and the boys find themselves watching their father change, grow erratic, then dangerous.

Set in the sublimely stark landscape of suburban New Mexico and a cramped apartment shut tight to the world, One of the Boys conveys with propulsive prose and extraordinary compassion a young boy's struggle to hold onto the pieces of his shattered family. Tender, moving and beautiful, Daniel Magariel's masterful debut is a story of resilience and survival: two foxhole-weary brothers banding together to protect each other from the father they once trusted, but no longer recognize. With the emotional core of A Little Life and the speed of We the Animals, One of the Boys is among the most remarkable debut novels you'll ever read.
About the Author
---
Daniel Magariel is an author from Kansas City. His work has appeared in Granta, Lit Hub, Salt Hill, Stop Smiling, and Issue Magazine, among others. One of the Boys, his first novel, was a New York Times Book Review Editors' Choice and Amazon Best Book of 2017, and was published in twelve countries. He has a BA from Columbia University, as well as an MFA from Syracuse University, where he was a Cornelia Carhart Fellow. He currently lives in New York with his wife. Visit him at DanielMagariel.com.
Praise For…
---
"Feral and tender . . . a gorgeously tight tale swelling with wisdom about the self-destructive longing for paternal approval and the devastating consequences of clinging to rotten models of masculinity. . . . Magariel's gripping and heartfelt debut is a blunt reminder that the boldest assertion of manhood is not violence stemming from fear. It is tenderness stemming from compassion."
— The New York Times Book Review

"A knockout debut... A shimmering, heartbreaking portrait of children fiercely devoted to a damaged parent and of the intense sibling bond that helps them through."
— People

"A slim, deeply affecting and brutal story, One of the Boys is about the fierce power of a father-son relationship... what Magariel achieves is a novel that makes readers feel what it would be like to live on high alert all the time; to be at the mercy of a father's addictions, crackpot whims and surges of violence. He also makes us feel what it would be like to still love such a father. The subject of One of the Boys is archetypal, but Magariel's novel depicts it with the power of stark revelation. We cannot turn away."
— NPR, Fresh Air

"Striking... A novel of short, blunt, often powerful sentences... Musical and painterly."
— Boston Globe

"One of the most striking debut novels of the year... one of the most affecting portrayals of the bonds that keep us tied to family... It's [his] compassion and deep understanding of the dynamics of addiction that make Daniel Magariel's slim book an important one."
— Rolling Stone

"Brilliant, urgent, darkly funny, heartbreaking—a tour de force with startling new things to say about class, masculinity, addiction, and family. Daniel Magariel is an exciting new presence in American writing."
— George Saunders, author of Tenth of December and Lincoln in the Bardo

"Precise and coiled and urgent. Magariel is able--as few writers can--to say so much in so little. A propulsive and intense debut."
— Hanya Yanagihara, author of A Little Life

"Intense, harrowing and brilliantly written... Brutally honest and lyrically compelling... Shows a mastery of control and a labyrinth of nuance... Stunning."
— Providence Journal

"With a charismatic, macho, drug-addicted dad, the young narrator pays an awful price to be One of the Boys in the riveting debut novel by Daniel Magariel. Move over Great Santini, this patriarch is rendered with such artful love, you'll be haunted by his presence long after you close this graceful and heartbreaking book."
— Mary Karr, author of Lit and The Liar's Club

"A captivating portrait of a wayward father, brimming with charm and trouble."
— Justin Torres, author of We the Animals

"Haunting."
— The New Yorker

"A deeply affecting portrait of innocence lost. Like Emma Donoghue's Room, One of the Boys is impossible to resist as we root for these young men to escape their brutal (yet charismatic) father. We feel the strength of the child through Magariel's precise, understated and unflinching prose, which builds in emotion and suspense by keeping us very close to how each moment leads to the next. A beautiful debut."
— Dana Spiotta, author of Innocents and Others

"Daniel Magariel's absolutely brilliant and beautiful novel is that rarest thing: an incredibly mature book about kids. Not since I read Marilynne Robinson's Housekeeping have I felt so at once in the presence of the magic-logic terrors of childhood and the too real and consequential realms of adults. The children in this novel act like loving, terrified parents; the parents behave like the most destructive of children. Yet Magariel has managed to tell the story of this failing family with so much love and gentleness that the lasting impression of this novel--full of enraging scenes and calamitous decisions--is of the unknowing courage unique to youth."
— Rivka Galchen, author of Atmospheric Disturbances

"Short but haunting... Scenes of paternal neglect under the Southwestern sky call to mind certain chunks of Donna Tartt's The Goldfinch... A stunning discussion of parent-child loyalty, masculinity, and how the only person we can truly save is ourselves."
— Booklist

"A stunning and tragic portrait of both the joys and limitations of love."
— Publishers Weekly, starred review

"Joining Tobias Wolff's This Boy's Life in its brilliant picture of a boyhood twisted by abuse and Justin Torres' We the Animals in both its concision and its portrait of the bond between brothers, Magariel's debut is sure, stinging, and deeply etched, like the outlines of a tattoo. Belongs on the short shelf of great books about child abuse."
— Kirkus, starred review

"Slim and sharp as an ice-pick."
— Library Journal

"Remarkably lucid and unsparing... Some passages feel so true, you keep wanting to put the book down to applaud... In one of his many crises, the father challenges his sons, 'Tell me one true thing about life... Either of you. Tell me one true thing.'... Magariel has triumphantly, unforgettably, told us."
— The Guardian

"Told in prose that's spare and concise, this is a heartbreaking but compelling portrait of a childhood twisted by a controlling parent, as well as the unbreakable bond between brothers."
— Daily Mail (UK)

"Set in stifling Albuquerque, this debut novel [is] a companion to Breaking Bad… Unflinching… Vivid yet spare."
— Financial Times (UK)

"Spine-chilling... Magariel packs an impressive amount of emotion into his short book. Readers will root for the brothers, whose love for each other comes across on the page as simultaneously heroic and credible."
— Irish Times

"An absolutely standout novel... It left me feeling impressed [and] mournful. A book that you find yourself thinking about weeks later... A stunning writer."
— BBC, Radio 4