Live from Cairo: A Novel (Hardcover)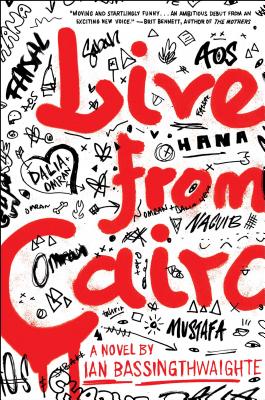 $26.00
Email or call for price.
Description
---
*A PEN/HEMINGWAY AWARD FINALIST
*A KIRKUS BEST BOOK OF THE YEAR

From a hugely talented, award-winning young author, a brilliant, lively debut novel about an impulsive American attorney, a methodical Egyptian translator, and a disillusioned Iraqi-American resettlement officer trying to protect a refugee who finds herself trapped in Cairo during the turbulent aftermath of the January 25 revolution.

Cairo, 2011. President Mubarak has just been ousted from power. The oldest city in the world is reeling from political revolution, its consequent hopes and fears, its violence, triumphs, and defeats. But for the people actually living there, daily life has not slowed down but become wilder, more dangerous, and, occasionally, freeing.

Live from Cairo is the exuberant, dazzling story of these people: Dalia, a strong-willed Iraqi refugee who finds herself trapped in Egypt after her petition to resettle in America with her husband is denied. Charlie, her foolhardy attorney, whose frustration with the legal bureaucracy and complicated feelings for Dalia have led him to forge a not entirely legal plan to get her out. Aos, Charlie's fastidious translator and only friend, who spends his days trying to help people through the system and his nights in Tahrir Square protesting against it. And Hana, a young and disenchanted Iraqi-American resettlement officer; she is the worker assigned to Dalia's case, deciding whether to treat her plight as merely one more piece of paperwork, or as a full-blooded human crisis. As these individuals come together, a plot is formed to help Dalia. But soon laws are broken, friendships and marriages are tested, and lives are risked—all in an effort to protect one person from the dangerous sweep of an unjust world.

A vibrant portrait of a city in all its teeming chaos and glory, Live from Cairo is an exhilarating, electrifying debut, and a stunning testament to the unconquerable desire of people to rise above tragedy to seek love, friendship, humor, and joy.
About the Author
---
Ian Bassingthwaigthe was a Fulbright Grantee in Egypt in 2009, where he worked in a legal aid office that served refugees from Iraq, Sudan, and the Horn of Africa. He has been honored with Hopwood Awards for both novel writing and short fiction. He was also named as a finalist for the Daniel Pearl Investigative Journalism Initiative. His work has appeared in Esquire, National Geographic, the Chicago Tribune, The Sun, Tin House, The Rumpus, and many other publications. Live from Cairo is his first novel.

Praise For…
---
"A remarkable debut novel written by a promising young writer who captures vivid details and writes masterfully."
— Christian Science Monitor

"Eye-opening... Rich and charged... Bassingthwaighte renders his characters and Cairo itself with a You-Are-Here intensity... takes you beyond the headlines into a pulsing, hazard-strewn world."
— The Seattle Times

"This brilliantly conceived and artfully detailed novel set in the Egyptian immigration bureaucracy is both a comedy and tragedy of errors... There are far too many great things about this book to list in this small space: the tension and energy of the plot; the tragic back stories of Charlie and Hana; the vignettes of Dalia's husband in Boston; the richness and subtlety of detail in the writing... The ironies of bureaucracy and wartime, à la Catch-22, meet the ironies of love and sacrifice, à la The Necklace, profoundly humanizing the global refugee crisis. Bassingthwaighte's virtuoso debut deserves the widest attention."
— Kirkus, starred review

"Urgent, informed, and richly detailed... [A] suspenseful, bittersweet narrative… Absorbing and important reading."
— Library Journal, starred review

"Live from Cairo is a powerful novel about human lives running up against inhuman systems: an impotent bureaucracy, a corrupt government, a brutal military. It's a story of triumphant love and heartbreaking injustice, a story about how difficult the world makes it for any one person to do the right thing. Ian Bassingthwaighte has written an important and necessary book."
— Nathan Hill, New York Times bestselling author of The Nix

"A moving—and startlingly funny—novel about the global refugee crisis and all of the people caught up in a bureaucracy of human suffering. Bassingthwaighte finds the tragedy and absurdity in trying to be humane within an inhumane system. An ambitious debut from an exciting new voice."
— Brit Bennett, New York Times bestselling author of The Mothers

"Expansive… Searing... the author paints a deep and empathetic picture of the inner struggles of his courageous, flawed characters, who in the midst of mortal danger and insurmountable odds, grapple with the most fundamental questions of right and wrong. The answers follow neither rules nor laws, making the climax to this novel breathtaking and heartrending."
— Publishers Weekly

"This ambitious and darkly comic novel captures, in its multiple perspectives, the tangled pains of a refugee crisis. Like Joseph Heller and Adam Johnson, Bassingthwaighte brilliantly illuminates the absurdity of a tragic situation."
— Andrea Barrett, National Book Award-winning author of Archangel and Servants of the Map

"Ian Bassingthwaite's Live From Cairo is, as the title suggests, a living, animate, remarkable novel written with an energy rarely found in debut novels. With its sweeping eye for sizzling detail, this portrait of wanderers from different lands in a troubled Middle East is urgent and fiercely engaging."
— Chigozie Obioma, Booker Shortlisted author of The Fishermen

"My favorite thing about this book is the focus on love—love for country, for self, for mothers, for brothers, for each other. That at the heart of this novel is the deep, aching love between an Arab woman and an Arab man gives me goosebumps. We need this book. We need it on every shelf."
— Randa Jarrar, Arab-American Book Award-winning author of A Map of Home

"Remarkable... There is so much to like about this book, from brilliant characterization to exceptional writing."
— Bookpage

"This novel shows readers a painful, absurdist refugee experience through a kaleidoscopic lens. Best of all, Bassignthwaighte, a Fulbright grantee to Egypt, allows his characters to be human. The emotional intelligence on display and the author's use of language set this novel apart."
— Booklist

"A positive and highly successful attempt at helping readers grasp the enormity of the refugee problem, not through statistics and investigative reports, but by pinpointing one individual's struggles."
— New York Journal of Books

"Relevant, funny, and moving."
— San Diego Magazine

"Packed with action, history and heartbreak, this debut novel rings authentic."
— Inside Jersey