No One Left to Come Looking for You: A Novel (Hardcover)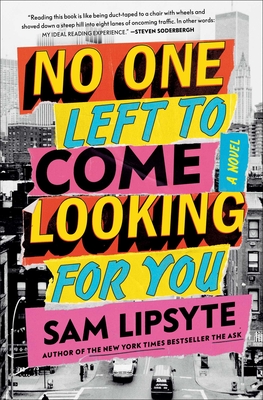 $26.99

Available In Store Now (while supplies last)
December 2022 Greenlight First Editions Club Pick
Description
---
A darkly comic mystery by the author of Hark and The Ask set in the vibrant music scene of early 1990s New York City.

Manhattan's East Village, 1993. Dive bars, DIY music venues, shady weirdos, and hard drugs are plentiful. Crime is high but rent is low, luring hopeful, creative kids from sleepy suburbs around the country.

One of these is Jack S., a young New Jersey rock musician. Just a few days before his band's biggest gig, their lead singer goes missing with Jack's prized bass, presumably to hock it to feed his junk habit. Jack's search for his buddy uncovers a sinister entanglement of crimes tied to local real estate barons looking to remake New York City—and who might also be connected to the recent death of Jack's punk rock mentor. Along the way, Jack encounters a cast of colorful characters, including a bewitching, quick-witted scenester who favors dressing in a nurse's outfit, a monstrous hired killer with a devotion to both figure skating and edged weapons, a deranged if prophetic postwar novelist, and a tough-talking cop who fancies himself a retro-cool icon of the homicide squad but is harboring a surprising secret.

No One Left to Come Looking for You is a page-turning suspense novel that also serves as a love letter to a bygone era of New York City where young artists could still afford to chase their dreams.
About the Author
---
Sam Lipsyte is the author of the story collections Venus Drive and The Fun Parts and four novels: Hark, The Ask (a New York Times Notable Book), The Subject Steve, and Home Land, which was a New York Times Notable Book and received the Believer Book Award. His fiction has appeared in The New Yorker, The Paris Review, and Best American Short Stories, among other places. The recipient of a Guggenheim fellowship, he lives in New York City and teaches at Columbia University.
Praise For…
---
"Addictive and fun…one original and unpretentious and funny sentence after another…very smart and very funny, a slangy, brainy, expletive-laden, occasionally touching pleasure to read from the first page to the last." —Adelle Waldman, New York Times Book Review

"Lipsyte's experiment in hard-boiled hardcore manages to take its self-imposed conventions somewhere more playful and less pointlessly nostalgic than have similar genre exercises by his contemporaries…More dramatically than even Thomas Pynchon, who had to invent a vertically integrated crime syndicate with Inherent Vice's Golden Fang, Lipsyte has updated the detective novel for the billionaire era." —Lisa Borst, Bookforum

"That rare thing: a satiric crime novel that doesn't forsake story for style. It is tightly plotted and pleasingly twisty...To reveal the satisfying resolution would be a crime in itself." —Marc Weingarten, Los Angeles Times

"A darkly funny punk noir...Lipsyte's eye for detail and ear for dialogue keep the story rolling at a fabulously funny clip." —Cat Auer, The AV Club

"Reading this book is like being duct-taped to a chair with wheels and shoved down a steep hill into eight lanes of oncoming traffic. In other words: MY IDEAL READING EXPERIENCE. But it's more than just the thrills, laughs, and surprises that come with having mad storytelling skills; Sam's affection for his characters—and the unusual ways they express that affection for each other—give it a warped sincerity that really resonates. That's fancy talk for I dug this book big time."—Steven Soderbergh

"Another fantastic gem from Sam Lipsyte with his numerous gifts on full display—comedy, heart and heartbreak, effortless prose, wonderful dialogue—all wrapped up in an East Village whodunnit, circa 1993, which gives the novel an aura of the elegiac, a glimpse into the cultural past that also serves as a mirror—or a warning—to the present."—Jonathan Ames, author of A Man Named Doll

"I love this book so much. It's a hate-love letter to a bad time, but it's our bad time."—James Murphy

"A flaming truckload of humor, wit, and joy…A badass book with brains, wit, moral decay, and radical outrage to spare."—Kirkus Reviews (starred review)

"With No One Left to Come Looking for You, Sam Lipsyte has written a novel firmly in the noir tradition and fused it with satire in such a way that he makes pairing crime fiction with comedy seem as natural as pairing a Gibson Les Paul with a Marshall stack…[A] twisty caper, a reverberant period piece and an affectionate parody of the youthful quest for authenticity."—Nell Beram, Shelf Awareness