The Accomplished Guest: Stories (Hardcover)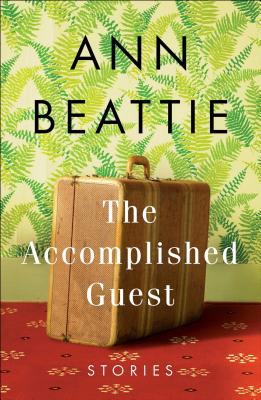 $26.00
Email or call for price.
Description
---
* A Washington Post Notable Fiction Book of the Year

A magnificent new collection from award-winning author Ann Beattie—featuring recent O. Henry, Pushcart, and Best American Short Story selections.

Surprising and revealing, set along the East Coast from Maine to Key West, Ann Beattie's astutely observed new collection explores unconventional friendships, frustrated loves, mortality, and aging.

One theme of The Accomplished Guest is people paying visits or receiving visitors, traveling to see old friends, the joys and tolls of hosting company (and of being hosted). The occasion might be a wedding, a birthday, a reunion, an annual Christmas party, or another opportunity to gather and attempt to bond with biological relatives or chosen families. In some stories, as in life, what begins as a benign social event becomes a situation played for high stakes.

The stories in The Accomplished Guest are marked by an undercurrent of loss and an unexpected element of violence, with Beattie's signature mordant humor woven throughout. Some characters provide welcome diversions, others are uninvited interruptions, all are indelibly drawn by the endlessly amusing and accomplished Ann Beattie.

Beattie's debut collection Distortions was published forty years ago, but her writing is as fresh, funny, and relevant as ever. She is "a national treasure, the author of short stories that will endure and continue to inspire" (Jay McInerney, The New York Times Book Review).
About the Author
---
Ann Beattie has been included in four O. Henry Award Collections, in John Updike's The Best American Short Stories of the Century, and in Jennifer Egan's The Best American Short Stories 2014. In 2000, she received the PEN/Malamud Award for achievement in the short story. In 2005, she received the Rea Award for the Short Story. She was the Edgar Allan Poe Professor of Literature and Creative Writing at the University of Virginia. She is a member of The American Academy of Arts and Letters and of the American Academy of Arts and Sciences. She and her husband, Lincoln Perry, live in Maine and Key West, Florida.
Praise For…
---
"She punctures her characters' pretensions and jadedness with an economy and effortless dialogue that writers have been trying to emulate for three decades, though few, if any, have matched her seamless combination of biting wit and mordant humor, precise irony and consummate cool." –The New York Times Book Review

"One of America's finest authors—and arguably best living short-story writer." –Heidi Julavits, Interview

"In a Beattie story, perspective is preeminent, and it's never one you expect. The unwieldiness of human nature, the strangeness of time and circumstance, inevitably shine through." --Megan O'Grady, Vogue

"Ann Beattie slips into a short story as flawlessly as Audrey Hepburn wore a Givenchy gown."

--Hamilton Cain, O, The Oprah Magazine

"She is brilliant at furnishing the precise level of niggling complexity that is tragicomically real." –Joan Frank, The San Francisco Chronicle

"The John Cheever of her generation, Beattie has long chronicled the emotional foibles of [the] upper-middle-class... with sharply chiseled wit; in these 13 new stories, travel or a visit of some sort is the common thread, mortality the common theme."
— Kirkus Reviews

"Beattie's stories capture the perplexity of people, lost in a world of terrorists and Kindles, as they make their way down what Beattie calls 'the river of life's confusion.'"
— Publishers Weekly

"These gorgeously complicated, psychologically astute tales are catalyzed by holiday gatherings, weddings, birthday celebrations, and reunions, joyous occasions wildly derailed by divorce, sibling rivalry, generational clashes, financial disasters, violence, and medical emergencies. The directions in which these encounters veer are beyond unexpected, thanks to Beattie's puckish imagination… Beattie's profoundly intriguing and unsettling stories abound in delectably witty and furious inner monologues, barbed dialogue, ludicrous predicaments, many faceted heartaches, and abrupt upswellings of affection, even love... always on point, funny, and poignant."
— Donna Seaman