Animal Colors (Christopher Silas Neal) (Board book)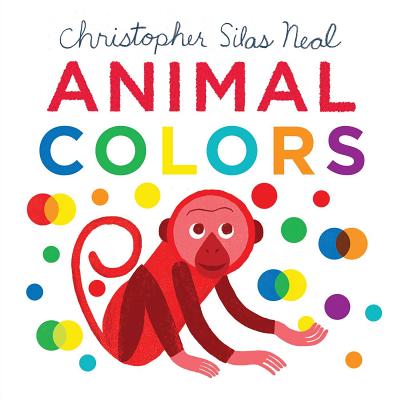 $11.99
Available at our distributor; usually ships in 1-5 days
Description
---
"Innovative and thoroughly enjoyable."- Kirkus Reviews, STARRED REVIEW
"A wildly entertaining spin on color theory."-Publishers Weekly, STARRED REVIEW

Best-selling picture book creator Christopher Silas Neal is diving into the world of original board books with Animal Colors, a book that humorously mashes up two animals of different colors to create a unique and funny creature!

When a blue whale and a yellow lion mix, it makes a . . .

Green Whion

In this delightful board book with bold, striking images, Christopher Silas Neal combines animals of different colors and species to form one unique creature! Children will have endless fun guessing what brand-new, made-up animal will appear next! This book will have them playing and guessing with each reread and features a list of color combinations from the book for kids to reference!
About the Author
---
Christopher Silas Neal is an illustrator and designer who has published numerous celebrated picture books. He is the illustrator of Up in the Garden and Down in the Dirt (Chronicle Books) as well as Over and Under the Snow (Chronicle Books), which won the E.B. White Read Aloud Award Honor and the Golden Kite Award for Picture Book Text. Neal lives in Brooklyn, New York.
Praise For…
---
Neal takes the evergreen concept of animal mashups and integrates a color lesson. Text and images work in tandem for maximum effect: "When a blue rhino and a green tortoise mix, they made a..." A tortoise in mid-descent looks as surprised as the rhino he's about to land on. The result of their collision is turquoise rhortoise, an animal with a tortoise's shell and a rhino's horn. The animal hybrids get more preposterous, when a yellow kangaroo and a green moose mix, making a chartreuse kangamoose, and when a blue grizzly bear and a purple bee are combined, the result is a violet brizzly. A final animal conglomerate combines all of the animals and colors featured so far, which results in a beast with a yellow trunk, blue wings, and the green legs of an elephant, which Neal doesn't attempt to name. A wildly entertaining spin on color theory. Also available: Animal Shapes.
— Publishers Weekly, STARRED REVIEW

Animal Colors, delves into color theory, this time creating entirely hybrid animals, such as the "GREEN WHION" with maned head and whale's tail made from a "blue whale and a yellow lion." It's a compelling way to visualize color mixing, and like Animal Shapes, it's got verve. Who doesn't want to shout out that a yellow kangaroo/green moose blend is a "CHARTREUSE KANGAMOOSE"?
Innovative and thoroughly enjoyable.
— Kirkus Reviews, STARRED REVIEW