Cree and Christian: Encounters and Transformations (Hardcover)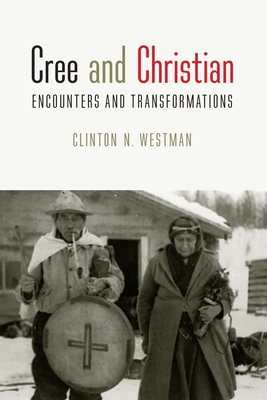 Click on "Ask A Bookseller" to contact us via email for more information about this title.
Description
---
Cree and Christian develops and applies new ethnographic approaches for understanding the reception and indigenization of Christianity, particularly through an examination of Pentecostalism in northern Alberta. Clinton N. Westman draws on historical records and his own long-term ethnographic research in Cree communities to explore questions of historical change, cultural continuity, linguistic practices in ritual, and the degree to which Indigenous identity is implicated by Pentecostal commitments. Such complexity calls for constant negotiation and improvisation, key elements of Pentecostal worship and speech strategies that have been compared to jazz modes.

The historical sweep of Cree and Christian considers the dynamics of Pentecostal conversion in relation to the strengths and weaknesses of other denominations and the underlying foundation of Cree cosmological worldviews. Pentecostalism has remained open to recognizing the power of spirits while also benefiting from its own essential flexibility. Pentecostals often seek to gain a degree of temporal and spiritual autonomy and authority that may not have seemed possible under previous Christian practices or Cree traditions.

Cree and Christian is the first book to provide a fully historicized account of Indigenous Pentecostalism, connecting contemporary religious practices and pluralism to historical Pentecostal, Evangelical, Catholic, and mainstream Protestant missions since the nineteenth century. By tracing religious practices and discourses since the 1890s, Westman paints a picture of the transformations and encounters from the earliest conversions (and resistance) to today's pluralistic, mediatized, and bilingual religious landscape.
 
 
About the Author
---
Clinton N. Westman is an associate professor of anthropology at the University of Saskatchewan.
Praise For…
---
"Solid, insightful historical research, high-level anthropological-linguistics theoretical framing, and firsthand field data mark this excellent contemporary anthropology and significant insight into 'religion'."—Alice B. Kehoe, Choice

"Cree and Christian provides a remarkable contribution to the understanding of the lived experience and practices of Cree people in two boreal forest communities in Alberta, Canada. . . . The book provides fascinating insights on Cree religiosity, ontologies, and cultural perspectives, grasping the complexity of the religious landscape in a huge region and the transformative continuity of Cree Christianities."—Frédéric Laugrand, coauthor of Hunters, Predators, and Prey: Inuit Perceptions of Animals
 

"The study of Pentecostalism is of great importance because of the global reach of this Protestant sect and the influence among Indigenous peoples. . . . Westman offers an excellent discussion of worship—finding ecstasy—through music, singing, altar calls and testifying, praying, anointing, and laying on of hands in healing rituals."—Julius H. Rubin, author of Perishing Heathens: Stories of Protestant Missionaries and Christian Indians in Antebellum America?