Heart of Darkness [Large Print Edition]: The Complete & Unabridged Classic Edition (Large Print / Paperback)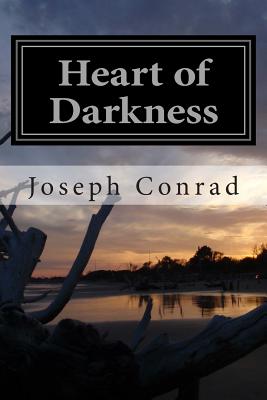 $10.95
Available at our distributor; usually ships in 1-5 days
Description
---
This premium quality large print edition includes the complete text of Joseph Conrad's classic tale in a freshly edited and newly typeset edition. With a large 6" x 9" page size, this Summit Classic Press large print edition is printed on heavyweight 60# bright white paper with a fully laminated cover featuring an original full color design.
First published in 1899 as a three-part serial, "Heart of Darkness" is one of literature's most analyzed, interpreted and studied works. Ironically, Conrad and his contemporaries regarded it as a minor work, seized upon as a singularly important literary effort in the post-colonial era.
A classic "frame story," "Heart of Darkness" opens aboard a British ship, with "Marlow" recounting his journey up the Congo River as an agent for a Belgian ivory trading concern.
Set in the aftermath of the late 19th century "Scramble for Africa," when imperial powers laid claim to large swaths of that continent as colonies, "Heart of Darkness" takes place in the infamous "Belgian Congo," notorious for its brutality and cruelty.
Marlow's mission is to travel upriver to the Company's most remote station in search of a man named Kurtz, the agent charged with running the station, amid concerns about the man and the station's operations.
In the course of his disturbing journey, Marlow witnesses brutality, violence and hatred between colonists and native Africans and learns the truth about Kurtz, who has gone mad in becoming both a god and a prisoner of the native Africans.
Critics have condemned Conrad as racist for his portrayal of the primitive barbarism of African natives, but it is difficult to find any endorsement of the view that white men are inherently superior. The story has traditionally been cast as a psychological study of the consequences of the racism of colonialism, and the long-standing view has been that the story is primarily a scathing attack on colonialism, but many critics today hold that the story is about the emptiness at the center of human existence.
To be sure, the tale is a study of contrasts: good and evil, civilized and primitive, sanity and insanity. It may well be that the experts and scholars of later generations have made of the story whatever fits their particular agenda and views, and modern readers might well be advised to read the story and decide for themselves what it is, rather than to read into it what others have decided it should be.
Joseph Conrad (1857-1924) was born Jozef Teodor Konrad Korzeniowski to parents who were ostensibly minor Polish nobility, but were Russian citizens as a result of the Second Partition of Poland. The family moved several times, including a brief forced exile to far northern Russia as a result of his parents' involvement in an anti-Tsarist plot. With both parents dead of tuberculosis, at the age of eleven Conrad went to live with an uncle, and in 1874 he began a career as a seaman, working his way up from seaman to a captain's rank.
Conrad obtained British citizenship in 1886, but always considered himself a Pole. Leaving the merchant marine at 36 to pursue a writing career, he is today widely regarded as a great English-language novelist, although early publishers were concerned with his command of written English, a language he learned in his twenties. Conrad had visited many of the areas he wrote about, but had little personal contact with indigenous societies and relied on second-hand information for his description of native cultures.
Conrad's depictions of the often futile, misguided or even malicious actions of humans struggling against an indifferent universe brought a distinctly non-English tragic element into English literature, influenced by Poland's long and often troubled history. And while his work is generally regarded as modernist literature, a strain of traditional romanticism clearly informs many of his narr.