Schwinn: The Best Present Ever (Paperback)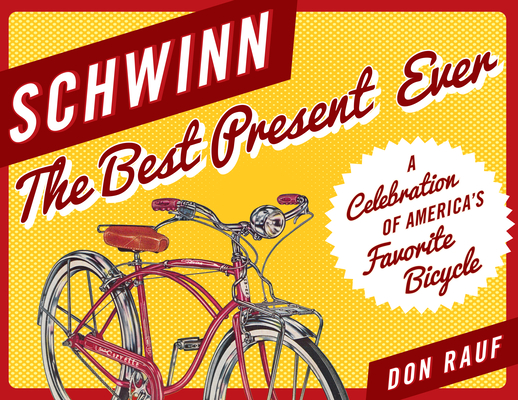 $22.95
Email orders@greenlightbookstore.com for information about this item.
Description
---
For many children of the sixties, the gift of a Schwinn was a ticket to freedom, a chance to feel the wind on their face and the steady rotation of rubber at their feet. The Schwinn took many through their childhood adventures, with memories filled of after school, free-range bike rides around the neighborhood with friends, the late afternoon sun shining off of the gleaming painted frame and stainless steel fenders. The 1960s and 70s saw a boom of Schwinn Sting-Rays, which appealed to young riders who had to have the hottest "muscle" bike in town, and sold like hotcakes to parents everywhere scrambling to get the best Christmas present ever for their kids. From its early years dominating the youth market with Sting-Rays to the teen-friendly Varsity and Continental models to its most recent parent-friendly iterations of the Easy-Steer and Roadster Trikes, the Schwinn weaves itself through 120 years of American history. For many, the Schwinn will be forever tied to the memories of their childhood, to a simpler time of freedom, laughter, and endless wonder. Schwinn: The Best Present Ever is a visual celebration of this American icon, with a complementary narrative throughout that tells the Schwinn story.
About the Author
---
Don Rauf is the author of twenty-five books, the most recent of which is American Inventions: Big Ideas That Changed Modern Life. With a background in journalism, he's interviewed such celebrities as Johnny Depp, astrophysicist Neal deGrasse Tyson, songwriter Tom Lehrer, fashion designer Liz Lange, and celebrity chef Marcus Samuelsson. Rauf is also an avid cyclist for whom the bicycle is the preferred method of transportation. He lives in Seattle, Washington.