Wife, Inc.: The Business of Marriage in the Twenty-First Century (Critical Cultural Communication #8) (Paperback)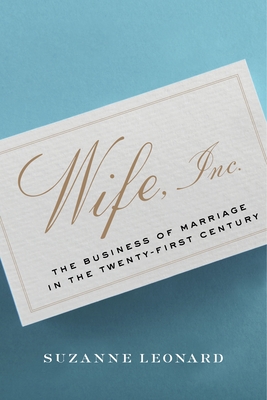 $27.00

Not In Store / Available To Order (allow for shipping time to bookstore or direct-to-home)
Description
---
A fascinating look at the changing role of wives in modern America

After a half century of battling for gender equality, women have been freed from the necessity of securing a husband for economic stability, sexual fulfillment, or procreation. Marriage is a choice, and increasingly women (and men) are opting out. Yet despite these changes, the cultural power of marriage has burgeoned. What was once an obligation has become an exclusive club into which heterosexual women with the right amount of self-discipline may win entry. The newly exalted professionalized wife is no longer reliant on her husband's status or money; instead she can wield her own power provided she can successfully manage the business of being a wife.
Wife, Inc. tells a fiercely contemporary story revealing that today's wives do not labor in kitchens or even homes. Instead, the work of wifedom occurs in online dating sites, on reality television, in social media, and on the campaign trail. Dating, marital commitment, and married life have been reconfigured. No longer the stuff of marriage vows, these realms are now controlled by brand management and marketability. To prosper, women must appear confident, empowered, and sexually savvy. Guiding readers through the stages of the "wife-cycle," Suzanne Leonard follows women as they date, prepare to wed, and toil as wives, using examples from popular television, film, and literature, as well as mass market news, women's magazines, new media, and advice culture. The first major study to focus on this new definition of "working wives," Wife, Inc. reveals how marriage occupies a newly professionalized role in the lives of American women. Being a wife is a business that takes a lot more than a vow to maintain--this book tells that story.