To Rise Again at a Decent Hour: A Novel (CD-Audio)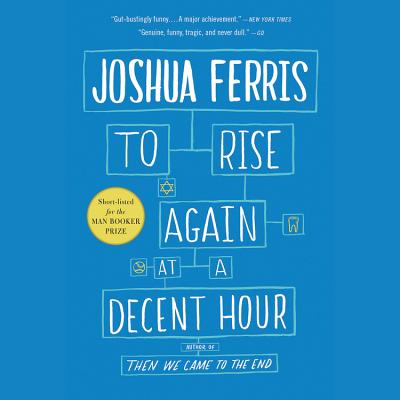 Email orders@greenlightbookstore.com for information about this item.
Out of Print / Unavailable
Description
---
Shortlisted for the Man Booker Prize, this big, brilliant, profoundly observed novel by National Book Award Finalist Joshua Ferris explores the absurdities of modern life and one man's search for meaning.

Paul O'Rourke is a man made of contradictions: he loves the world, but doesn't know how to live in it. He's a Luddite addicted to his iPhone, a dentist with a nicotine habit, a rabid Red Sox fan devastated by their victories, and an atheist not quite willing to let go of God.

Then someone begins to impersonate Paul online, and he watches in horror as a website, a Facebook page, and a Twitter account are created in his name. What begins as an outrageous violation of his privacy soon becomes something more soul-frightening: the possibility that the online "Paul" might be a better version of the real thing.

As Paul's quest to learn why his identity has been stolen deepens, he is forced to confront his troubled past and his uncertain future in a life disturbingly split between the real and the virtual.

At once laugh-out-loud funny about the absurdities of the modern world, and indelibly profound about the eternal questions of the meaning of life, love and truth, To Rise Again at a Decent Hour is a deeply moving and constantly surprising tour de force.
About the Author
---
Joshua Ferris's first novel, Then We Came to the End, has been translated into 24 languages. His fiction has appeared in the New Yorker, Granta, and Best American Voices. Ferris was chosen for the New Yorker's "20 Under 40" list of fiction writers in 2010. He lives in New York.
Praise For…
---
"To Rise Again at a Decent Hour is beautifully written. It's also funny, thought-provoking, and touching. One hesitates to call it the Catch-22 of dentistry, but it's sort of in that ballpark. Some books simply carry you along on the strength and energy of the author's invention and unique view of the world. This is one of those books."—Stephen King

"This is one of the funniest, saddest, sweetest novels I've read since Then We Came to the End. When historians try to understand our strange, contradictory era, they would be wise to consult To Rise Again at a Decent Hour. It captures what it is to be alive in early 21st-century America like nothing else I've read."—Anthony Marra, author of New York Times bestseller A Constellation of Vital Phenomena

"Gut-bustingly funny... its wit is so sharp, its fake-biblical texts ... so clever and its reach so big ... It's an eminently worthy nominee for the Booker Prize or any other... a major achievement."—Janet Maslin, New York Times

A "wry, intelligent novel that adroitly navigates the borderland between the demands of faith and the persistence of doubt...In seizing upon both the transitory oddities of contemporary life and our enduring search for meaning, Joshua Ferris has created a winning modern parable...He's a gifted satirist with a tender heart, and if he continues to find targets as worthy as the ones he skewers here, his work should amuse and enlighten us for many years to come."—Shelf Awareness

"Enjoy the first great novel about social-media identity theft. . . . It's an atheist's pilgrimage in search not of God but of community . . . O'Rourke's search feels genuine, funny, tragic, and never dull. It'll also leave you flossing with a vengeance."—Boris Kachka, GQ

"[Ferris] shrewdly stages a kind of theological symposium in [an] uncomfortably intimate place, conducted halfway between levity and overeager sincerity... It's a pleasure watching this young writer confidently range from the registers of broad punchline comedy to genuine spiritual depth. The complementary notes of absurdity, alienation and longing read like Kurt Vonnegut or Joseph Heller customized for the 21st Century."—Sam Sacks, The Wall Street Journal

"A novel that raises questions about meaning and belonging, even if the only answer is that we will never know...This is the novel's peculiar brilliance, to uncover its existential stakes in the most mundane tasks...[a] curiously provocative novel."—David L. Ulin, Los Angeles Times

"To Rise Again at a Decent Hour reminds us that even existential suffering can prove both charming and hilarious...Ferris has written an arresting novel, a playfully ironic riff on how a man can come to know himself...the cumulative effect of the novel tugs the heart just as surely as it sparks the mind."—Bruce Machart, Houston Chronicle

"Brilliant...Ferris has managed to blend the clever satire of his first book...with the grinding despair of his second . . . The result is a witty story. At his best, which is most of the time, Ferris spins Paul's observations and reflections into passages of flashing comedy that sound like a stand-up theologian suffering a nervous breakdown."— Ron Charles, The Washington Post

"An engrossing and hilariously bleak novel . . . This splintering of the self hasn't been performed in fiction so neatly since Philip Roth's Operation Shylock."—John Freeman, Boston Globe

"A story made exhilarating by Ferris' wickedly dark humor and keen intelligence. The brilliant prose...never preens. It simply pulls the reader along in an effortlessly smooth ride. Ferris makes the tug-of-war between Paul's searching mind and his low spirits utterly fascinating...Ferris' three novels place him in grand company among our younger novelists. . . . All the same, he's a unique American original."—Dan Cryer, The San Francisco Chronicle

"Ferris's trademark blend of dark satire and ominous absurdity suits his subject, and his focus on one character allows him to perform a psychological excavation of his subject in conjunction with his examination of modern life...The result is a stimulating, bittersweet read."—Claire Fallon, The Huffington Post

"The author has proved his astonishing ability to spin gold from ordinary air . . . Ferris's third novel falls somewhere between the voice-driven power of the first [novel] and the idea-driven metaphor of the second . . . [He] remains as brave and adept as any writer out there."— Lauren Goff, The New York Times Book Review

"[An] alternately sad and hilarious new book...To Rise Again at a Decent Hour showcases the wit, intelligence and keen eye for workplace absurdity the author displayed to such great effect in his first novel . . . a welcome outlet for Ferris' enormous virtuosity as a philosopher and storyteller. Ferris raises profound questions about the role of faith, not just in belonging, but in living."— Daniel Akst, Newsday

"[Ferris has] the keen ability to traverse the high wire of satire and lyricism, to at once write a sentence that can drop a reader's jaw, then make them giggle in the next . . . a writer perfectly at ease with both the bleakly absurd and the deeply humane, using them equally in hopeful pursuit of a redemptive truth."—Gregg LaGambina, The A.V. Club

"Suffice it to say that To Rise Again at a Decent Hour isn't just one of the best novels of the year, it's one of the funniest, and most unexpectedly profound, works of fiction in a very long time."—Michael Schaub, NPR.org

"With
almost Pynchon-esque complexity, Ferris melds conspiracy and questions of faith
in an entertaining way...Full of life's rough edges, the book resists a neat
conclusion, favoring instead a simple scene that is comic perfection... Smart,
sad, hilarious and eloquent, this shows a writer at the top of his
game and surpassing the promise of his celebrated debut."—Kirkus (Starred Review)

PRAISE FOR THE UNNAMED:
"A stunner, an unnerving portrait of a man stripped of civilization's defenses. Ferris's prose is brash, extravagant, and, near the end, chillingly beautiful."—The New Yorker

"Spellbinding....The Unnamed unfolds in a hushed, shadowed dimension located somewhere between myth and a David Mamet play."—Laura Miller, Salon.com

"Arresting, ground-shifting, beautiful and tragic. This is the book a new generation of writers will answer to. No one in America writes like this."—Gary Shteyngart, author of Super Sad True Love Story and Little Failure