Micro-Resilience Lib/E: Minor Shifts for Major Boosts in Focus, Drive, and Energy (Compact Disc)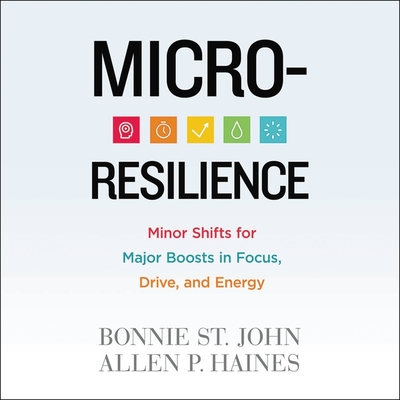 $76.99
Email orders@greenlightbookstore.com for information about this item.
Description
---
Learn powerful, science-based techniques to boost focus, drive and energy hour-by-hour throughout the day-every day.
As leadership consultants and executive trainers, Bonnie St. John and Allen P. Haines have heard the same complaints from clients for years; periodic burnout, lack of focus and low energy. So they dug into the latest research on neuroscience, psychology, and physiology looking for big answers. Instead they found small answers; proof that small adjustments in daily routines, including thought patterns, food and drink, rest and movement can fight the forces that sap our energy and store focus and drive. They call these amazing efficient restorative techniques micro-resilience. Thousands of men and women from all walks of life have already found effortless ways to incorporate these little changes into the busiest of schedules. Dozens of entertaining anecdotes from real people using micro-resilience demonstrate that when our brains fire faster, our energy increases and we can cope with almost any surprise, pressure or crisis.