Why Mariah Carey Matters (Music Matters) (Hardcover)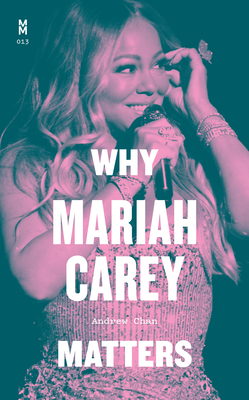 $22.95

Available In Store Now (while supplies last)
Description
---
The first book to critically examine the legacy of pop superstar Mariah Carey.

When it comes to Mariah Carey, star power is never in doubt. She has sold hundreds of millions of albums and cut more chart-topping hits than any other solo artist—ever. And she has that extraordinary five-octave vocal range. But there is more to her legacy than eye-popping numbers.
Why Mariah Carey Matters examines the creative evolution and complicated biography of a true diva, making the case that, despite her celebrity, Carey's musicianship and influence are insufficiently appreciated. A pioneering songwriter and producer, Carey pairs her vocal gifts with intimate lyrics and richly layered sonic details. In the mid-1990s, she perfected a blend of pop, hip-hop, and R&B with songs such as "Fantasy" and "Honey" and drew from her turbulent life to create the introspective masterpiece Butterfly. Andrew Chan looks beyond Carey's glamorous persona to explore her experience as a mixed-race woman in show business, her adventurous forays into house music and gospel, and her appeal to multiple generations of queer audiences. He also reckons with the transcendent ideal of the voice that Carey represents, showing how this international icon taught artists around the world to sing with soul-shaking intensity and a spirit of innovation.
About the Author
---
Andrew Chan writes regularly about music, film, and books for 4Columns. His work has also been published by the Criterion Collection, Film Comment, NPR, the New Yorker, and Reverse Shot.
Praise For…
---
In expansive prose . . . , Chan proves that despite a smooth-edged commercial exterior, Carey's style "foregrounds the ways singing can activate something irrational and untamed within us." It's a satisfying tribute to a dynamic and influential singer.
— Publishers Weekly

Required reading for Lambs worldwide: In Why Mariah Matters, Andrew Chan looks beyond Mariah Carey's undeniable glamour and incredible five-octave vocal range to examine the diva to explore her life as a mixed-race woman in music, her adventurous forays into gospel and house music, and her appeal to multiple generations of queer audiences.
— NYLON

Why Mariah Carey Matters makes the case for Mariah Carey's place in the pantheon of great musical artists and it's hard to disagree with its central argument, that for all her accolades, mainstream success and her over-the-top camp persona, we have overlooked the nuance and artistry underneath.
— The Queer Review

[Andrew Chan strikes] an elegant balance of tone and writing as a critic, a reporter, and a memoirist all at once . . . when Carey's effect on audiences poses a phenomenological hurdle, he spins illuminating personal narratives only to then pivot towards rigorous close-readings of her lyrics, voice, and performances worthy of Barthes's Mythologies.
— The Millions

Chan's beautiful descriptions of Carey's songs, lyrics, and performances aid in the difficult task of bringing sound to life solely through words...An excellent look at a great artist. Readers will likely find themselves YouTubing the Carey performances described in this book.
— Library Journal

Chan gives nuance in Carey's work, persona, and legacy...Across 168 pages, Chan humanizes Carey's world renowned impact in music, also connecting the artist's poignant lyrics and five-octave singing delivery to his experiences as a queer Chinese-American.
— NYLON

What stands out the most about this book is the intimacy of the author's writing. . .Chan's focus stays fixed on Carey's extraordinary voice, her metamorphosis from ambitious ingenue into a showbiz heavyweight and the impact her music has on legions of loyal lambs, the latter of which is most poignantly displayed in the final passages of the book.
— Xtra Magazine