I've Had to Think Up a Way to Survive: On Trauma, Persistence, and Dolly Parton (American Music Series) (Hardcover)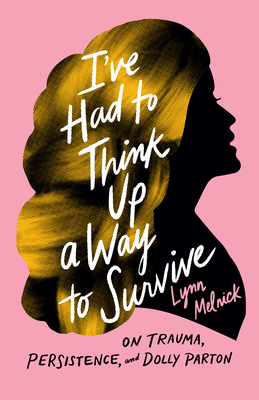 $26.95

Available In Store Now (while supplies last)
Description
---
When everything fell apart for Lynn Melnick, she went to Dollywood. It was perhaps an unusual refuge. The theme park, partly owned by and wholly named for Dolly Parton, celebrates a country music legend who grew up in church and in poverty in rural Tennessee. Yet Dollywood is exactly where Melnick—a poet, urbanite, and daughter of a middle-class Jewish family—needed to be. Because Melnick, like the musician she adores, is a survivor.
In this bracing memoir, Melnick explores Parton's dual identities as feminist icon and objectified sex symbol—identities that reflect the author's own fraught history with rape culture and the grueling effort to reclaim her voice in the wake of loss and trauma. Each chapter engages with the artistry and cultural impact of one of Parton's songs, as Melnick reckons with violence, creativity, parenting, abortion, sex work, love, and the consolations and cruelties of religion. Guided by Parton's music, Melnick walks the slow path to recovery in the company of those who came before her and stand with her, as trauma is an experience both unique and universal. Candid and discerning, I've Had to Think Up a Way to Survive is at once a memoir and a love song—a story about one life and about an artist who has brought life to millions.
About the Author
---
Lynn Melnick is the author of three books of poetry and a contributor to Not That Bad: Dispatches from Rape Culture. Her poems have appeared in the New Republic, the New Yorker, and the Paris Review; her essays have appeared in Jewish Currents, LA Review of Books, and Poetry Daily.
Praise For…
---
A riveting blend of cultural criticism and memoir...In her quest to 'be more Dollylike, rising again and again from the embers of expectation,' Melnick offers a gorgeous story of survival and self-discovery. Die-hard Dolly fans won't want to miss this.
— Publishers Weekly, starred review
I've Had to Think Up a Way to Survive is more than an artful memoir; it is thought-provoking cultural analysis of a beloved icon whose relevance endures.
— BookPage
[Melnick] writes with remarkable vulnerability and candor yet ensures that the often-painful memories she relates don't cloud her critical gaze. She moves gracefully between confessional and analytical registers, her prose both sharp and full of heart.
— The Atlantic
Discarding the societal demand to keep quiet about her own trauma, Melnick structures the book as an inquiry into the music of Dolly Parton that 'unmired' her when she first found herself in a drug rehab program as a teenager in the 1980s. It's Dolly Parton's music that offers transcendence in Melnick's life from then on, and she scrutinizes Dolly's songs and their personal and cultural impact in a mixture of biography, critical investigation, music journalism, social history, and invocation. 'It's a refusal of secrets,' Melnick writes in the final chapter about a song that Dolly is singing, but this is also a perfect summation of her book.
— BOMB Magazine
There is rich texture in the details Melnick shares of her life, which she weaves into Parton's history and the backstory of each song, with Parton's hardships and struggles as much an inspiration to Melnick as the star's thrilling success...This is absolutely the book for any Dolly Parton fan, full of anecdotes and intricate history of The Leading Lady of Country. It was empowering and inspiring to read the stories of these women (Parton and Melnick) and to know they have made something of the ashes left when others lit a match.
— Southern Review of Books
This book revels unabashedly in the turmoil of both women's lives. Like Dolly's voice, Melnick's tone is casual and joyous, yet still defiant, cogently seeking commonality between its two subjects and showing how she and Parton have each performed their womanliness—and all its concomitant mess...Carefully researched and at times uncomfortably honest,
I've Had to Think Up a Way to Survive
also avoids hagiography and handles the problematic aspects of Dolly better than most...
I've Had to Think Up a Way to Survive
is, at core, about the Appalachian skill of 'always being aware of the terrible' while steadfastly and laughingly avoiding its grip.
— The Georgia Review
Melnick lovingly chronicles how Parton's expansive songwriting catalog and her six decades as a household icon have been inextricable from Melnick's own journey from a Jewish teenage addict to an accomplished artist.
— Lilith
Each chapter in [
I've Had to Think Up a Way to Survive
] glances at the author's life through a different song penned by Parton. [Melnick] deals with past trauma by analogizing her own life to the country legend's. Although Melnick and Parton didn't seem to have much more in common on the surface, discovering their similarities is at the center of this moving journey.
— The Boot, "10 Best Country Music Books of 2022"