William S. Burroughs and the Cult of Rock 'n' Roll (Hardcover)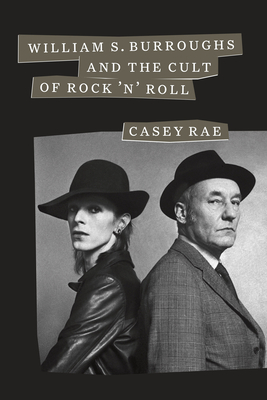 Email orders@greenlightbookstore.com for information about this item.
Out of Print / Unavailable
Description
---
William S. Burroughs's fiction and essays are legendary, but his influence on music's counterculture has been less well documented—until now. Examining how one of America's most controversial literary figures altered the destinies of many notable and varied musicians, William S. Burroughs and the Cult of Rock 'n' Roll reveals the transformations in music history that can be traced to Burroughs. A heroin addict and a gay man, Burroughs rose to notoriety outside the conventional literary world; his masterpiece, Naked Lunch, was banned on the grounds of obscenity, but its nonlinear structure was just as daring as its content. Casey Rae brings to life Burroughs's parallel rise to fame among daring musicians of the 1960s, '70s, and '80s, when it became a rite of passage to hang out with the author or to experiment with his cut-up techniques for producing revolutionary lyrics (as the Beatles and Radiohead did). Whether they tell of him exploring the occult with David Bowie, providing Lou Reed with gritty depictions of street life, or counseling Patti Smith about coping with fame, the stories of Burroughs's backstage impact will transform the way you see America's cultural revolution—and the way you hear its music.
About the Author
---
Casey RaeWashington, DC Rae is the director of music licensing for SiriusXM and a longtime music critic whose work has been featured in a wide array of publications. His commentary on technology's impact on creators has appeared on NPR and in the New Y
Praise For…
---
There's a brilliant idea behind Casey Rae's William S. Burroughs and the Cult of Rock 'n' Roll, which is that if you simply follow Burroughs through the rock 'n' roll years you'll see him achieve a flickering ubiquity—lurking here, eavesdropping there, photobombing the whole parade. It becomes a kind of alternative history.
— New York Times

Melding personal reflections with scholarly research and interviews with those close to Burroughs, Rae has unearthed a trove of information sure to shake the foundation of even the most die-hard Burroughs junkie or rock fanatic.
— Billboard

[Rae] writes with the passion of a teenager discovering new sounds, and the control and self-assuredness of a seasoned academic…William S. Burroughs and the Cult of Rock 'n' Roll celebrates not only the gifted mind and bizarre life of a writer who changed literature forever with his magic and ideas; it also finally gives him the place he deserves in the pantheon of rock and roll.
— NPR

Rae meticulously details the connections [between Burroughs and arty rockers]…The book is at its best when tracing the lyric and sonic collages of art rock and its offshoots to Burroughs's groundbreaking use of literary cut-ups—the snipping and resassembling of texts to form new texts.
— Washington Post

Rae's account is compelling, capturing the strangeness of Burroughs's itinerant lifestyle, his bizarre obsessions (guns and the occult, mostly) and his Herculean appetite for drugs.
— The Guardian

Maybe more rock stars romanticized his life and addiction than actually read his books, and some tried "to boost their own hipness through association," but Rae builds a convincing case that Burroughs has been underacknowledged in rock history. [Rae's book] nudges a legendary legacy from the cultural margins toward the mainstream.
— Kirkus

Casey Rae has uncovered a vast, vast number of links between Burroughs and the music world, and he has put together an extraordinary book…will inform and delight anyone interested in the Beat icon.
— Beatdom

[Rae's] focus on Burroughs' inspiring connections to literary rock stars of exceptional talent and renown makes for a welcome addition to the Burroughs shelf.
— Booklist

A fluid, wide-ranging biography of influence…Essential reading for fans of Burroughs, Bowie, Reed, or Smith.
— Library Journal

Casey Rae tells the whole story of a heroin addict who refused to hide his homosexuality during a time of saccharine conformity writ large across the American cultural landscape.
— Pittsburgh Post-Gazette

I was consistently surprised and impressed by the wealth of information Rae had gathered for this book. William S. Burroughs and the Cult of Rock 'n' Roll will no doubt enlighten and entertain its readers, even the ones who think that they know everything there is about El Hombre Invisible.
— American Book Review

[Rae] discerns that some pop artists were looking 'to boost their own hipness' by seeking an association with Burroughs. But he also asks what it was about the dark, peculiar, and never popular author that made the likes of Deborah Harry, Richard Hell, and Nick Cave want to tie their names to his.
— Washington Free Beacon

Rae offers thoughtful, generous analysis. As Burroughs's own cut-ups might, Rae renders a portrait of Burroughs's influence akin to a reflection in a disco ball: fragmented, refracted, multiple and beautiful.
— Shelf Awareness

Rae's account is almost as fascinating as its subject, and reaches many points across a multi-dimensional reality from which Burroughs' ideas came and where they led.
— Shepherd Express

A fundamentally comprehensive look at Burroughs' influence on the songs and culture of rock music...Written by a fan of the music and the work of the writer, the text provides a critical and informed analysis of both in a style that is both interesting and intellectually engaging.
— CounterPunch

A strength of [William S. Burroughs and the Cult of Rock 'n' Roll] is that [Rae] doesn't write from the perspective of a fan: none of the characters in these stories are idealized. Rather, it is their strangeness and their flawed human nature that are central to the narrative.
— PopMatters

Casey Rae offers the most in-depth study yet of Burroughs' influence on and Zelig-like ubiquity within contemporary music.
— Chicago Tribune

[A] captivating new book…marvelous.
— Critics At Large

[William S. Burroughs and the Cult of Rock 'n' Roll] evidences why some call Burroughs the godfather of punk, right next to Iggy Pop.
— Alternative Press, "Top 10 Music-Related Books of 2019"

William S. Burroughs and the Cult of Rock 'n' Roll is the rollercoaster and the wait all in one, patiently escorting you to the high points and still letting you enjoy the ride.
— San Francisco Book Review

Rae sees Burroughs as a figurehead for generations of self-fashioned outcasts, drawn to the author through his appeal to rock musicians and the scandalous allure of his life…Throughout, Rae maintains a steadfast adherence to the lure of the bohemian outsider...Rae's stories are engaging...William S. Burroughs and the Cult of Rock 'n' Roll endorses Burroughs as perennial outlaw.
— Times Literary Supplement

[In William S. Burroughs and the Cult of Rock 'n' Roll] you can learn much more about Burroughs' major influence on rock and roll in the 60s, 70s, 80s.
— Open Culture

[A] rather excellent book...A passing knowledge of Burroughs' work, his obsessions, and his philosophy – and all are expertly explained by Rae – make the connections sought and made by these musicians easy to understand, for Burroughs' subversive life-long battle against the forces of control, using his art as his weapon, is the very stuff that rock n' roll claims to be made of.
— Hot Press

[A] fascinating new book...Rae is an engaging storyteller and often an enlightening one...I'm grateful for Rae's study and recommend it highly, not only to those (still) interested in Burroughs and rock music, but to anyone curious about the possibilities for creative synergy between the arts.
— Journal of Popular Music Studies