His Favorites: A Novel (Hardcover)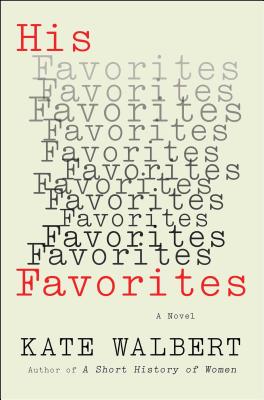 $22.00
Email orders@greenlightbookstore.com for information about this item.
August 2018 Greenlight First Editions Club Selection
Description
---
From the highly acclaimed, bestselling National Book Award finalist and author of A Short History of Women, a searing and timely novel about a teenaged girl, a charismatic teacher, and a dark, open secret.

They were on a lark, three teenage girls speeding across the greens at night on a "borrowed" golf cart, drunk. The cart crashes and one of the girls lands violently in the rough, killed instantly. The driver, Jo, flees the hometown that has turned against her and enrolls at a prestigious boarding school. Her past weighs on her. She is responsible for the death of her best friend. She has tipped her parents' rocky marriage into demise. She is ready to begin again, far away from the accident.

Taut, propulsive, and devastating, His Favorites reveals the interior life of a young woman determined to navigate the treachery in a new world. Told from her perspective many years later, the story cooly describes a series of shattering events and the system that failed to protect her. Walbert, who brilliantly explored a century of women's struggles for rights and recognition in her award-winning A Short History of Women, limns the all-too-common violations of vulnerability and aspiration in the lives of young women in this suspenseful short novel. From the publisher of the classic A Separate Peace, His Favorites is an urgent book by a "wickedly smart writer" (The New York Times Book Review) whose work is "fascinating, moving and significant" (The Washington Post).
About the Author
---
Kate Walbert is the author of seven works of fiction: She Was Like That, longlisted for the Story Prize and a New York Times Notable Book of the Year; His Favorites, an Atlantic Monthly Best Book of the Year; The Sunken Cathedral; A Short History of Women, a New York Times Book Review 10 Best Books of the Year and finalist for the Los Angeles Times Book Prize; Our Kind, a National Book Award finalist; The Gardens of Kyoto; and the story collection Where She Went. Her work has appeared in many publications, including The New Yorker, The Paris Review, The Best American Short Stories, and The O. Henry Prize stories. She lives with her family in New York City.


Praise For…
---
"Walbert is a masterly and rich purveyor of female characters…His Favorites isn't a simple narrative of trauma and survival, but something more challenging and potentially more valuable—a reckoning not just with the reality of abuse, but with the pernicious ways it can shape and inform everything, even the stories you tell yourself."
—The New York Times Book Review

"Before things turn treacherous, there's a moment when predation can feel dangerously like kindness. A young person, not yet aware of his or her power, is made to feel special–and then it's too late. Kate Walbert understands this… His Favorites begs to be read."
—Lucy Feldman, Time

"A layered, time-bending book that depicts the lingering effects of abuse…there will be no mistaking Walbert for anything but devastatingly relevant."
—Lauren Mechling, Vogue

"Heartbreaking and galvanizing... Kate Walbert's most powerful novel yet."
—Heller McAlpin, NPR.org

"At just 150 pages long, His Favorites… is impossible to put down."
—Rosa Inocencio Smith, The Atlantic

"Piercing."
—The New Yorker

"A quick and powerful read, with a story both gripping and harrowing…you'll read this tense, taut, and thrilling novel and ache for violated women across the decades."
—Samantha Irby, Marie Claire

"This brief but bold book lays bare the darkness of abuse."
—Cory Oldweiler, AM New York

"A timely exploration of sexual abuse and the way it ripples outward."
—Elle

"Devastating."
—Ms. Magazine

"A sharp look at school days that are anything but idyllic...Walbert's slim, impactful novel, distinguished as all her work is by beautiful writing and a wealth of literary allusions, could not be more timely."
—Booklist

"Taut, powerful…Jo narrates with brutal honesty…Her story, filled with rage and regret and intensified by its searing portrait of self-aware, self-destructive teenage girls, provides a case history in male-female relationships built on an imbalance of power."
—Publishers Weekly, STARRED review

"Rendered in crystalline, matter-of-fact prose relating the narrator's own emotional numbness and distancing, this self-aware metanovel is well timed for our current political era. Walbert packs a punch."
—Library Journal, STARRED review

"His Favorites is exactly the book for our times. That Kate Walbert has managed to write a novel that is riveting, terrifying, and yet always charmingly buoyant, speaks volumes to how well she understands women. If you're trying to figure out what's going on, how these things happen, read this book."
—Ann Patchett, author of Commonwealth

"The writing is so beautiful and exact—so startling in every sentence—that His Favorites took me way past what I thought I knew. This is a novel that shines with a laser beam, lighting what needs to be lit."
–Joan Silber, award-winning author of Improvement

"The smartest, most brutally true novel I've read this year. His Favorites reveals Kate Walbert's dazzling ability to render the unsayable."
–Carolyn Cooke, author of Daughters of the Revolution