Finite and Infinite Games (Paperback)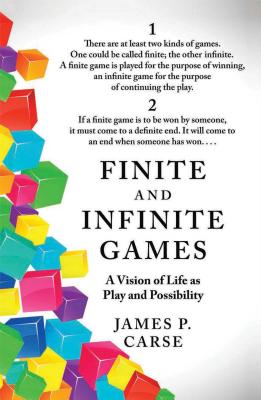 In a place and time that too often feels obsessed with winners and losers, heroes and villains, tragic outcomes and happy endings, here is an idea for a different kind of play. More metaphysical meditation than philosophical treatise (I'm not much of a philosophy buff and would recommend this to other non-philosophers), Finite and Infinite Games is, really, just another perspective, another way of framing. What I like about this frame is its openness, its lean toward improvisation, and its sense for listening (communication is required for play!). Change the rules. The rules are changing. Change to keep up the game. Play on! Play on! Play on!
Picked by Niko in Prospect Lefferts Gardens
Description
---
"There are at least two kinds of games," states James P. Carse as he begins this extraordinary book. "One could be called finite; the other infinite."

Finite games are the familiar contests of everyday life; they are played in order to be won, which is when they end. But infinite games are more mysterious. Their object is not winning, but ensuring the continuation of play. The rules may change, the boundaries may change, even the participants may change—as long as the game is never allowed to come to an end.

What are infinite games? How do they affect the ways we play our finite games? What are we doing when we play—finitely or infinitely? And how can infinite games affect the ways in which we live our lives?

Carse explores these questions with stunning elegance, teasing out of his distinctions a universe of observation and insight, noting where and why and how we play, finitely and infinitely. He surveys our world—from the finite games of the playing field and playing board to the infinite games found in culture and religion—leaving all we think we know illuminated and transformed. Along the way, Carse finds new ways of understanding everything, from how an actress portrays a role to how we engage in sex, from the nature of evil to the nature of science. Finite games, he shows, may offer wealth and status, power and glory, but infinite games offer something far more subtle and far grander.

Carse has written a book rich in insight and aphorism. Already an international literary event, Finite and Infinite Games is certain to be argued about and celebrated for years to come. Reading it is the first step in learning to play the infinite game.
About the Author
---
James P. Carse is Professor Emeritus of history and literature of religion at New York University. A winner of the University's Great Teacher Award, he is author of The Religious Case Against Belief (2008) and Breakfast at the Victory: The Mysticism of Ordinary Experience (1994). Carse lives in New York City and Massachusetts.