Snow Hunters: A Novel (Hardcover)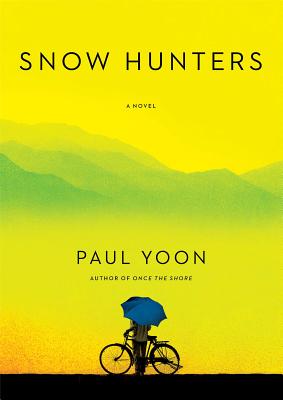 August 2013 Greenlight First Editions Club Selection
August 2013 Indie Next List
---
"This slim volume, in near poetry, paints the unlikely portrait of a poor North Korean prisoner of war who, almost by hazard, begins a new life in a low-key port city in Brazil rather than returning home. Taken in by a kindly Japanese tailor, Yohan learns the trade, learns the language and slowly becomes a member of this odd foreign family of two. A touching portrayal of immigrant life, isolation, and the search for human connections in a strange new world."
— DarwinEllis, Books On The Common, Ridgefield, CT
Description
---
A haunting literary debut of a Korean POW learning to adapt to a new life in Brazil from the novelist New York Magazine calls a "quotidian-surreal craft-master."

Snow Hunters traces the extraordinary journey of Yohan, who defects from his country at the end of the Korean War, leaving his friends and family behind to seek a new life on the coast of Brazil. Throughout his years there, four people slip in and out of his life: Kiyoshi, the Japanese tailor for whom he works; Peixe, the groundskeeper at the town church; and two vagrant children named Santi and Bia. Yohan longs to connect with these people, but to do so he must let go of his traumatic past.

In Snow Hunters, Yoon proves that love can dissolve loneliness, that hope can wash away despair, and that a man who has lost a country can find a new home. This is a heartrending story of second chances, told with unerring elegance and tenderness.
About the Author
---
Paul Yoon is the author of two story collections, Once the Shore, which was a New York Times Notable Book, and The Mountain, which was a NPR Best Book of the Year. His novel Snow Hunters won the Young Lions Fiction Award. A recipient of fellowships from the New York Public Library's Cullman Center for Writers and Scholars and the National Endowment for the Arts, he lives in Cambridge, Massachusetts, with his wife, the fiction writer Laura van den Berg, and their dog, Oscar.
Praise For…
---
"[A] quotidian-surreal craft-master."
— New York Magazine

"The brief, simple sentences that form this elegant tone poem of a novel, called Snow Hunters, have the effect of making you slow down to read them."
— Entertainment Weekly

"Yoon's debut novel began as a 500-page draft pared down to about 200 pages that reveal the same shimmering, evocative spareness of his 2009 collection, Once the Shore. The result is that rare, precious gem, with every remaining word to be cherished for the many discarded to achieve perfection. One of this year's best reads."
— Library Journal (Starred Review)

"Expectations were high for [Yoon's] debut novel—and with Snows Hunters, he has fulfilled them… An introspective and moving novel to savor."
— Bookpage

"The collection Once the Shore showcased Yoon's piercing powers of story and language; this novel continues his stunning trajectory with prose so pristine it feels supernatural."
— Publishers Weekly

"Yoon's delicate prose creates a haunting perspective."
— Booklist

"Ordinary moments take on a graceful quality that might have gone unnoticed in less skilled hands…A minimalist, well-crafted story."
— Kirkus

"At first glance Paul Yoon appears to be the perfect miniaturist, but behind every subtle gesture this novel shimmers with a deep and complex history. Snow Hunters is a beautiful and moving meditation on a solitary life."
— Ann Patchett, author of State of Wonder and Bel Canto

"Paul Yoon's sentences are startlingly beautiful. Lucid and clean and resonant, they build, in Snow Hunters, to form a novel that is deceptively light and extraordinarily tender."
— Lauren Groff, author of Arcadia and The Monsters of Templeton

"Snow Hunters reads like a dream. In this quiet, evocative rendering, we espy lives muted by war, altered by loss and displacement, and ultimately mended by the salvaged threads of memories and love. Paul Yoon's writing intimates the emergence of a master stylist, each sentence a jewel to be admired."
— Vaddey Ratner, author of In the Shadow of the Banyan

"Paul Yoon offers a profound look at the consequences of war, and what it means to begin a new life in the wake of its devastations...Brief in length, Snow Hunters is truly expansive in its scope, and written in language as clear and bracing as snowmelt."
— Sarah Shun-lien Bynum, author of Ms. Hempel Chronicles

"Paul Yoon proves himself well suited to the short form…the pleasures of Snow Hunters are many, and they begin with Yoon's prose, at once lyrical and precise…[the novel] is all the more powerful for its brevity."
— Tatjana Soli

"Pretty perfect …Yoon not only illustrates intimacy on the page, but creates it between the reader and Yohan. By the end of Yoon's relatively brief novel, Yohan becomes real — a character you won't soon forget."
— The Atlantic Wire

"A poetic portrait of a man's life in loneliness…Yoon's short stories were praised for their spare and beautiful prose, and Snow Hunters, too, shares that. Yoon often calls to mind Hemingway's directness."
— Boston Globe

"Exquisitely enigmatic…a small but radiant star in the current literary firmament."
— Dallas Morning News

"'Luminous' is a word that gets overused in book reviews, but it's sublimely apt for Paul Yoon's new novel, Snow Hunters…Yoon's original manuscript was over 500 pages, which may explain why every page here feels compressed as a diamond. This is the kind of subtle, meditative book that could easily fade to a whisper of an ending, but instead something quite real happens. That it happens in a boat, just as lights begin to appear on shore, makes it all the more perfect."
— Cleveland Plain Dealer

"Yoon's gift as a writer is to reveal the meaning in the smallest moments…A subtle, elegant, poignant read."
— Oprah.com

"A trim, fable-like book that proves to have a surprising amount of heft…Yoon is a lyrical writer, weaving taut and simple sentences with expanded and rhythmic ones. Every line is engineered to matter in a book like this one…Yoon is expert at zooming in on the transformative moment and pulling back to capture the flow of history."
— Minneapolis Star-Tribune:

"Of the many words that could describe Snow Hunters—poetic, observant, poignant, compassionate, refined, elegiac, limpid—I'll choose 'dreamlike'."
— Asian Review of Books

"A spare novel, set in an unexpected bypath of history... At a certain point, I realized this wasn't going to be a regular novel—where we watch who does what to whom—but a book about solitude, the hardest thing to frame fiction around. The transplanted Yohan is a great observer of the physical world, but he can only reflect so far; other people are mysteries to him. Who would think you could make a story out of this? Mystery in the wider sense is what this novel evokes."
— Joan Silber, "Favorite Books of 2013"

"Snow Hunters doesn't show any signs of catering to the masses. Electing lyricism over plot, texture over drama, Snow Hunters is a reserves, patient, and ultimately singular book."

— Rain Taxi Review of Books