Mr. Lemoncello's Library Olympics (Pre-Recorded Audio Player)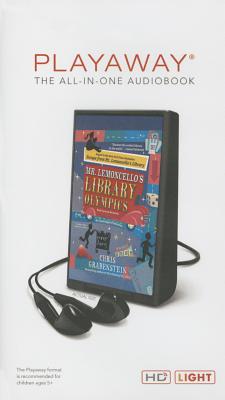 Email or call us for information about purchasing this item.
Description
---
The much-anticipated, puzzle-packed sequel to the "New York Times" bestselling, award-winning ESCAPE FROM MR. LEMONCELLO S LIBRARY
Welcome, boys and girls, readers of all ages, to the first-ever Library Olympiad Kyle and his teammates are back, and the world-famous game maker, Luigi Lemoncello, is at it again
This time Mr. Lemoncello has invited teams from all across America to compete in the first ever LIBRARY OLYMPICS. Will it be fun? Like the commercials say. . . HELLO? It's a Lemoncello But something suspicious is going on . . . books are missing from Mr. Lemoncello's library. Is someone trying to CENSOR what the kids are reading? In between figuring out mind-boggling challenges, the kids will have to band together to get to the bottom of this mystery.
Now it's not just a game can Mr. Lemoncello find the real defenders of books and champions of libraries? Packed with puzzles, clues, and thrilling surprises, this is a deliciously fun, action-packed sequel to the "New York Times" bestselling "Escape from Mr. Lemoncello's Library." Let the games begin
Praise for "Escape from Mr. Lemoncello's Library: "
Pick up "Escape from Mr. Lemoncello's Library" for your kids and discover the coolest library in the world. James Patterson
* An ode to libraries and literature that is a worthy successor to the original madman puzzle-master himself, Willy Wonka. "Booklist, " Starred
A winner for readers and game-players alike. "Kirkus Reviews, "Starred
An ALA-ALSC Notable Children's Book
Nominated for 21 state lists and counting
Arizona 2016 Grand Canyon Reader Award
Missouri Mark Twain Readers Award
Pennsylvania Young Reader's Choice Award
Georgia Children's Book Award
Florida Sunshine State Young Reader Award
Utah Beehive Book Award
Vermont Dorothy Canfield Fisher Book Award
Hawaii Nene Book Award
North Dakota Flicker Tale Children's Book Award
New Hampshire Great Stone Face Book Award
Tennessee Volunteer State Book Award
Winner of the Ohio Buckeye Children's and Teen Book Award
Michigan Great Lakes Great Books Award
Maine Student Book Award
South Carolina Children's Book Award
Maryland Black-Eyed Susan Book Award
Rhode Island Children's Book Award
Nebraska Golden Sower Award
Kansas William Allen White Kansas State Award
Virginia Readers Choice
Colorado Children's Book Award.
About the Author
---
Chris Grabenstein is the author of the "New York Times" bestselling "The Island of Dr. Libris" and "Escape from Mr. Lemoncello s Library, " as well as the coauthor of several #1 bestselling books with James Patterson, including the I Funny, Treasure Hunters, and House of Robots series. Chris lives in New York City with his wife, JJ, three cats, and a dog named Fred. You can visit Chris at ChrisGrabenstein.com. "From the Hardcover edition.""