Public Apology: In Which a Man Grapples With a Lifetime of Regret, One Incident at a Time (Hardcover)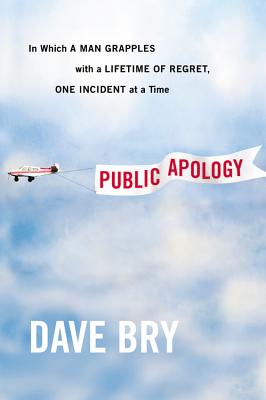 Click on "Ask A Bookseller" to contact us via email for more information about this title.
Description
---
In this series of hilarious confessions by "New Jersey's answer to Nick Hornby," learn how apologizing and coming to terms with past embarrassments can lead to compassion and maturity (Jonathan Mahler).
Dave Bry is sorry. Very sorry.
He's sorry to Wendy Metzger for singing the last verse of "Stairway to Heaven" into her ear while slow dancing in junior high school. He's sorry to Judy and Michael Gailhouse for letting their children watch The Amityville Horror when he babysat them. And he's sorry--especially, truly--that he didn't hear his cancer-ridden father call out for help one fateful afternoon.

Things are different now. Dave's become a dad, too, and he's discovered a new compassion for the complicated man who raised him. And maybe if his 17-year-old self could meet his current self, he'd think twice before throwing beer cans on Jon Bon Jovi's lawn. Dave's apologies are at turns hysterically funny and profoundly moving, ultimately adding up to a deeply human, poignant and likable portrait of a man trying to come to grips with his past.
About the Author
---
Dave Bry is a freelance writer and editor. His writing can be found at The Awl, True/Slant, and the New Republic.
Praise For…
---
"Hilarious and heartbreaking."
—
-Rolling Stone
Praise for PUBLIC APOLOGY:
"Dave Bry has written a series of witty and poignant apologies to those whom he has wronged over his life. Together, these dispatches build into a wonderful and powerful coming of age story."—
David Grann, author of The Lost City of Z
"In these funny and heartfelt confessions, Dave Bry apologizes for the mistakes we've all made in our lives-disappointing others, but more often, ourselves. At turns skillful, sensitive and sly, each letter burns a spotlight on Bry's own fateful moments, exploring how to make peace and move on."
—
Hannah Tinti, author of The Good Thief
"So funny that I laughed out loud almost continuously while reading it. And it's funny in the best way-the way that David Sedaris, Sloane Crosley or Meghan Daum is funny-in that Dave Bry captures certain touchstones of contemporary American life with keen intelligence and genuine warmth."
—
Joanna Smith Rakoff, author of A Fortunate Age
"Yeats wrote that 'in dreams begin responsibility.' Dave Bry shows us that compassion and maturity start with contrition. If you've ever behaved badly at a family gathering or worn sweatpants on a date, maybe it's time to say you're sorry. With abundant humor, humanity, and a voice all his own, Bry shows the way."
—
Rosie Schaap, New York Times Magazine columnist and author of Drinking With Men
"As you plow through
Public Apology
, Dave Bry will make you laugh, cry, cringe, and think repeatedly of Bon Jovi."—
Rodney Rothman, author of Early Bird
"Dave Bry has taken a clever concept and turned it into a hilarious, moving and pathetically honest -- and I mean that in the best sense -- memoir. Think of him as suburban New Jersey's answer to Nick Hornby."
—
Jonathan Mahler, author of The Bronx is Burning
"Public Apology
is a brilliant slice of memoir: funny, awkward and painful, but capable of making a person misty-eyed now and again."—
-Donald Powell, ShelfAwareness