Pure (The Pure Trilogy #1) (Hardcover)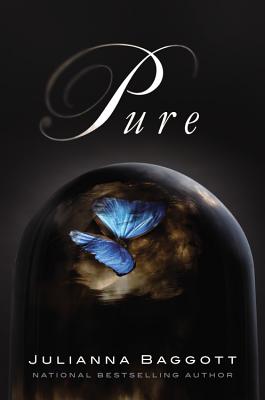 Other Books in Series
This is book number 1 in the The Pure Trilogy series.
March 2012 Indie Next List
---
"I can say, without a doubt, that this is one of the best books I've read in the past year, and I read a lot of books! A gritty, dystopian tale of the world after a nuclear holocaust, this first part of a trilogy has something for everyone: mystery and intrigue, violence, romance, and rumblings of a sinister conspiracy. This unsettling but beautiful book is sure to be a huge crossover hit, sophisticated enough to appeal to adults, and perfect for YA readers. I'm counting down the days until the next installment is released!"
— Lauren Peugh, Mrs. Nelson's Toy & Book Shop, La Verne, CA
Description
---
We know you are here, our brothers and sisters . . .
Pressia barely remembers the Detonations or much about life during the Before. In her sleeping cabinet behind the rubble of an old barbershop where she lives with her grandfather, she thinks about what is lost-how the world went from amusement parks, movie theaters, birthday parties, fathers and mothers . . . to ash and dust, scars, permanent burns, and fused, damaged bodies. And now, at an age when everyone is required to turn themselves over to the militia to either be trained as a soldier or, if they are too damaged and weak, to be used as live targets, Pressia can no longer pretend to be small. Pressia is on the run.

Burn a Pure and Breathe the Ash . . .
There are those who escaped the apocalypse unmarked. Pures. They are tucked safely inside the Dome that protects their healthy, superior bodies. Yet Partridge, whose father is one of the most influential men in the Dome, feels isolated and lonely. Different. He thinks about loss-maybe just because his family is broken; his father is emotionally distant; his brother killed himself; and his mother never made it inside their shelter. Or maybe it's his claustrophobia: his feeling that this Dome has become a swaddling of intensely rigid order. So when a slipped phrase suggests his mother might still be alive, Partridge risks his life to leave the Dome to find her.

When Pressia meets Partridge, their worlds shatter all over again.


About the Author
---
Julianna Baggott is the author of numerous novels, including Pure, which was a New York Times Notable Book in 2012. Her poems have been reprinted in Best American Poetry, and her essays have appeared in the New York Times Book Review, the Washington Post, the Boston Globe, and on NPR's All Things Considered. She teaches at the College of the Holy Cross and in Florida State University's College of Motion Picture Arts.
Praise For…
---
"What lifts PURE from the glut of blood-spattered young adult fiction is not the story Baggott tells but the exquisite precision of her prose...discomfiting and unforgettable."—The New York Times Sunday Book Review

"Baggott's highly anticipated postapocalyptic horror novel...is a fascinating mix of stark, oppressive authoritarianism and grotesque anarchy...Baggott mixes brutality, occasional wry humor, and strong dialogue into an exemplar of the subgenre."—Publisher's Weekly (STARRED review)

"A great gorgeous whirlwind of a novel, boundless in its imagination. You will be swept away."—Justin Cronin, New York Times bestselling author of The Passage

"PURE is a dark adventure that is both startling and addictive at once. Pressia Belze is one part manga heroine and one part post-apocalyptic Alice, stranded in a surreal Wonderland where everyone and everything resonates with what has been lost. Breathtaking and frightening. I couldn't stop reading PURE."—Danielle Trussoni, bestselling author of Angelology

"From the first page on, there are no brakes on this book. It's nearly impossible to stop reading as Baggott delves fearlessly into a grotesque and fascinating future populated by strangely endearing victims (and perpetrators) of a wholly unique apocalypse. And trust me, PURE packs one hell of an apocalypse."—Daniel H. Wilson, New York Times bestselling author of Robopocalypse

"A boiling and roiling glorious mosh-pit of a book, full of wonderful weirdness, tenderness, and wild suspense. If Katniss could jump out of her own book and pick a great friend, I think she'd find an excellent candidate in Pressia."
—Aimee Bender, author of The Particular Sadness of Lemon Cake