The Modern Witch Deluxe 1,000 Piece Jigsaw Puzzle (Board Games)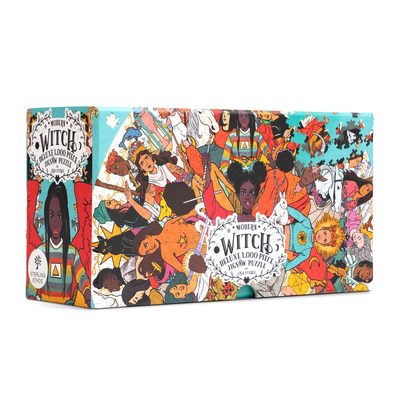 $21.99

Available In Store Now (while supplies last)
Description
---
An exciting re-envisioning of the fantastic art from The Modern Witch Tarot Deck formed into a circular puzzle. Comes with a commemorative print suitable for framing
The Modern Witch Tarot Deck is hugely popular--an updated classic, it takes the iconic themes of the Rider-Waite-Smith Tarot Deck into the present with its depiction of contemporary female figures. Diverse, exciting, and empowering, the archetypal images of the cards are represented as triumphant and self-assured, even faced with the mysteries of this world. The Modern Witch Tarot jigsaw puzzle is a remix of creator Lisa Sterle's fantastic art, reworked into 1000 pieces that form a circular mandala 27 inches in diameter, and paired with a commemorative print. It's both a fun activity and a piece of art.
About the Author
---
Lisa Sterle is a Columbus artist with work spanning from comic books to concept design to pop-culture-fueled illustration. Her work is often bright, expressive, and occasionally tinged with horror--marrying her two favorite themes: the beautiful and the grotesque. She has worked with HarperCollins, IDW, Image, Archie Comics, Vault Comics, BOOM! Studios, and many others. She is the cocreator of monthly comics Long Lost and Submerged, as well as creator of The Modern Witch Tarot Deck, a modern and diverse interpretation of the classic Rider-Waite tarot deck. Currently she is working on the graphic novel Squad and the monthly comic series Witchblood.