Parenting Without Power Struggles: Raising Joyful, Resilient Kids While Staying Cool, Calm, and Connected (Paperback)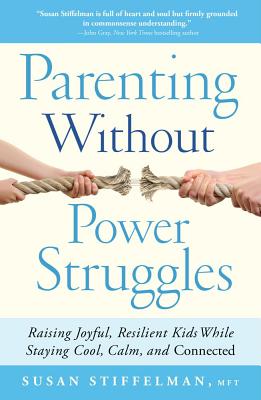 $17.00

Not In Store / Available To Order (allow for shipping time to bookstore or direct-to-home)
Description
---
"I trust Susan Stiffelman with my heart, my family, and my community. She knows that what goes on in my home every day is brutal and beautiful and hard and holy. She understands that while we are raising our children, we are still raising ourselves." —Glennon Doyle Melton, #1 New York Times bestselling author of Love Warrior

From a family therapist, parenting expert and respected advice columnist for AOL's HuffPost Parents comes a unique approach to parenting that can help eliminate drama, meltdowns, and power struggles.

Do you ever find yourself asking . . .

• How can you get your children to do their homework without meltdowns, threats or bribes?

• How can you have a drama-free morning where the kids actually get out the door in time for school?

• How can you better manage your kids' screen time without making them want to hide what they're doing from you?

Family therapist Susan Stiffelman is here to help. While most parenting programs are designed to coerce kids to change, Parenting Without Power Struggles does something innovative, showing you how to come alongside your children to awaken their natural instincts to cooperate, rather than at them with threats or bribes, which inevitably fuels their resistance. By staying calm and being the confident "Captain of the ship" your child needs, you will learn how to parent from a place of strong, durable connection, and you'll be better able to help your kids navigate the challenging moments of growing up.

Drawing upon her successful practice and packed with real-life stories, Parenting Without Power Struggles is an extraordinary guidebook for transforming the day-to-day lives of busy parents—and the children they love.
About the Author
---
Susan Stiffelman is a licensed psychotherapist and marriage/family therapist in Malibu, California. She holds a BA in developmental psychology and an MA in clinical psychology. Through her presence as AOL's parenting expert (AdviceMama), her private work with adults, couples, teens and children, her frequent public presentations, her phone coaching, articles, interviews and active website (www.parentingwithoutpowerstruggles.com), Susan has become a source of advice and support for hundreds of thousands of parents longing to raise joyful and resilient kids in a fast-paced world.
Praise For…
---
"Susan shows parents how they can transform parenting into a spiritual practice….Yes, children produce adults, but, more important, Susan Stiffelman's unique book shows you how children can produce conscious adults."
— Eckhart Tolle, author of The Power of Now

"Susan Stiffelman is full of heart and soul but firmly grounded in commonsense understanding."
— John Gray, New York Times bestselling author of Men Are From Mars, Women Are From Venus

"With her clear, wise, soulful, and poetic writing, Susan Stiffelman shows us how both the blessings and challenges of the delicate child-parent relationship can be a hotbed for mutual growth, healing, and connection. With children determining the future of our planet, Susan lays the groundwork for us to usher this new generation toward a more healed, humane, and connected world, starting with our very own selves. I am so grateful to Susan for having written this powerful book."
— Alanis Morissette, singer/songwriter and activist

"Susan Stiffelman shows parents how to create healthy, loving relationships with children while helping them develop the resilience and authenticity that will serve them throughout their lives. Parenting Without Power Struggles is one of the best parenting books I have ever read."
— Arianna Huffington

"This book changed my life. I'm going to search high and low for this woman's number because I've learned so much."
— Jessica Seinfeld, #1 New York Times bestselling author

"Susan Stiffelman is an insightful writer who clearly knows what she's talking about, sharing much-needed wisdom and advice for the caring but often frustrated parent."
— Marianne Williamson, bestselling author

"Full of wise insights and effective strategies, this book should be required reading for all parents."
— Harville Hendrix, Ph.D., author of Giving the Love That Heals: A Guide for Parents

"If there was ever someone who could truly change the course of a family's life, it's Susan Stiffelman. Her effective methods are spelled out clearly in her wonderful book, making it easy to create a parent-child harmony at home."
— Susan Avery, More magazine

"Conversational and practical… Stiffelman's engaging work gives parents tools to navigate confidently in both calm and stormy family seas."
— Publishers Weekly

"Susan Stiffelman, who has double standing to give parenting advice, as a professional therapist and the mother of an exceptional son, has hit the nail on the head twice over…her book is filled with practical, real-world ways to minimize the fights and maximize the love."
— Kurt Andersen