Much Ado About Loving: What Our Favorite Novels Can Teach You About Date Expectations, Not So-Great Gatsbys, and Love in the Time of Internet Personals (Hardcover)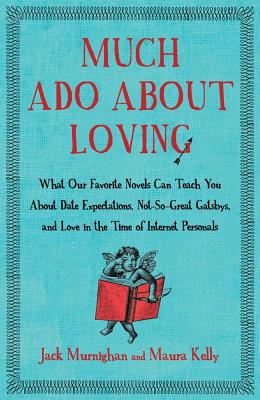 Description
---
This smart and charming hybrid of lit and love is filled with hilarious relationship advice borrowed from the most famous characters in literature.

From Dido to Jane Eyre, the characters of great literature are trying to figure out how to have healthy, happy relationships—with varying degrees of success—just like the rest of us. But the world's best-known heroes and heroines didn't go through all their trials and tribulations for naught—and now, thanks to Much Ado About Loving, we can learn from their foibles, misadventures, and eventual triumphs.

Much as things have changed since the days when Jane Austen was writing, a lot about love has stayed the same. And so timeless literary classics contain many great lessons about romance that are as relevant today as they ever were. In this unique relationship guide full of humor and pathos, Maura Kelly and Jack Murnighan reflect on the renowned novels that have given them the most insight into their romantic lives. In chapters like Lightbulb in August: How to Have a Clue When He's Just Not That Into You, they use Faulkner to discuss early warning signs a relationship isn't going to work out. In Infinite Gesticulating: Why Do Men Talk So Much? they cite David Foster Wallace as an example of the male propensity to bloviate, but also have some suggestions for how to deal with it.

Witty, wise and well-read in equal measures, Kelly and Murnighan will appeal to lovers of Candace Bushnell as much as to hard-core literary types with their entertaining, erudite, and engaging style.
About the Author
---
Jack Murnighan has a Ph.D. in medieval and renaissance literature from Duke University. His book, Beowulf on the Beach helped tens of thousands of readers rediscover their love of the classics. His two previous books, The Naughty Bits and Classic Nasty, were critically acclaimed tours of sexuality in the history of literature. He lives in New York City.

Maura Kelly has been a staff writer for Glamour, a daily dating blogger for Marie Claire, and a relationships columnist for amNew York. Her work has appeared in publications like The New York Times, The Washington Post, More, The Boston Globe, and Rolling Stone. She received her BA in psychology from Dartmouth College and her MFA in creative writing. She lives in New York City.
Praise For…
---
"As I've been told on more than one occasion, my expectation that a courtship will mimic a Victorian novel's plot might lean toward the unrealistic. But when seeking advice to bolster [my] love life...I shy away from current romantic self-help books... Enter Much Ado About Loving, in which dating blogger Maura Kelly and sex columnist Jack Murnigan comb classic literature for love lessons." --Elle

"A treat for any book lover, happily mated or cheerfully single." --USA Today

"A clever, amusing hybrid of lit crit and relationship advice." --Publisher's Weekly

"Like a Cliff Notes for the lovelorn, as told by two authors who've 'been there.' Much Ado is as sage as it is funny. " --Lucinda Rosenfeld, "Friend or Foe" columnist at Slate and author of the novels, I'm So Happy for You and The Pretty One

"I'll take my advice from Toni Morrison over Suzanne Somers any day, even if it doesn't come in bullet-point format, with a weight-loss chart. Wisdom rarely does. [Much Ado About Loving] is a clever mash-up of dating advice and literary discussion, with the authors alternating chapters and subjects...That's probably the first time Virgil has been used for romantic advice, at least in this century - and that alone is an achievement. " --The New York Daily News


"I find reading novels to be more entertaining than reading advice columns, so why not combine the two? Dear Jane instead of Dear Abby." --Columbus Ledger-Enquirer

"In Much Ado About Loving: What Our Favorite Novels Can Teach You About Date Expectations, Not-So-Great Gatsbys and Love in the Time of Internet Personals, authors Kelly and Murnighan demonstrate that most literary classics contain great lessons about romance that are still relevant today... The authors take a magnifying glass to some of literature's great and not-so-great hookups, injecting some of their own dating triumphs and faux pas, both relatable and comical." --The New Jersey Monthly

" Much Ado About Loving… plumb[s] great literature for relationship advice."
— New York Times Book Review