The First Bad Man: A Novel (Hardcover)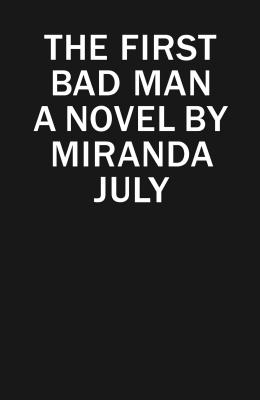 $25.00
Email orders@greenlightbookstore.com for information about this item.
January 2015 Indie Next List
---
"Miranda July does not coddle readers; rather, she unapologetically throws them into the world of gritty irony that she has masterfully created. July spins a complex web that reflects the absurdity, horror, and glory of life. Her protagonist, Cheryl Glickman, allows us to understand the flawed characters of her world -- herself included -- and to see past the grotesque. Cheryl's quirkiness and July's mastery of inner dialogue keep readers entranced and perhaps make them a bit more human as a result of the experience."
— Letizia Acosta, University Book Store, Seattle, WA
Description
---
The New York Times bestselling debut novel from Miranda July, acclaimed filmmaker, artist, and author, whose new movie Kajillionaire is in theatres now.

Cheryl Glickman believes in romances that span centuries and a soul that migrates between babies. She works at a women's self-defense nonprofit and lives alone. When her bosses ask if their twenty-year-old daughter, Clee, can move into her house for a while, Cheryl's eccentrically ordered world explodes. And yet it is Clee—the selfish, cruel blond bombshell—who bullies Cheryl into reality and, unexpectedly, leads her to the love of a lifetime.

Tender, gripping, slyly hilarious, infused with raging sexual fantasies and fierce maternal love, Miranda July's first novel confirms her as a spectacularly original, iconic, and important voice today, and a writer for all time.
About the Author
---
Miranda July is a filmmaker, artist, and writer. Her most recent book is The First Bad Man, a novel. July's collection of stories, No One Belongs Here More Than You, won the Frank O'Connor International Short Story Award and has been published in twenty-three countries. Her writing has appeared in The Paris Review, Harper's, and The New Yorker; It Chooses You was her first book of nonfiction. She wrote, directed and starred in The Future and Me and You and Everyone We Know—winner of the Camera d'Or at the Cannes Film Festival and a Special Jury Prize at Sundance. July's participatory art works include the website Learning to Love You More (with artist Harrell Fletcher), Eleven Heavy Things (a sculpture garden created for the Venice Biennale), New Society (a performance), and Somebody (a messaging app created with Miu Miu.) She is currently working on a new feature film. Raised in Berkeley, California, July lives in Los Angeles.
Praise For…
---
"Miranda July's ability to pervert norms while embracing what makes us normal is astounding. Writing in the first person with the frank, odd lilt of an utterly truthful character, she will make you laugh, cringe and recognize yourself in a woman you never planned to be. By the time July tackles motherhood, the book has become a bible. Never has a novel spoken so deeply to my sexuality, my spirituality, my secret self. I know I am not alone."
— Lena Dunham, author of Not That Kind of Girl

"With The First Bad Man, Miranda July provides an audaciously original, often hilarious map of the ever-expanding reach of unhinged imagination in America. With IMAX-scale emotional projections, a post-gay regimen of sexual fantasies, and a cast of riveting misfits worthy of Kurt Vonnegut, July takes us on a picaresque journey in which the heroine's ultimate challenge turns out to be a stunningly ordinary circumstance more transfixing than all the virtual caprices a 21st-century mind can muster."
— Andrew Solomon, author of The Noonday Demon and Far from the Tree

"Miranda July has created in her stories and here in her amazing debut novel something close to a new literary genre. If science fiction speculates on new technologies in human life, July imagines new emotions that have never been described. Anger is erotic. Pleasure feels like fear. Sex dynamites everything around it. And yet we can't stop having it. Not since David Foster Wallace has a writer so hilariously captured the wince-worthy adventures of the awkward human beings we all pretend we aren't."
— Mark Costello, author of Big If

"Miranda July's exciting and wild novel The First Bad Man begins deeply, absurdly funny, gets increasingly twisted and strange, and then ends quietly, urgently heartfelt. It is a novel about aging, about motherhood, about sex, about weird wounded women--yes--but it is really a novel about the desperate possibility in all of us to love and be loved. The First Bad Man is like no other novel you will read this year (or any other year)."
— Dana Spiotta, author of Eat the Document and Stone Arabia

"Compelling…will delight the open-minded reader looking for something new. It will satisfy July's fans and win her many more."
— Library Journal (starred review)

"Cheryl Glickman, Miranda July's heroine in this unforgettable novel, is one of the most original, most confounding and strangely sympathetic characters in recent fiction. She narrates this very intimate epic of a story -- a story that starts in a place of brittle, quirky, loneliness and progresses into a profoundly moving story of nontraditional love and commitment. This novel is almost impossible to put down, and confirms July as a novelist of the first order."
— Dave Eggers, author of The Circle

"The 'yes, that's really the way it is!' moments in this book came so fast and furious that I found myself page-turningly propelled into a story that, despite its subtly off-kilter course, somehow — I don't know how — ended up revealing the invisible and depthless emotional reality that roils and tugs beneath us all. Miranda July's protagonist inhabits this uncharted world of unspeakable desires, embarrassing hopes and shifting conquests more fully than any in contemporary fiction I can recall, and you will inhabit it right along with her. You will also inhabit her. And she, you. The First Bad Man is a strange miracle of a book, and despite the opinion of its main character, a truly great American love story for our time."
— Chris Ware, author of Building Stories

"July is brilliant, hilarious, irreverent, piercing—even cringe-inducing, powering past sexual boundaries and gender identification into the surprising galaxy of primal connection. 'We all think we might be terrible people. But we only reveal this before we ask someone to love us. It is a kind of undressing.' Is there a more hopeful statement about humankind? In Miranda July's strange universe, probably not."
— Jayne Anne Phillips, O, The Oprah Magazine

"July's work reminds us that the essential storytelling tool is voice. Hers is smart, funny, twisted, vulnerable, humane, and reassuring: a dazzling human consciousness speaking frankly and fondly and directly to you. If I ever start to doubt the power of language and intelligence, I only have to read a few lines of July to have my faith restored."
— George Saunders, author of Tenth of December

"Miranda July's first novel announces something new, not only in its invention, characterization, and pace, but emotional truth. With it, the esteemed artist and filmmaker joins the front rank of young American novelists—and then surpasses them."
— Hilton Als, author of White Girls

"I am in awe of Miranda July. She is the person I want to be, the artist who feels free to work in any number of media, the artist who is so talented, expressive. The First Bad Man is a book that must be read, a book that must be purchased – in duplicate – one for you, one for a friend. Don't think you can loan this book – you'll never get it back."
— A. M. Homes, author of May We Be Forgiven

"Lovelywriting is interspersed with outer-space levels of strange…yet gradually thiscatalog of the grotesque builds into something beautiful, and this deeply oddbook abruptly becomes transcendent. It feels like being on a plane when ittakes off—all that rattling, speed, and oil, and then suddenly:airborne."
— Molly Langmuir, Elle

"July's work seems to grow deeperand more endearing with each iteration, while retaining its hysterical-neuroticcharms and crisp, colloquial wit. July's first novel is a test of her range,which she ably passes. Single, middle-aged Cheryl Glickman expands from acollection of oddities — a baby obsession, a hallucinated ball in her throat,bizarre sexual fantasies — into someone with real longings, relationships, andopportunities for genuine growth and redemption."
— New York Magazine

"The First Bad Man isa disorienting mash-up of tongue-in-cheek social commentary, a celebration ofoddball anti-heroines, and an embarrassingly honest look at the obsessions andentitlements we all (subconsciously or not) carry with us. I found myselflaughing and cringing in equal measure, and even if I don't totally understandeverything July is trying to say or do here, I've become a believer."
— Bustle

"Very funny… The novel exploded my expectations and became unlikeanything I've ever read…hilarious…like many of us, July seems to haveunbridled daydreams. Unlike most of us, she has wicked follow-through…July isexceptional at tracing the imaginative contours of sexuality… She is not afterperfection: She loves the raw edges of emotion, she likes people and things tobe a little worn. Life isn't silky, July is saying. The snags and the snafusbring the joy…The First Bad Man makesfor a wry, smart companion on any day. It's warm, it has a heartbeat and apulse. This is a book that is painfullyalive."
— Lauren Groff, The New York Times Book Review

"The first novel by thefilmmaker and artist Miranda July is like one of those strange mythologicalcreatures that are part one thing, part another — a griffin or a chimera,perhaps, or a sphinx... An immenselymoving portrait of motherhood and what it means to take care of a child...Julywrites of Cheryl's discovery of maternal love with heartfelt emotion and power."
— Michiko Kakutani, The New York Times

"Miranda July — filmmaker, performanceartist and now novelist — is ready to leave the old Miranda July behind. Youknow the one: The curly haired gamin, her impossibly blue eyes swirling withideas. The irrepressible creative blowing cinematic kisses to the world…The First Bad Man is about to complicatethe picture. Striking and sexuallybold, it reveals a side that is darker and that, truth be told, has lurked inher work all along…Though TheFirst Bad Man actively challenges a reader's comfort zone, July creates afemale neurotic archetype that's familiar and fresh at once."
— Margaret Wappler, Los Angeles Times

"The First Bad Man is the first great book of 2015… July's work istied together by her singular, confident, multifaceted voice. Her charactersare often unusual and under-confident; her writing is always the former andnever the latter. The First Bad Man,July's debut novel, tells the story of an outwardly boring person whoseinterior life is a mosaic of delightful neuroses and staggering self-doubt... beautifully worded, emotionally complex,impressively but quietly insightful, and, in the right light, so, so funny."
— Josh Modell, The AV Club

"Miranda July's novel is abrilliant document of our age of managed sharing… The First Bad Man is a brave undertaking for July, and not justbecause it finds her committing to long-form storytelling without a visualelement for the first time. It incorporates a boldly feminist recasting offamiliar tropes and genres...Though this is her first novel, July is anaccomplished writer of short fiction, and within The First Bad Man live a handful of perfectly drawn shortstories...July has an enviable talent for sketching inner life as all-consuming...Within the context of the wider world—in which all speech is policed, butespecially women's stories about their uniquely feminine personal experiences—TheFirst Bad Man feelsvisionary… Few have Miranda July's…particular talent for couching whatfeel like naked, universal truths in clouds of the imagined and theimpossible."
— Karina Longworth, Slate

"Risky fiction: hilarious, dark,uncomfortable, and so accurate in mapping the way fantasies can overtake lifethat it's also one of the most honest character studies I've read in a longtime…when pregnancy and an infant are introduced in the second half of the book,imagination and fantasy life are replaced with very real anguish, protection,and love."
— Christopher Bollen, Interview

"July suffuses her narrative withcompassion... The First Bad Man is a terrific novel… an off-kilter,extremely smart meditation on sex, love, loneliness, and the demands of workand womanhood….engrossing, surprising, and emotionally true."
— Eugenia Williamson, the Boston Globe

"Love comes in a dizzying numberof shapes and sizes, Miranda July demonstrates in her stunning first novel…Julyis a brilliant stylist, and better yet, she's funny…darkly comic, astonishing…thisbook couldn't be better."
— Kit Reed, The Miami Herald

"The First Bad Man proves July's extraordinary adeptness at yetanother art form… by the novel's lovely, blissfully hopeful conclusion,she and Cheryl… earn our unexpected affection."
— Cliff Froehlich, The St. Louis Post-Dispatch

"If you were searching around fora representative creative artist for the middle of the 21st century's seconddecade, you could do a lot worse than 40-year-old Miranda July. She's anactress, a filmmaker, a performance artist, a conceptual artist, an APP, ashort story writer and now, finally with this book, a novelist… she is a fresh,feminist, groundbreaking, creative sensibility who should probably be treatedin entirety, if at all…Love, perverse if not polymorphous, is the basic subjecthere, although other subjects include everything from self-defense tolactation. Her literary voice is lively enough to be compulsive here."
— Jeff Simon, The Buffalo News

"Adownright delight…July has arranged all her characters on the stage, and wecan guess their trajectories. After initial clashes,Clee and Cheryl will form an unlikely, yet mutually rewarding friendship,possibly over a drunken karaoke session. Through this friendship, Cheryl willlearn to open her heart, let down her guard, and, hey, maybe touch up her hairand start shaving her legs…The subversive brilliance of July'snovel is that while it has the breezy verve of the sort of chummy novel whereall of the above happens, none of it actually does. Cheryl is transformed bylove, yes, but not in the way almost every other novel, film, and memoir abouta single, early-middle-aged woman tells us she must be in order to function asa viable heroine. There is a sneaky feminist agenda at work here, all the moreeffective because it's smuggled into a weird, hilarious, compulsivelyreadable anti-romantic comedy. Like Clee, the book is a timebomb in avelour tracksuit."
— Jennie Yabroff, The Daily Beast
Coverage from NPR