Love Songs & Other Lies: A Novel (CD-Audio)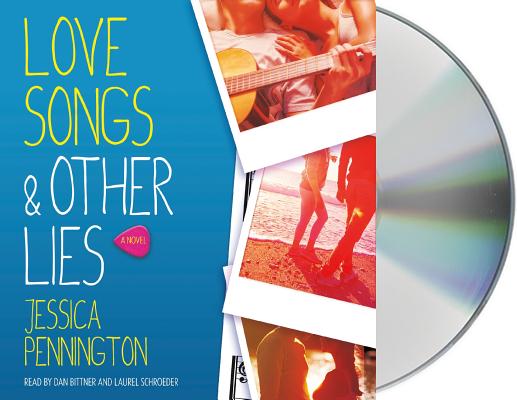 $39.99
Email orders@greenlightbookstore.com for information about this item.
Description
---
Sometimes the last note is just the beginning. Love Songs & Other Lies is the debut romance audiobook from Jessica Pennington that Katie McGarry calls "fun and full of heart with a hero who stole my heart!"

It's summer romance and second chances, the songs that stay in your head, and the boy you'll never forget.

Two years after rock-song-worthy heartbreak, Virginia Miller is looking forward to a fun, carefree summer. Her friends just landed a spot on a battling bands reality show, and Vee is joining them for her dream internship on tour. Three months with future rockstars seems like an epic summer plan. Until she learns she'll also be sharing the bus with Cam. Her first love, and her first heartbreak. Now Vee has more than just cameras to dodge, and Cam's determination to win her forgiveness is causing TMZ-worthy problems for both of them. With cameras rolling, she'll have to decide if her favorite breakup anthem deserves a new ending. And if she's brave enough to expose her own secrets to keep Cam's under wraps.

Breaking Vee's heart was never Cam's plan. All he wanted senior year was a new life, in a new town, uninterrupted by the tragedy he left behind. Then Vee swept him into a whirlwind of friendship, musical adventure, and a love he didn't expect or want. Now, he has a second chance to make it right. But things get complicated when ratings-crazy producers, cameramen, and fans are involved. Can he rewrite their love song with the whole world watching?
About the Author
---
Jessica Pennington is no stranger to the combination of love and drama. She's a wedding planner, after all. A writer since the age of ten—when she sought publication for her poem about a tree—Jessica likes the challenge of finding the humor in a sad situation or highlighting the awkwardness in a romantic one. She lives in a Michigan beach town suspiciously similar to the one in her novel, with her husband Josh and their son, Rory. Love Songs & Other Lies is her debut novel.

Dan Bittner has narrated dozens of audio books and has starred on stage and on the screen, in movies such as Men in Black, Adventureland, and the Producers: The Movie Musical. He has also appeared onstage as Macbeth Malcolm and Sherlock Holmes in the Edinburgh Fringe Festival. He has narrated popular audio books such as The Eleventh Plague, Hero, and Forever.