Betty Before X (Compact Disc)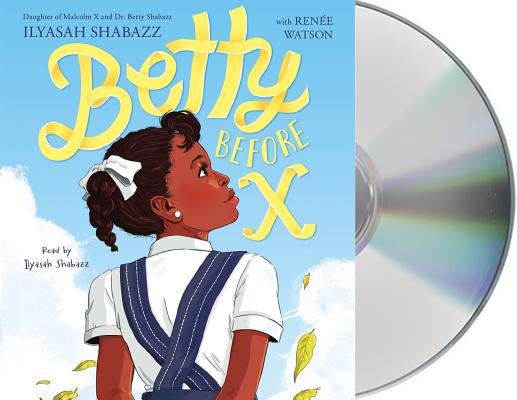 $29.99
Available at our distributor; usually ships in 1-5 days
Description
---
"In clear, measured tones, the author recounts Betty's discomfort with her home life and her work with the Housewives League...Shabazz differentiates between Betty and her mother, Ollie Mae Sanders, through pitch and projects the latter's frequent annoyance, showing why Betty often felt underappreciated. An afterword helps young listeners understand Betty Shabazz's importance in American history and and provides additional discussion on the other people in the narrative." -- AudioFile Magazine

Activist, motivational speaker, and daughter of Malcolm X Ilyasah Shabazz celebrates her mother's idealism and strength of character in a touching new YA audiobook. Betty Before X is the story of Dr. Betty Shabazz before she became a figurehead for the Civil Rights Movement.
In Detroit, 1945, eleven-year-old Betty's house doesn't quite feel like home. She believes her mother loves her, but she can't shake the feeling that her mother doesn't want her. Church helps those worries fade, if only for a little while. The singing, the preaching, the speeches from guest activists like Paul Robeson and Thurgood Marshall stir African Americans in her community to stand up for their rights. Betty quickly finds confidence and purpose in volunteering for the Housewives League, an organization that supports black-owned businesses. Soon, the American civil rights icon we now know as Dr. Betty Shabazz is born.
Inspired by Betty's real life--but expanded upon and fictionalized through collaboration with novelist Ren e Watson--Ilyasah Shabazz illuminates four poignant years in her mother's childhood with this audiobook, painting an inspiring portrait of a girl overcoming the challenges of self-acceptance and belonging that will resonate with young listeners today.
This title has Common Core connections.
More praise for Betty Before X:
..".the soul of this book is Betty's more personal battle to be loved by a mother who rejects her, and the redemption she finds in the home of a couple who takes her in. This universal theme makes the book moving as well as educational, and the reading by Shabazz -- not an actress, but an experienced motivational speaker -- is clear and sincere." -- Providence Journal
About the Author
---
Ilyasah Shabazz, third daughter of Malcolm X and Dr. Betty Shabazz, is an educator, activist, motivational speaker, and author of multiple award-winning publications, including X: A Novel. She is also an active advocacy worker and an adjunct professor at John Jay College of Criminal Justice in New York City. Renée Watson is the author of This Side of Home, which was nominated for the Best Fiction for Young Adults by the American Library Association. Her picture book Harlem's Little Blackbird: The Story of Florence Mills received several honors including an NAACP Image Award nomination in children's literature. She is also the founder of the I, Too Arts Collective and currently teaches courses on writing for children at University of New Haven and Pine Manor College.