Adnan's Story: The Search for Truth and Justice After Serial (CD-Audio)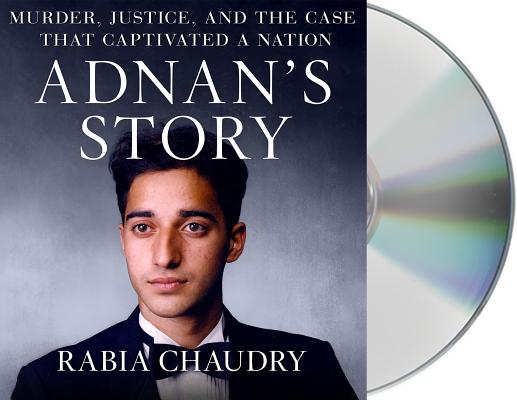 Email orders@greenlightbookstore.com for information about this item.
Out of Print / Unavailable
Description
---
*Now a New York Times bestseller*

Serial told Only Part of the Story…

In early 2000, Adnan Syed was convicted and sentenced to life plus thirty years for the murder of his ex-girlfriend Hae Min Lee, a high school senior in Baltimore, Maryland. Syed has maintained his innocence, and Rabia Chaudry, a family friend, has always believed him. By 2013, after almost all appeals had been exhausted, Rabia contacted Sarah Koenig, a producer at This American Life, in hopes of finding a journalist who could shed light on Adnan's story. In 2014, Koenig's investigation turned into Serial, a Peabody Award-winning podcast with more than 500 million international listeners

But Serial did not tell the whole story. In this compelling narrative, Rabia Chaudry presents new key evidence that she maintains dismantles the State's case: a potential new suspect, forensics indicating Hae was killed and kept somewhere for almost half a day, and documentation withheld by the State that destroys the cell phone evidence -- among many other points -- and she shows how fans of Serial joined a crowd-sourced investigation into a case riddled with errors and strange twists. Adnan's Story also shares Adnan's life in prison, and weaves in his personal reflections, including never-before-seen letters. Chaudry, who is committed to exonerating Adnan, makes it clear that justice is yet to be achieved in this much examined case.
About the Author
---
RABIA CHAUDRY is an attorney and partner at Chaudry & Anwer Immigration Law, a recent Jennings Randolph Fellow at the U.S. Institute of Peace, an International Security Fellow at the New America think tank, and a Fellow of the Shalom Hartman Institute. She is the co-host of Undisclosed, one of the top-ranked podcasts in the iTunes store with nearly 250 million downloads, and The 45th, with over four million downloads. She is a member of the National Muslim-Jewish Advisory Council and the Aspen Institute Vanguard Board. She is a frequent public speaker, and her writing has appeared in numerous outlets including Time.com, The Huffington Post, and the Chicago Sun-Times.
Praise For…
---
"'Serial' barely scratched the surface of Adnan's case, and Chaudry's writing and narration show her skilled legal mind at work as she tries to piece together what happened." - AudioFile Magazine

"An attorney and family friend of Syed's, Chaudry had unprecedented access to the facts of the case. With the full intent on proving his innocence, Chaudry exposes startling new evidence about the investigation and trial - presenting new information any Serial fan will what to learn about. Narrated by the author, Adnan's Story is an authentic and impassioned account of one woman's quest for justice." - Audible.com, August Editors Select, Best New Release

Adnan's Story was one of Audible's Top Rated Audiobooks of 2016.