Better: A Surgeon's Notes on Performance (CD-Audio)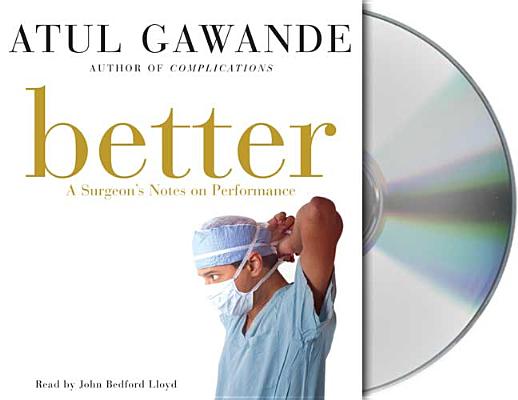 Description
---
The struggle to perform well is universal: each one of us faces fatigue, limited resources, and imperfect abilities in whatever we do. But nowhere is this drive to do better more important than in medicine, where lives are on the line with every decision. In his new book, Atul Gawande explores how doctors strive to close the gap between best intentions and best performance in the face of obstacles that sometimes seem insurmountable.
Gawande's gripping stories take us to battlefield surgical tents in Iraq, to delivery rooms in Boston, to a polio outbreak in India, and to malpractice courtrooms around the country. He examines the ethical dilemmas of doctors' participation in lethal injections, the influence of money on modern medicine, and the astoundingly contentious history of hand-washing. Offering a searingly honest first-hand account of work in a field where mistakes are both unavoidable and unthinkable, Better provides rare insight into the elements of success that illuminates every area of human endeavor.
About the Author
---

Atul Gawande is author of three bestselling books: Complications, a finalist for the National Book Award; Better, selected by Amazon.com as one of the ten best books of 2007; and The Checklist Manifesto. His latest book is Being Mortal: Medicine and What Matters in the End. He is also a surgeon at Brigham and Women's Hospital in Boston, a staff writer for The New Yorker, and a professor at Harvard Medical School and the Harvard School of Public Health. He has won the Lewis Thomas Prize for Writing about Science, a MacArthur Fellowship, and two National Magazine Awards. In his work in public health, he is Executive Director of Ariadne Labs, a joint center for health systems innovation, and chairman of Lifebox, a nonprofit organization making surgery safer globally. He and his wife have three children and live in Newton, Massachusetts.
Praise For…
---
"Gawande is a writer with a scalpel pen and an X-ray eye.... Diagnosis: riveting." —Time magazine
"Gawande is arguably the best nonfiction doctor-writer around." —Salon.com on Complications
"Remarkable...A new and different voice, bringing to modern high-tech medicine the same clinical watchfulness that writers such as Williams and Sacks have brought to bear on the lives and emotions of often fragile patients." —Sherwin B. Nuland, The New York Review of Books, on Complications