You Can Be a Paleontologist!: Discovering Dinosaurs with Dr. Scott (You Can Be A ...) (Library Binding)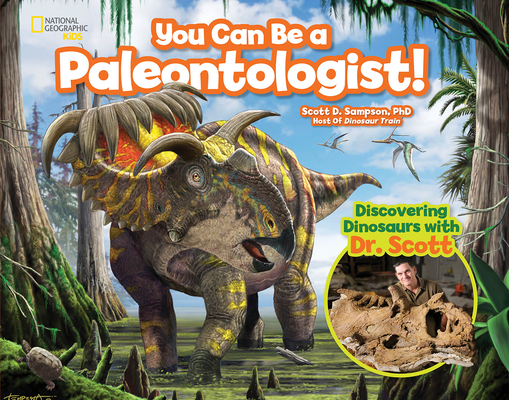 $26.90
Email orders@greenlightbookstore.com for information about this item.
Description
---
Ever wondered how to find a dinosaur? Paleontologist Dr. Scott Sampson, host of Dinosaur Train on PBS Kids, tells kids how! How do paleontologists find dinosaur bones? How do they know what dinosaurs ate or looked like? And what is paleontology, anyway? Dr. Scott tackles all these questions and more while inspiring kids to go out and make the next big dino discovery!
About the Author
---
SCOTT D. SAMPSON is a dinosaur paleontologist, science communicator, and nonprofit executive. He serves as president and CEO of Science World at Telus World of Science in Vancouver, BC. Most of Sampson's scientific research has focused on the ecology and evolution of Late Cretaceous dinosaurs. Sampson was the primary scientific consultant and on-air host of the four-part Discovery Channel series Dinosaur Planet, and today he is known to millions of children and parents around the world as "Dr. Scott the Paleontologist," host of the hit PBS Kids television series Dinosaur Train. Sampson is also the author of Dinosaur Odyssey: Fossil Threads in the Web of Life (University of California, 2009) and How to Raise a Wild Child: The Art and Science of Falling in Love with Nature (Houghton Mifflin Harcourt, 2015).
Praise For…
---
"Sampson's animated descriptions of where fossils are found, how paleontologists dig them up and transport them to museums for reconstruction and research, and what can be learned about dino diets and prehistoric habitats from teeth or other features offer a simplified but enticing view of the work and some of its rewards..." -- Kirkus

"This basic introduction to paleontology is a good start for the child who loves dinosaur picture books and is ready for the science behind these majestic (and sometimes minuscule) creatures from the past." -- Booklist

"Bright photos accent the colorful pages in this eye-catching overview of paleontology. Sampson, otherwise known as Dr. Scott, the host of the TV show Dinosaur Train, takes a question-and-answer approach to entice readers... VERDICT Eye candy for the paleontological wannabe, and some serious scientific nutrition as well." -- School Library Journal

.