Win Son Presents a Taiwanese American Cookbook (Hardcover)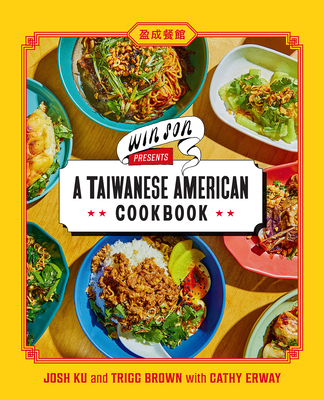 $40.00

Available In Store Now (while supplies last)
Description
---
A modern, brashly flavorful guide to cooking Taiwanese American food, from Josh Ku and Trigg Brown—co-owners of Brooklyn's lauded Win Son Bakery—and Cathy Erway, celebrated James Beard Award-winning writer and expert on the cuisine.
Josh Ku, born in Queens to parents from southern Taiwan, and Trigg Brown, a native Virginian whose mentor was a Taiwanese-American chef, forged a friendship over food—specifically, excellent tsang ying tou, or "flies' head," a dish of chopped budding chives kissed with pork fat. Their obsession with Taiwanese food and culture propelled them to open Win Son together in 2016. The East Williamsburg restaurant quickly established itself as a destination and often incurs long waits for their vibrant and flavorful Taiwanese American cuisine. With 100 creative yet accessible recipes, this book will unravel the history of this diaspora cuisine. While featuring classic dishes and well-known favorites, this cookbook also stretches this cuisine's definition, introducing new dishes with brazen twists that are fun, flavorful, and decidedly American-born in style. Including recipes such as:
Fried Eggplant with Black Vinegar, Labneh, and Spiced Cashews
Grilled Shrimp with Chili Butter and Cilantro
Black Sesame Noodles with Mushrooms
Big Chicken Buns with Fu Ru Mayo, Cilantro, and Scallions
Pei's White Mapo Tofu
Ku and Brown have teamed up with Cathy Erway, Taiwanese food expert and celebrated writer, to create
Win Son Presents a Taiwanese American Cookbook
which explores and celebrates the cuisine of Taiwan and its ever-simmering pot of creative influences. Told through the eyes, taste buds, travels, and busy lives of Ku, Brown, and Erway, this book brings the cuisine of this misunderstood island nation into the spotlight.
Includes color photographs
About the Author
---
Josh Ku, co-owner of Win Son and Win Son Bakery, is a multitalented former property and construction manager from Long Island. Win Son (meaning "abundance") is named after Ku's grandfather's former textile company in Taiwan.
Praise For…
---
"Josh and Trigg have made Taiwanese American food approachable for any home cook."
— TOM COLICCHIO, chef and owner of Crafted Hospitality
"This book is as much a celebration of Taiwanese culture and cuisine as it is Win Son."
— EDDIE HUANG, bestselling author and chef
"The food at Win Son and in this book is so vibrant and so damned delicious, you will want to scrape the bowls clean."
— CLAUS MEYER, cofounder of Noma
"This absolutely beautiful book tells a story filled with friends, family, redemption, and deliciousness."
— RICH HO, chef and owner of Ho Foods
"Josh and Trigg changed my life. Ever since my first bite of their Big Chicken Bun, I've seen the world from a whole new perspective."
— MEYHEM LAUREN, rapper and food enthusiast
"Whenever I'm asked for restaurant recommendations, Win Son is the place I send people to. To be able to cook my menu favorites at home is the absolute best and to read the stories behind the dishes is even better."
— FARIDEH SADEGHIN, executive culinary director of Munchies
"Josh and Trigg showed me, a Taipei native, a fresh and delicious perspective on Taiwanese food, which is gorgeously captured throughout this book."
— ERIC SZE, chef and owner of 886 and Wenwen
"This book shows how a small but mighty Brooklyn restaurant has earned its place in Taiwan's ever- changing food landscape."
— BIN CHEN AND ANDREW CHAU, cofounders of Boba Guys and authors of The Boba Book