Flung Out of Space: Inspired by the Indecent Adventures of Patricia Highsmith (Paperback)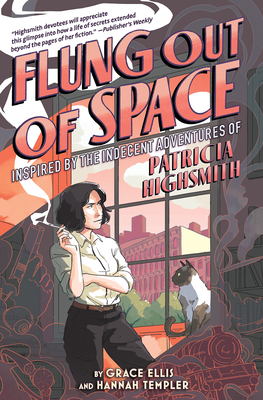 $18.99

Available In Store Now (while supplies last)
Description
---
2023 Eisner Award Winner for Best Reality-Based Work
A NEW YORK TIMES BOOK REVIEW 100 NOTABLE BOOKS OF THE YEAR
A NEW YORK TIMES BOOK REVIEW EDITORS' CHOICE
NAMED A BOOK WE LOVED BY NPR
Flung Out of Space is a graphic fictionalized account of infamous author Patricia Highsmith caught up in the longing and obsession that would inspire her groundbreaking work of queer fiction, The Price of Salt.
New York Times
bestselling author Grace Ellis and illustrator Hannah Templer have teamed up to tell Patricia Highsmith's story through the author's eyes—reimagining the events that inspired her to write
The Price of Salt
, the book that would become a foundational piece of queer literature.
Flung Out of Space
opens with Pat begrudgingly writing low-brow comics. A drinker, a smoker, and a hater of life, Pat knows she can do better. Her brain churns with images of the great novel she could and should be writing, what will eventually be
Strangers on a Train
, which would later be adapted into a classic film by Alfred Hitchcock in 1951.
At the same time, Pat, a lesbian consumed with self-loathing, is in and out of conversion therapy, leaving a trail of sexual conquests and broken hearts in her wake. However, one of those very affairs—and a chance encounter in a department store—give Pat the idea for her soon-to-be beloved tale of homosexual love that was the first of its kind: it gave the lesbian protagonists a happy ending.
This is not just the story behind a classic queer book but also of a queer artist who was deeply flawed. It's a comic about what it was like to write comics in the 1950s, but also about what it means to be a writer at any time in history, struggling to find your voice.
Author Grace Ellis contextualizes Patricia Highsmith as both an unintentional queer icon
and
a figure whose problematic views and noted antisemitism have cemented her controversial legacy. Highsmith's life imitated her art with results as devastating as the plot twists that brought her fame and fortune.
This updated paperback edition of
Flung Out of Space
includes sixteen pages of bonus content with in-depth visual development materials and a teaching guide.
About the Author
---
Grace Ellis made a name for herself in the industry by creating unforgettable, lovable, and funny characters. She burst onto the comics scene with The Lumberjanes, which she cocreated and cowrote. It was a New York Times–bestselling, Eisner and GLAAD Award–winning comics series that broke the mold of both YA and superhero comics. She is also the author and creator of the series Moonstruck, illustrated by Shea Beagle, and writer of the series Lois Lane and the Friendship Challenge for DC Comics. Ellis lives in Columbus, Ohio.
Praise For…
---
"Flung Out of Space also provides a window into the nature of both comics and prose publishing at the time, and the particular challenges that faced a lesbian attempting to navigate that landscape."
— Comics Beat

"Flung Out of Space is an impressively good comic. Which is funny, because much of the book shows us Ms. Highsmith writing comics and hating it. Yet this story of some of her life is easily one of the best graphic novels of the year."
— Comics Worth Reading

"When Highsmith encounters the woman who will inspire her touchstone lesbian novel "The Price of Salt" — a goddess in full '50s feminine drag, radiantly filling up a full page — well. Nobody could have done it better. . . Ellis and Templer take for granted that women can create great comics. It's queerness, not female power, that they're fighting for."
— Etelka Lehoczky, the New York Times

"Pat is thrilling, disturbing, charming, deeply unpleasant, all at once. "Flung Out of Space" gives us room to detest her at her worst and admire her at her best
— fnewsmagazine.com

"It's welcome addition to the queer graphic novel and lesbian history canon. Like everything Grace Ellis writes, it just leaves me wanting more."
— Heather Hogan, Autostraddle

"Ellis' savvy writing combines with Templer's stunning illustrations to create a work that will intrigue and fascinate comics fans."
— Multiversity Comics

"Highsmith devotees will appreciate this glimpse into how a life of secrets extended beyond the pages of her fiction."
— Publisher's Weekly

"Ultimately, the book balances the inspiration for The Price of Salt with the reality of the price Highsmith's life took on her, while acknowledging that she is far from a perfect person . . . Ellis and Templer celebrate the work she was able to do, despite those struggles, while also showing her to be the flawed person she was. They see her as a human with talent, which is all any of us can ask for."
— Solrad

"It is a critical, caring, funny, and heartbreaking story in which the hands of the artist and author are visible and essential to depicting Patricia Highsmith as a whole, complex person . . . Flung Out of Space beautifully and deftly paints a portrait of a complex, cruel, and charming woman who gave the world equally complex and enticing stories. I was enraptured by this comic, by Ellis and Templer's brilliant approach to engaging with a flawed but beloved subject, and, somewhat begrudgingly, by Pat herself."
— Women Write About Comics

"This graphic novel — the funny and sad tale of a great lesbian writer's struggle to find herself — is deftly told, and the spare illustrations are infused with idiosyncrasy and energy."
— New York Times Book Review, Editors' Choice