DUNE: The Graphic Novel, Book 1: Dune (Hardcover)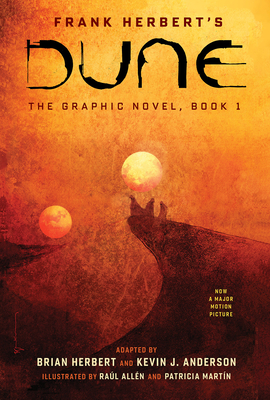 $24.99

Not In Store / Available To Order (allow for shipping time to bookstore or direct-to-home)
Description
---
The first book in the definitive graphic novel adaptation of Dune, the groundbreaking science-fiction classic by Frank Herbert.

Dune, Frank Herbert's epic science-fiction masterpiece set in the far future amidst a sprawling feudal interstellar society, tells the story of Paul Atreides as he and his family accept control of the desert planet Arrakis. A stunning blend of adventure and mysticism, environmentalism, and politics, Dune is a powerful, fantastical tale that takes an unprecedented look into our universe, and is transformed by the graphic novel format.
In the first volume of a three-book trilogy encompassing the original novel, New York Times bestselling authors Brian Herbert and Kevin J. Anderson's adaptation retains the story's integrity, and Raúl Allén and Patricia Martín's magnificent illustrations, along with cover art by award-winner Bill Sienkiewicz, bring the book to life for a new generation of readers.

"A much-needed addition to the series started by Frank Herbert decades ago." —The Nerd Daily

About the Author
---
Frank Herbert (1920–86) was the author of Dune and its five sequels, as well as numerous other highly praised novels. Herbert became internationally famous for his science fiction novels and was also a newspaper journalist, photographer, short story writer, book reviewer, ecological consultant, and lecturer. His novel Dune is one of the bestselling science fiction novels of all time, and the series is widely considered the archetype for all science-fiction that followed. Dune is the most admired science fiction novel ever written.
Brian Herbert is the son of legendary science fiction author Frank Herbert and has written the definitive biography of him, Dreamer of Dune, a finalist for the Hugo Award. Brian has also written many highly imaginative novels, including the Timeweb trilogy, the ecological fantasy Ocean (with his wife, Jan), The Little Green Book of Chairman Rahma, The Unborn, and The Assassination of Billy Jeeling. His earlier acclaimed novels include The Stolen Gospels, Sudanna Sudanna, and Sidney's Comet, as well as Man of Two Worlds (written with his father). Brian has collaborated on many novels in the Dune series with Kevin J. Anderson, all of which became international bestsellers, and they also collaborated on the Hellhole trilogy. Brian comanages the legacy of Frank Herbert and is an executive producer of the new motion picture Dune and the forthcoming TV series Dune: The Sisterhood. He and his wife live in Seattle, Washington.
Kevin J. Anderson is an American science fiction author of more than 50 bestsellers. In addition to his original novels, he has written spin-off novels for Star Wars, StarCraft, and The X-Files, and with Brian Herbert he is the coauthor of 14 novels in the Dune series. Anderson has also written numerous comic books, including Star Wars and Predator for Dark Horse, Justice Society of America for DC Comics, Starjammers for Marvel, The X-Files for Topps, as well as original titles for IDW and Wildstorm. He currently resides in Colorado, with his wife.
Raúl Allén grew up in the town of Valladolid, Spain. He graduated with a degree in fine arts from Salamanca University and moved to Boston to study illustration and design. He currently lives in Spain. Allén has worked for Marvel Comics, Valiant, and DC Comics, with writers such as Matt Fraction, Ed Brubaker, Warren Ellis, Jeff Lemire, Matt Kindt, and Peter Milligan. Allén has also worked on more than a hundred covers for Valiant, Image, Boom! Studios, and Penguin. He has also worked for Quentin Tarantino, Playboy, Rolling Stone, the New York Times, Billboard, the Washington Post, and the Wall Street Journal. Allén's work has been exhibited in New York, Boston, Washington DC, Rome, Berlin, Stockholm, Buenos Aires, Madrid, and Barcelona. When he is not drawing, Allén directs, shoots, and animates music videos.
Patricia Martín is a letterer, comics artist, and illustrator nominated for multiple Harvey Awards. Born in Spain, she always felt the need to communicate either through writing or drawing. Martín began her career in the field of book publishing with companies such as Oxford University Press, El Jinete Azul, and Barbara Fiore Editora, working on lettering and design. Later on she moved to the illustration and comics industry, and for the last four years he has worked on Wonder Woman with Steve Orlando, Bloodshot Reborn with Jeff Lemire, Ninjak with Matt Kindt, and Secret Weapons alongside artist Raúl Allén.
Bill Sienkiewicz is an Eisner Award–winning, Emmy-nominated artist best known for revamping the style of comics and graphic novel, most notably with Marvel Comics and DC Comics, earning him an international reputation and cult status across media industries. In 1984, Sienkiewicz was chosen by David Lynch to illustrate the comic book adaptation of his Dune movie for Marvel Comics. Sienkiewicz's work has graced museums and galleries worldwide; advertising campaigns for Nike, MTV, the 2006 Winter Olympics, and Nissan; and magazines such as Entertainment Weekly and Spin. He lives in Los Angeles, California.

Brian Herbert, the son of Frank Herbert, has written a moving biography of his father, Dreamer of Dune. Brian is also known for his collaborations with author Kevin J. Anderson, with whom he has written multiple sequels and prequels to his father's landmark 1965 science-fiction novel Dune.



Kevin J. Anderson is the author of more than 50 bestsellers. He has written spin-off novels for Star Wars, StarCraft, and the X-Files and, with Brian Herbert, is the co-author of the Dune prequel series.

Praise For…
---
"…it excels in broad action shots, such as the first spotting of a massive sandworm maw. This efficient take will whet appetites for more adventures to come."
— Publishers Weekly
"Boasting eye-popping art from Raúl Allén and Patricia Martin…
Dune: The Graphic Novel
is a scene-by-scene adaptation of the beloved novel from two writers who are already very familiar with the worlds of Arrakis and beyond."
— The Hollywood Reporter
"It's
Dune
, but easier on the eyes…That means you can indulge a bit here, taking time to remind yourself of what makes the original source material so good…"
— Polygon
"The palette practically makes Arrakis' blazing heat and desolation jump off the page…This art is gorgeous."
— Nerdist
"…an adaptation worthy of continuing the franchise's legacy for a new generation."
— Comic Book Resources
"…a breathtaking new comic book adaptation."
— SPACE.com
"The core of what made
Dune
a great science fiction novel has been preserved, and to it are added vibrant visuals in
Dune: The Graphic Novel, Book 1
—a resoundingly successful adaptation."
— Foreword STARRED Review
"Raúl Allén and Patricia Martín take a dense story and apply all that nuance and subtext to their visual language in adapting Dune. Panels establish scope and geography, and showcase the character who has the power in a scene, all the while guiding you as if you were on a theme park ride through the wild sci-fi action of warring families and giant sand worms. These two have pulled off a rare feat and made a political tale visually compelling."
— Eric Heisserer
"Intricate . . . well defined . . . easy to follow . . . blending the aristocratic costumery, sci-fi technology, and desert landscape into a world that is unmistakably
Dune.
"
— Booklist
"A much-needed addition to the series started by Frank Herbert decades ago."
— The Nerd Daily
"The carefully chosen color palettes are particularly compelling, conveying the perfect sense of mood in every situation…a good gateway into the world of Dune."
— Boing Boing