Salad for President: A Cookbook Inspired by Artists (Hardcover)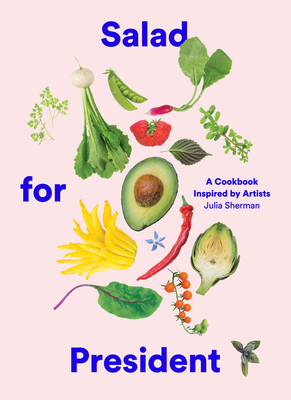 About the Author
---
Julia Sherman is an artist, photographer, and the creator of Salad for President. Alongside her culinary work, Sherman is an exhibiting mixed-media artist. She received her BFA from the Rhode Island School of Design and her MFA from Columbia University.
Praise For…
---
"Part relational art, part self-discovery, Salad for President turns our notion of "salad" on its head in a funny, beautiful, and most personal way."
— Alex Grossman
"Salad For President makes even the most unrepentant meat eater consider their leafy greens; it was a decidedly bitter, yet delicious, pill to swallow."
— John Martin
"A salad is a composition. I am perfectly happy to see cars or clouds or salads as artworks . . . You can use anything to call attention to the structure and meaning and beauty of things. It's what you do with them and how you contextualize them that matters."
— Laurie Anderson
"Julia Sherman is one of those 'natural' artists in the sense that she cannot help but bring the same careful attention, beauty, and enthusiasm to virtually everything she touches. This cookbook is no exception. Buy it! Eat salad! I promise you won't regret it."
— Mia Locks