Redeployment (Thorndike Press Large Print Thriller) (Large Print / Hardcover)
* Is the book you're looking for not currently on the shelves at our stores? Consider placing your order for shipping rather than in-store pickup; orders are currently being fulfilled FASTER via our warehouse's direct-to-home shipping option than for store pickup (and shipping is free for orders over $125)!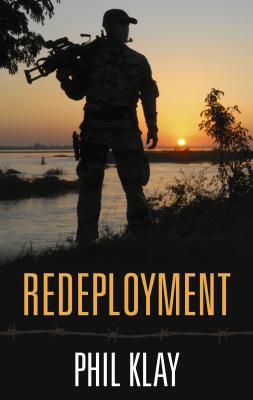 Email or call us for information about purchasing this item.
March 2014 Greenlight First Editions Club Selection
March 2014 Indie Next List
---
"In a whirlwind of short stories, Klay gives us a good, strong impression of how it must feel to be an American soldier in the 21st century. The whole gamut of emotions including guilt, worry, post-traumatic stress disorder, and the difficulties associated with homecoming, are presented as real life events. Sometimes chilling to the bone, sometimes heartbreaking, every story has its own value and will touch your heart."
— Jean-Paul Adriaansen, Water Street Books, Exeter, NH
Description
---
Phil Klay's Redeployment takes readers to the frontlines of the wars in Iraq and Afghanistan, asking us to understand what happened there, and what happened to the soldiers who returned. Interwoven with themes of brutality and faith, guilt and fear, helplessness and survival, the characters in these stories struggle to make meaning out of chaos.
In Redeployment, a soldier who has had to shoot dogs because they were eating human corpses must learn what it is like to return to domestic life in suburbia, surrounded by people who have no idea where Fallujah is, where three members of your platoon died. In After Action Report, a Lance Corporal seeks expiation for a killing he didn't commit, in order that his best friend will be unburdened. A Morturary Affairs Marine tells about his experiences collecting remains--of U.S. and Iraqi soldiers both. A chaplain sees his understanding of Christianity, and his ability to provide solace through religion, tested by the actions of a ferocious Colonel. And in the darkly comic Money as a Weapons System, a young Foreign Service Officer is given the absurd task of helping Iraqis improve their lives by teaching them to play baseball. These stories reveal the intricate combination of monotony, bureaucracy, comradeship and violence that make up a soldier's daily life at war, and the isolation, remorse, and despair that can accompany a soldier's homecoming.
Redeployment is poised to become a classic in the tradition of war writing. Across nations and continents, Klay sets in devastating relief the two worlds a soldier inhabits: one of extremes and one of loss. Written with a hard-eyed realism and stunning emotional depth, this work marks Phil Klay as one of the most talented new voices of his generation.
About the Author
---
Phil Klay is a Dartmouth grad and a veteran of the US Marine Corps. He served in Iraq during the Surge and subsequently received an MFA from Hunter College, where he studied with Colum McCann and Peter Carey, and worked as Richard Ford's research assistant. His first published story, "Redeployment," appeared in "Granta"'s Summer 2011 issue. That story led to the sale of his forthcoming collection, which will be published in seven countries. His writing has also appeared in the "New York Times," the "New York Daily News," "Tin House," and in "The Best American Nonrequired Reading 2012."