America I AM Pass It Down Cookbook: Over 130 Soul-Filled Recipes (Paperback)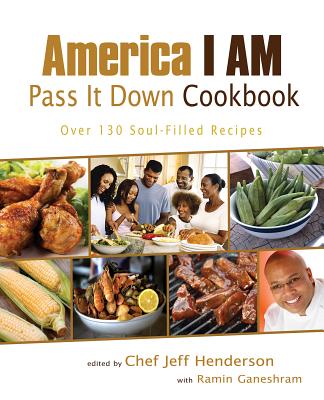 $16.95
Email orders@greenlightbookstore.com for information about this item.
Description
---
The smells in the kitchen, the unforgettable flavors—these powerful memories of food, family, and tradition are intertwined and have traveled down from generations past to help make us the people we are today. Now, Tavis Smiley's America I AM exhibit has joined forces with Chef Jeff Henderson and Ramin Ganeshram to create the America I AM Pass It Down Cookbook. This special keepsake preserves African Americans' collective food history through touching essays, celebratory menus, and over 130 soul-filled and soul-inspired recipes. There's something for everyone—from traditional southern cooking like Apryle's Seafood Gumbo, Craig Robinson's Mom's Buttermilk Fried Chicken, and Russel Honoré's Barbecued Boston Pork Butt, to healthy new millennium twists, including the Duo Dishes' Honey Dijon Spiced Pecan Coleslaw, Ron Johnson's Crunchy Collards, and Scott Alves Barton's Fragrant Jerk Chicken. Irresistible desserts like Mama Mabel's Apple Dumplings and Saporous Strawberry Cheesecake, and beverages like Very Exciting Fruit Punch and Tom Bullock's classic Lemonade Apollinaris are sure to delight.As you read this book, you'll discover the voices of real cooks and their triumphs in the kitchen, and the ways in which African Americans have impacted the way the whole nation eats. You'll learn healthy cooking variations filled with heart and soul, and how to make cooking with kids fun. There's even a section for you to add your own family recipes and "pass it down" to the next generation.It's time to turn the pages and join us at the table. After all, our shared experience is the greatest feast of all.
About the Author
---
Jeff Henderson was the first African American to be named Chef de Cuisine at Caesar's Palace in Las Vegas and executive chef at Café Bellagio. He hosted the The Chef Jeff Project, a docu-reality TV series; and is the author of the New York Times bestseller Cooked and Chef Jeff Cooks. Ramin Ganeshram is a chef and award-winning journalist whose work has appeared in Saveur, O, National Geographic Traveler, and more. She is the author of Sweet Hands: Island Cooking from Trinidad & Tobago, and Stir It Up!, a culinary novel for middle-grade readers.