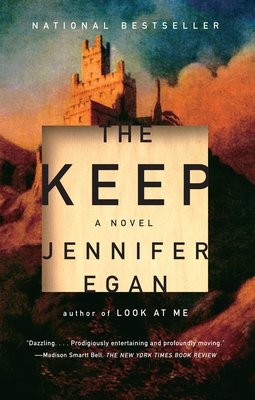 $18.00

Not In Store / Available To Order (allow for shipping time to bookstore or direct-to-home)
Description
---
NATIONAL BESTSELLER • "Part horror tale, part mystery, part romance ... utterly fantastic."—O, The Oprah Magazine • The bestselling, award-winning author of A Visit from the Goon Squad brilliantly conjures a world from which escape is impossible and where the keep—the tower, the last stand—is both everything worth protecting and the very thing that must be surrendered in order to survive.

Two cousins, irreversibly damaged by a childhood prank, reunite twenty years later to renovate a medieval castle in Eastern Europe. In an environment of extreme paranoia, cut off from the outside world, the men reenact the signal event of their youth, with even more catastrophic results.

And as the full horror of their predicament unfolds, a prisoner, in jail for an unnamed crime, recounts an unforgettable story that seamlessly brings the crimes of the past and present into piercing relation.
About the Author
---
Jennifer Egan is the author of four novels: A Visit from the Goon Squad, The Keep, Look at Me, The Invisible Circus; and the story collection Emerald City. Her stories have been published in The New Yorker, Harper's Magazine, GQ, Zoetrope, All-Story, and Ploughshares, and her nonfiction appears frequently in The New York Times Magazine. She lives with her husband and sons in Brooklyn.
Praise For…
---
"Dazzling. . . . Prodigiously entertaining and profoundly moving." —Madison Smartt Bell, The New York Times Book Review

"Daring. . . . Irresistibly suspenseful." —The Los Angeles Times

"The events that transpire are so surprising and provocative, the humor so wry, the sheer pleasure of reading The Keep so great, one instantly feels impelled to read it again. . . . Satirically sublime." —Chicago Tribune

"Roiling and captivating. . . . As you finish this novel, part horror tale, part mystery, part romance, the mind lingers over it, amazed by how vivid Egan has made it, how witty, how disturbing, how credible, and yet how utterly fantastic." —O, The Oprah Magazine

"This neo-gothic tale conjures a wicked form of therapy for BlackBerry-addicted urbanites. . . . Egan's clever scenario presents Danny's mental liberation as both thrilling and dangerous—imagination is the ultimate drug, she suggests—and the novel luxuriates in Wilkie Collins–style atmospherics." —The New Yorker

"Egan is an exceptionally intelligent writer whose joy at appropriating and subverting genres and clichés—from prison memoir to Gothic ghost story—is evident on every dizzyingly inventive page." —The Washington Post

"[A] remarkable piece of work. . . . Egan effectively echoes the works of Gothic writers such as Ann Radcliffe (The Mysteries of Udolpho) and Horace Walpole (Castle of Otranto), fusing a seemingly moribund genre with elements borrowed from the metafictions of John Barth, Italo Calvino and others. It's tricky; but it's a trick only a terrifically talented writer could pull off." —San Francisco Chronicle

"If Kafka's Joseph K. and Lewis Carroll's Alice had a son, he would have to be Jennifer Egan's Danny. . . . No matter how many symbols and zany subplots she juggles . . . the novelist keeps the action moving and the irony biting." —Boston Sunday Globe

"Intelligent, intense and remarkably intuitive. . . . Jennifer Egan gives us the satisfying thunk of a fully understood if unexpected, kind of sense." —Nan Goldberg, The New York Observer

"It's precisely Egan's talent for tapping into the American subconscious—with deeply intuitive forays into the darker aspects of our technology–driven, image–saturated culture—that has established the author and journalist as a prescient literary voice." —Vogue

"Jennifer Egan spins a haunting tale. . . . Egan's brilliance is in balancing the deliciously creepy elements of gothic–castle novels with the dead–on realism of a prisoner's life, to create a book worth keeping." —Elissa Schappell, Vanity Fair

"Egan's third novel . . . is a strange, clever, and always compelling meditation on the relationship between the imagination and the captivities (psychological, metaphysical, and even physical) of modern life." —The Atlantic Monthly

"Visionary . . . at once hyperrealistic and darkly dreamed. . . . With Egan's powers of invention running at full tilt, The Keep reads like a twenty-first-century mash-up of Kafka, Calvino, and Poe, in which the absurd meets the surreal meet the unspeakable—to edgy, entertaining effect." —Lisa Shea, Elle

"The Keep is an example of literature responding to current events not with a mirror but an artful mindfuck." —David Bahr, Time Out New York
 
"With The Keep, Egan breaks the mold from page one. Her muscular, lively prose achieves a haunting effect. . . . [The book] maintains a frightening, vertiginous velocity. . . . And the immersion in these high-stakes psychological tightrope acts gives The Keep a page-turning horror. . . . Outstanding." —The Onion
 
"Egan gets everything right–from the convolutions of the strung-out male mind to the self-deceptions of a drug addict–and her skill will keep you marveling at the pages that you can't help turning." —People
 
"Like an old spirit who refuses to go away, this is one fantasy that haunts long after its physical end." —The Boston Phoenix
 
"Egan is both a captivating storyteller and an incisive social observer. . . . The events that transpire are so surprising and provocative, the humor so wry, the sheer pleasure of reading The Keep so great, one instantly feels impelled to read it again, an impulse that is grandly rewarded, so masterful is Egan's foreshadowing, so nuanced and mysterious is the story. Gothic and chthonic, The Keep is satirically sublime." —The Chicago Tribune
 
"Arresting . . . insightful and often funny, so fluid that you actually have the sensation of sinking into these lives . . . strange and beautifully drawn, a place well worth visiting." —Susan Kelly, USA Today
 
"Dazzling . . . a metafictional tour de force . . . it draws us in with its compelling realism as surely as anything by Dickens or Balzac—not to mention Henry James, who understood better than anyone how to turn the screw." —Chicago Sun-Times
 
"Steeped in Gothic mystery and plugged into our wired, up–to–the–minute cultures, The Keep is a hypnotic tale of unexpected connections between isolated people, each concealing secrets that ultimately upend how we see them. . . . Though dark with betrayal and violence (both psychological and literal), The Keep ultimately reveals itself to be a love letter to the creative impulse." —Newsday
 
"The Keep is a novel of ideas." —Poets & Writers
 
"An engrossing narrative told in prose that's remarkably fresh and inventive." —Library Journal
 
"Atmospheric and tense, this is a mesmerizing story." —Booklist
 
"Jennifer Egan is a contemporary American storyteller in the vein of Stephen King or The Sopranos scriptwriters. Her latest novel, a slightly gothic tale of love and the (possibly) supernatural, is a pleasure to read. . . . Egan's eye and ear for contemporary America places the whole saga too close to home for fantasy." —Emily Carter Roiphe, Minneapolis Star-Tribune
 
"A dark and fascinating journey. . . . Egan skillfully builds the tension to a tipping point, culminating in an explosion. . . . The complicated plot comes together seamlessly, marvelously. . . . It's a novel that engages and haunts the reader, a psychological who's–who, who–dun–what and how–do–they–go–on. The Keep is a fast an furious read, a perfect summer novel." —Rocky Mountain News
 
"Egan . . . makes it all work. How she weaves the story of these four people together—and the unexpected links between them—is fascinating." —The Oregonian
 
"The book itself is a stronghold of imaginative story telling, the last stand of the Gothic novel." —The Philadelphia Inquirer
 
"Exhilarating . . . Context and borders shift and dissolve, and the reader experiences the precise frisson the gloomy genre of Gothic is meant to convey: the wonder, the terror and the trapped chill of fear that resolves in a mind-expanding realization of the dimensions within your own head. In a word: sublime." —Linda Marotta, Fangoria
 
"Part gothic romance, part ghost story, and peppered with Egan's startling insights into the role of communication and loneliness in contemporary life, this is one brainy page-turner that will have you leaving the lights on at night." —iVillage
 
"The Keep is a cinematic treat for the inner eye, moving as it does between the musty dungeons of an ancient power to a prison full of angry men and deep into the souls of the walking dead—those riddled with guilt, lust and loneliness." —Santa Cruz Sentinel
 
"The Keep is imaginatively plotted and keeps you guessing until its final chapter. Far from seeming in any way contrived or dependent upon props or plot stratagems, Egan's storytelling reaffirms the quality that defines 'literary' suspense." —Pittsburgh Tribune-Review
 
"Jennifer Egan's The Keep is a page–turner." —The Austin Chronicle
 
"An addictive, clever story." —The Register-Guard
 
"A psychological drama inside a haunted house tale wrapped in a prison memoir that never fails to stoke the imagination. . . . An original thrill ride of a novel." —Times-Leader

"A chilling tour de force made eerily real." —Bookpage

"Egan's story, like the elusive castle with its unexplored rooms and uncharted underground tunnels, keeps transforming into new realities as she unveils some extraordinary surprises along the way. Jennifer Egan is a very fine writer, whose characters and plot will keep you up late reading and pondering its fascinating turns." —San Antonio Express-News