No One Can Change Your Life Except For You (Paperback)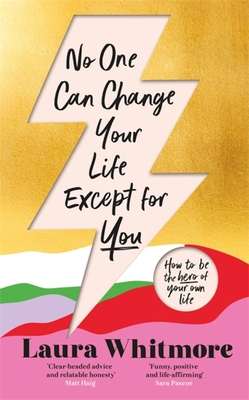 $17.99

Coming Soon - Available for Pre-Order Now
Description
---
'Funny, positive and life-affirming, Laura is like a PT for your self-confidence.' SARA PASCOE

'Clear-headed advice and relatable honesty.' MATT HAIG

'My favourite kind of book - like a glass of wine with your smart, funny friend.' KATHERINE RYAN

'When I was a kid the first album I owned was by Wilson Phillips. I remember the lyric from the song Hold On, 'No one can change your life except for you'. It's how I've chosen to live my life. There is a freedom when you take back control. Stop waiting for someone to save you and do it yourself. I recognise everyone has different levels of struggle but no one just hands you a chance. We don't have to wait for Prince Charming to rescue us, or wait for the opportunity to come to us. We can be our own heroes. We can create our own dreams.'

Laura Whitmore knows lucky breaks come to those who are ready to step into their own power, even when they're feeling nervous as hell about it. In No One Can Change Your Life Except For You, she shares her experiences of overcoming heartbreak, body image worries, self-doubt and insecurity.

Laura has learned that optimism, self-belief and learning to accept yourself, will bring you more than anyone else can ever give you. And she shows how her own struggles can help you through yours.

Frank, heartfelt, inspirational and funny, this is a book to remind you that the hero you are looking for is YOU.
About the Author
---
Laura Whitmore is an established and highly experienced TV presenter and radio broadcaster, known for her roles hosting Love Island, I'm a Celebrity Get Me Out Of Here Now!, MTV and much more, as well as her own BBC Radio 5 Live series, The Laura Whitmore Show. She hosts Castaway - the podcast about podcasts - and recently wrote and starred in the award winning short film, Sabhdh.


With a degree in Journalism, Laura has always regarded writing as her first love. In 2018 her article expressing her views on Upskirting and the #MeToo and #TimesUp campaigns went viral after publication on The Huffington Post, being shared millions of times around the world. And she has written features on topics ranging from abortion to the effects of social media, for Grazia Magazine, Hot Press, Elle and Glamour. Her poem for International Women's Day, She, was shared all over social media in March 2020.