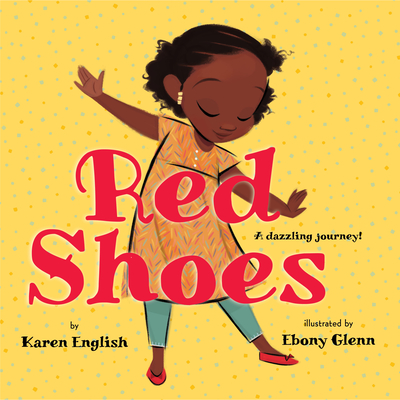 $18.99

Not In Store / Available To Order (allow for shipping time to bookstore or direct-to-home)
Description
---
Red shoes glowing--Perched on a pedestal in the shop windowas if on a throne."I want those, Nana," Malika says, as they pass the shop."We'll see," Nana says with a wink. "Looks like you could use a new pair."Malika is delighted when Nana surprises her with a beautiful new pair of red shoes! And with a click-clack-click and a swish, swish, swish, Malika wears her wonderful new shoes everywhere she goes. But one day, the shoes begin to pinch Malika's toes. And alas, they don't let her forget that her feet have grown! Soon Malika and Nana are off to the Rare Finds Resale Shop, where the shoes can be resold -- so somebody else can enjoy them!Who will be the next to wear the red shoes?Malika wonders.Then Inna Ziya buys the shoes, and readers follow the shoes all the way across the world to Ghana in Africa, where Amina, another little girl, who has fasted her first time for Ramadan is about to get an amazing gift!Karen English and Ebony Glenn have crafted a satisfying and heartwarming story about a pair of shoes, two girls, and a connection they share across continents.
About the Author
---
Karen English is the author of the Coretta Scott King honor novel, Francie, and It All Comes Down to This, a Kirkus Prize finalist. She is also the author of the Nikki and Deja and The Carver Chronicles series, and the picture book Hot Day on Abbott Avenue, illustrated by Javaka Steptoe. She lives in Los Angeles, California with her family.
Ebony Glenn is an Atlanta-based illustrator who enjoys bringing stories to life with whimsical illustrations. With a passion for the arts and great storytelling, she aims to create art that brings more joy and magic into people's lives. Ebony is the illustrator of Mommy's Khimar, selected as a best book of the year by NPR, Not Quite Snow White, by Ashley Franklin, Beacon to Freedom: The Story of a Conductor on the Underground Railroad, by Jenna Glatzer, and the upcoming picture book biography Brave Ballerina: The Story of Janet Collins by Michelle Meadows. You can visit her online at ebonyglenn.com.