Amboy: Recipes from the Filipino-American Dream (Hardcover)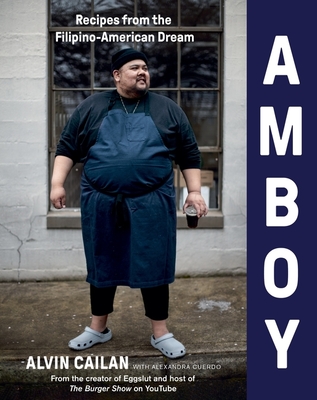 $35.00

Not In Store / Available To Order (allow for shipping time to bookstore or direct-to-home)
Description
---
Filipino recipes from the the creator of the legendary Eggslut in LA, host of the hit online series The Burger Show, and the most prominent Filipino chef in the US.

Alvin Cailan has risen to become arguably the most high-profile chef in America's Filipino food movement. He took the food scene by storm when he opened the now-legendary Eggslut in Los Angeles, a foodie cult favorite specializing in affordable but sophisticated egg sandwiches. Alvin also hosts the popular The Burger Show on First We Feast's YouTube channel, with many episodes exceeding 1 million views and guests such as Seth Rogen and Padma Lakshmi. Alvin's story of success, however, is an unlikely one. He emerged from his youth spent as part of an immigrant family in East LA feeling like he wasn't Filipino enough to be Filipino and not American enough to be an American, thus amboy, the term for a Filipino raised in America. He had to first overcome cultural traditions and family expectations to find his own path to success, and this unique cookbook tells that story through his recipes.
About the Author
---
Alvin Cailan's career began with a classical French culinary education at Oregon Culinary Institute, followed b stints at some of the West Coast's finest restaurants. Chef Alvin first grabbed the public's attention as a trailblazer in the culinary world when he launched the Eggslut food truck in Los Angeles. The truck rapidly became a foodie cult favorite and it remains one of the most popular food destinations in L.A, with long lines every day at the Grand Central Market location. Alvin then turned his attention to supporting other aspiring restaurateurs and to the promotion of Los Angeles's Filipino food movement. Soon, Unit 120, Chef Alvin's pop-up kitchen space, became the incubator for Amboy, his critically acclaimed Filipino food venture, along with the award-winning Filipino restaurant LASA. Chef Alvin is now focusing on his true passion: bolstering the modern Filipino food movement across the country, and today, he is arguably America's most high-profile champion of it. He is planning to open his next restaurant, Amboy, in Los Angeles soon. He has been featured in prestigious publications like Bon Appetit, Food and Wine, and Bloomberg. Alvin is also the host of the hugely popular The Burger Show on the Complex/First We Feast YouTube channel. 

Alexandra Cuerdo is a writer and director, recently named one of the 100 Most Influential Filipina Women In the World by the Filipina Women's Network. Her feature directorial debut, Ulam: Main Dish, is the first Filipino food documentary to achieve worldwide distribution, which Jonathan Gold called a "love letter" to Filipino food. Her work has been featured in the New York Times, the Los Angeles Times, BuzzFeed, Vogue, TimeOut, Eater and more. She is based in Los Angeles and New York.
Praise For…
---
"Ever since I first tasted the Eggslut truck, I knew the food was special, and when I met Alvin, I understood why. He's a wonderful person whose love of food shines through in every bite."  —Seth Rogen  "I think Alvin has an uncanny ability to manifest what is just so perfectly of-the-moment, but always just a bit before all of us know that yes, that's EXACTLY what we all want and need right now. His delicious food is the stuff that you crave and think about for days and weeks after. This book is an amazing window into his life and process."  —Chef Daniel Humm  "Any book that starts out with a method for cooking rice is right on as far as I am concerned! Alvin begins there and sets out on a journey that tells the story of his personal and culinary life, stopping along the way to share the recipes of his family, his influences from the restaurant world and the side trips he has taken on his way to becoming the well-rounded chef and pied piper for the Filipino food movement that he is today. From beef & cabbage soup to Filipino/Japanese curry, this book will draw you along from story to story, recipe to recipe, and give you a glimpse into the mind of a fiercely creative and driven man told in a voice that is true and real."  —Andy Ricker "Be it in the sheen of a custardy egg on brioche or across millions of YouTube players each week, Alvin has been a passionate and inspirational fixture in the modern culinary pantheon. Now, in his debut cookbook, he shares his knowledge, his creativity, and his Filipino-American experience through every insightful story and mouthwatering recipe."  —Andrew Rea, creator of Binging with Babish  "This wild ride of a collection has bluster, but also heart and personality to spare." —Publishers Weekly (starred review) —