Indian-Ish: Recipes and Antics from a Modern American Family (Hardcover)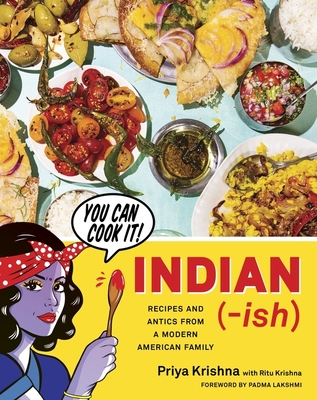 List Price: $30.00
Our Price: $28.00
(Save: $2.00 7%)
Available In Store Now (while supplies last)
Description
---
Named one of the Best Cookbooks of Spring 2019 by the New York Times, Eater, and Bon Appétit

"A joy to cook from, and just as much fun to read." —Margaux Laskey, the New York Times

A witty and irresistible celebration of one very cool and boundary-breaking mom's "Indian-ish" cooking—with accessible and innovative Indian-American recipes

Indian food is everyday food! This colorful, lively book is food writer Priya Krishna's loving tribute to her mom's "Indian-ish" cooking—a trove of one-of-a-kind Indian-American hybrids that are easy to make, clever, practical, and packed with flavor. Think Roti Pizza, Tomato Rice with Crispy Cheddar, Whole Roasted Cauliflower with Green Pea Chutney, and Malaysian Ramen.

Priya's mom, Ritu, taught herself to cook after moving to the U.S. while also working as a software programmer—her unique creations merging the Indian flavors of her childhood with her global travels and inspiration from cooking shows as well as her kids' requests for American favorites like spaghetti and PB&Js. The results are approachable and unfailingly delightful, like spiced, yogurt-filled sandwiches crusted with curry leaves, or "Indian Gatorade" (a thirst-quenching salty-sweet limeade)—including plenty of simple dinners you can whip up in minutes at the end of a long work day.

Throughout, Priya's funny and relatable stories—punctuated with candid portraits and original illustrations by acclaimed Desi pop artist Maria Qamar (also known as Hatecopy)—will bring you up close and personal with the Krishna family and its many quirks.
About the Author
---
Priya Krishna is a food reporter and video host for the New York Times and the bestselling author of multiple cookbooks including Indian-ish and Cooking at Home. Her stories have been included in the 2019 and 2021 editions of The Best American Food Writing and in 2021, she was named to Forbes' 30 Under 30 list. She is originally from Dallas, Texas, which happens to be one of the busiest travel hubs in the world.
Praise For…
---
"Priya's writing features the hilarious, heartwarming stories about her family, and while I've never met her parents, I feel like I know them (mom loves a good wine pairing, dad loves yogurt, both love Dunkin' Donuts). Not a lot of cookbooks pack as much personality and fun—plus these are guaranteed cookable, fantastic recipes." —Alex Beggs, Bon Appétit   "With a foreword from Padma Lakshmi and a whiff of early Madhur Jaffrey about it, Indian-ish marks a moment of change for a cuisine once silo'd in the West as Mughlai creamy butter chicken and takeout 'curry' (which, as Priya and I wish to remind you, is not a thing)." —Sanjena Sathian, Food & Wine   "Within the book you'll find delightful, one-of-a-kind recipes, like roti pizza and tomato rice topped with cheddar cheese — dishes that are designed to be an entry point into Indian cuisine — as well as Priya's heartwarming stories and Ritu's gems of indispensable wisdom." —Esra Erol, Eater "A great starter book for anyone who has ever wondered how to make basic Indian food in an American kitchen. Priya and Ritu's methods are approachable, easy to execute, and employ everything from microwaves to Instant Pots, because that is the way most Americans do things now." —From the foreword by Padma Lakshmi, host/executive producer of Bravo's Top Chef and author of the New York Times best-selling Love, Loss, and What We Ate   "I am impossibly excited about this book. Priya's personality and fresh, bold voice jump off the page, and her FAQ page is alone worth the cover price. Bring on the kachumber, dahi toast, and tomato rice with crispy cheddar, please!" —Deb Perelman, author of Smitten Kitchen Every Day and The Smitten Kitchen Cookbook   "Indian-ish is not only a collection of wonderful and delicious recipes but, more important, it sends a powerful message—we can all tap into our heritage to access the recipes that connect us to where our parents and grandparents came from." —Antoni Porowski, cohost of Queer Eye and author of the forthcoming Antoni in the Kitchen   "Priya Krishna is one of the most important young voices on the food scene and Indian-ish combines everything that makes her so brilliant: her unique take on Indian food, her clever prose, and her love of her family." —Kerry Diamond, editor-in-chief of Cherry Bombe   "Indian-ish isn't just a book of really appealing, well-tested, approachable recipes (and it is!), it's also about a mother-daughter relationship and taking pride in where and who you come from. It won't just make you excited to cook, it will also encourage you to consider the people and dishes that make you you. I'm so grateful that Priya and her mother, Ritu, shared theirs with us." —Julia Turshen, author of Now & Again, Feed the Resistance, and Small Victories and the Founder of Equity at The Table —