Afropessimism (Paperback)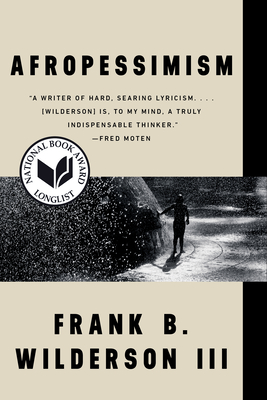 $18.95

Available In Store Now (while supplies last)
Staff Reviews
---
Afropessimism is unlike any book I've ever read. It is an intervention in a raging debate within Black Studies that has exploded out of the academy in the form of a gripping, moving, flawed, and highly readable memoir. It is a strange mixture of Franz Fanon's phenomenological explorations of Blackness, deeply personal memoir ala James Baldwin, gripping spy novel and philosophical exploration of the ontological nature of humanity at large. It is cited in the academic and popular releases of luminaries like Christina Sharpe and Fred Moten and was the subject of deep disagreement by thinkers like Lewis Gordon. It is obvious why it is a controversial book. You can disagree with Wilderson's bold claims, but you cannot deny the power of this tour-de-force. 
— Sammi
Description
---
"Wilderson's thinking teaches us to believe in the miraculous even as we decry the brutalities out of which miracles emerge"—Fred Moten
Praised as "a trenchant, funny, and unsparing work of memoir and philosophy" (Aaron Robertson,?Literary Hub), Frank B. Wilderson's Afropessimism arrived at a moment when protests against police brutality once again swept the nation. Presenting an argument we can no longer ignore, Wilderson insists that we must view Blackness through the lens of perpetual slavery. Radical in conception, remarkably poignant, and with soaring flights of memoir, Afropessimism reverberates with wisdom and painful clarity in the fractured world we inhabit."Wilderson's ambitious book offers its readers two great gifts. First, it strives mightily to make its pessimistic vision plausible. . . . Second, the book depicts a remarkable life, lived with daring and sincerity."—Paul C. Taylor, Washington Post
About the Author
---
Professor and chair of African American studies at the University of California, Irvine, and award-winning author of Incognegro: A Memoir of Exile and Apartheid, Frank B. Wilderson III lives in Irvine, California.