The Failed Promise: Reconstruction, Frederick Douglass, and the Impeachment of Andrew Johnson (Paperback)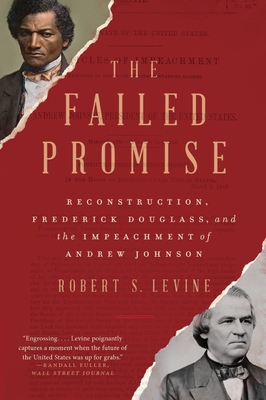 $16.95
Email orders@greenlightbookstore.com for information about this item.
Description
---
Robert S. Levine foregrounds the viewpoints of Black Americans on Reconstruction in his absorbing account of the struggle between the great orator Frederick Douglass and President Andrew Johnson.
When Andrew Johnson assumed the presidency after Abraham Lincoln's assassination, the country was on the precipice of radical change. Johnson, seemingly more progressive than Lincoln, looked like the ideal person to lead the country. He had already cast himself as a "Moses" for the Black community, and African Americans were optimistic that he would pursue aggressive federal policies for Black equality.
Despite this early promise, Frederick Douglass, the country's most influential Black leader, soon grew disillusioned with Johnson's policies and increasingly doubted the president was sincere in supporting Black citizenship. In a dramatic and pivotal meeting between Johnson and a Black delegation at the White House, the president and Douglass came to verbal blows over the course of Reconstruction.
As he lectured across the country, Douglass continued to attack Johnson's policies, while raising questions about the Radical Republicans' hesitancy to grant African Americans the vote. Johnson meanwhile kept his eye on Douglass, eventually making a surprising effort to appoint him to a key position in his administration.
Levine grippingly portrays the conflicts that brought Douglass and the wider Black community to reject Johnson and call for a guilty verdict in his impeachment trial. He brings fresh insight by turning to letters between Douglass and his sons, speeches by Douglass and other major Black figures like Frances E. W. Harper, and articles and letters in the Christian Recorder, the most important African American newspaper of the time. In counterpointing the lives and careers of Douglass and Johnson, Levine offers a distinctive vision of the lost promise and dire failure of Reconstruction, the effects of which still reverberate today.
About the Author
---
Robert S. Levine (Ph.D. Stanford; General Editor and Editor, 1820–1865) is Distinguished University Professor of English and Distinguished Scholar-Teacher at the University of Maryland, College Park. He is the author of Conspiracy and Romance: Studies in Brockden Brown, Cooper, Hawthorne, and Melville; Martin Delany, Frederick Douglass, and the Politics of Representative Identity; Dislocating Race and Nation: Episodes in Nineteenth-Century American Literary Nationalism; The Lives of Frederick Douglas; Race, Transnationalism, and Nineteenth-Century American Literary Studies; and (upcoming from Norton) The Failed Promise: Reconstruction, Frederick Douglass, and the Impeachment of Andrew Johnson. He has edited a number of books, including The New Cambridge Companion to Herman Melville and Norton Critical Editions of Hawthorne's The House of the Seven Gables and Melville's Pierre. Levine has received fellowships from the NEH and the Guggenheim Foundation. In 2014 the American Literature Section of the MLA awarded him the Hubbell Medal for Lifetime Achievement in American Literary Studies.
Praise For…
---
Levine's prose is often beautiful, but even more beautiful is his reliance on the truth of history…The Failed Promise is an important book for anyone on a quest to deeply understand the racism in America's history.

— DeNeen L. Brown, Washington Post

An engrossing account…Levine poignantly captures a moment when the future of the United States was up for grabs…In so doing, the author suggests the tragic consequences of failure and the way in which those consequences are still very much with us.
— Randall Fuller, Wall Street Journal

Fascinating…The Failed Promise looks closely at the perspective of Frederick Douglass and other Black leaders…Levine nimbly narrates the road to Johnson's eventual impeachment.

— Jennifer Szalai, New York Times

A fresh take on the racial and political turmoil that followed the Civil War. Author Robert S. Levine uses the intersecting lives of two American leaders to probe the underlying issues of the era. In the process, he highlights struggles that continue into the present day.
— Barry Alfonso, Pittsburgh Post-Gazette

A valuable, fresh look at a dark chapter in American history…[The Failed Promise] is a welcome addition to the growing catalog of books that implicitly link the past to the present.

— Eugene L. Meyer, Washington Independent Review of Books

Brilliantly spotlighting Douglass's rhetorical strategies and mounting despair over the failure of Reconstruction, this trenchant study speaks clearly to today's battles over voting rights and racial justice
— Publishers Weekly (starred)

Excellent, opinionated…Outstanding as both a biography and a work of Reconstruction-era history.
— Kirkus Reviews (starred)

This richly researched, comprehensive work is a crucial addition to American history sections that also traces the roots of government failure to quell anti-Black violence.
— Booklist (starred)

In this engaging study, Levine places the renowned abolitionist and speaker Frederick Douglass (1817-95) at the center of Johnson's presidency and impeachment. What emerges is a more complicated picture of Reconstruction, told from the viewpoint of Black Americans.
— Library Journal (starred)

In this engrossing new book, Robert S. Levine has penned a nuanced and detailed study of the 'hopes and frustrations of Reconstruction' during Andrew Johnson's presidency. While focusing on the relationship between Johnson and Frederick Douglass, the author also includes the views of numerous African American writers who witnessed Johnson's transformation from self-styled 'Moses to Black People' to betrayer of Reconstruction.The Failed Promise is a lesson for our times as we continue to confront our nation's unfulfilled promise of racial equality.

— Henry Louis Gates, Jr., author of Stony the Road: Reconstruction, White Supremacy, and the Rise of Jim Crow

Robert Levine's The Failed Promise is a fresh and distinctive account of the post-Civil War failure to advance the cause of racial equality. Levine tells the tragic story largely through the eyes of Andrew Johnson and Frederick Douglass, whom he portrays with vividness and nuance as they spar, separate, and sometimes converge--each looking to claim the support and prestige of the other until those efforts are overwhelmed by their constitutional, political, and personal differences. Failed Promise is a valuable book about the past. But it is also a sober reminder of how the quest for Black equality—starting with the incontestable, yet always contested, right to vote—remains unresolved in the present.

— Andrew Delbanco, author of The War Before the War: Fugitive Slaves and the Struggle for America's Soul from the Revolution to the Civil War

An illuminating study of Andrew Johnson's presidency and impeachment, offering a much-needed focus on African American leaders like Frederick Douglass and Frances Harper. Levine dramatizes the turbulent context in which they and their allies fought for the promise of Reconstruction, even as its tragedy unfolded. With expert readings and clear prose, this is a thoughtful and original study of the dynamics between official politics, social movements, and the Americans whose very lives hung in the balance.
— Holly Jackson, author of American Radicals: How Nineteenth-Century Protest Shaped the Nation

In this brilliantly conceived, immensely original, and beautifully written book, Robert Levine tells a new story of Reconstruction by focusing on the radically different visions of Andrew Johnson and Frederick Douglass along with other black leaders. Far more than a dual biography, The Failed Promise clarifies the hopes and tragedies of the era in ways that nothing else has, while also informing efforts to reconstruct the U.S. today. It should be required reading.

— John Stauffer, co-author of Picturing Frederick Douglass: An Illustrated Biography of the Nineteenth-Century's Most Photographed American