Parakeet: A Novel (Paperback)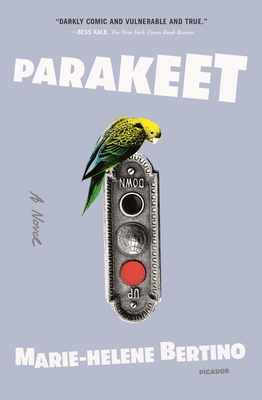 $17.00

Available In Store Now (while supplies last)
Staff Reviews
---
Can I ask that you read this without knowing what it's about, like I did? Is that too much to ask of you, good Greenlight patron? If so, fine, read on, I'll give you some clues. Pick up Parakeet if you're in the mood for something weird, hilarious, and terribly tender. The type of book that makes you question the strength of your closest relationships—but also? Talking bird and random body-swapping. I already said too much. 
— Shanni
Description
---
A Best Book of 2020 at Lit Hub, Electric Literature, and Refinery29
A Best Book of Summer at Vulture, Refinery29, Yahoo! Life, Alma, Subway Book Review, and Lit Hub
A Best Book of the Month at Entertainment Weekly, Hello Giggles, and PopSugar
EDITORS' CHOICE AT THE NEW YORK TIMES BOOK REVIEW
LONGLISTED FOR THE 2021 CARNEGIE MEDAL and the Joyce Carol Oates Prize

"Miraculous: spry and mordant, with sentences that lull you with their rhythms, then twist suddenly and sting." —Lauren Groff, author of Florida

"A twisting, strange delight, Parakeet shimmers a soft and generous light on the darkest of a woman's innermost thoughts." —Kristen Iversen, Refinery29

Acclaimed author of 2 A.M. at the Cat's Pajamas Marie-Helene Bertino's Parakeet is a darkly funny and warm-hearted novel about a young woman whose dead grandmother (in the form of a parakeet) warns her not to marry and sends her out to find an estranged loved one.

The week of her wedding, The Bride is visited by a bird she recognizes as her dead grandmother because of the cornflower blue line beneath her eyes, her dubious expression, and the way she asks: What is the Internet?

Her grandmother is a parakeet. She says not to get married. She says: Go and find your brother.

In the days that follow, The Bride's march to the altar becomes a wild and increasingly fragmented, unstable journey that bends toward the surreal and forces her to confront matters long buried.

A novel that does justice to the hectic confusion of becoming a woman today, Parakeet asks and begins to answer the essential questions. How do our memories make, cage, and free us? How do we honor our experiences and still become our strongest, truest selves? Who are we responsible for, what do we owe them, and how do we allow them to change?

Urgent, strange, warm-hearted, and sly, Parakeet is ribboned with joy, fear, and an inextricable thread of real love. It is a startling, unforgettable, life-embracing exploration of self and connection.
About the Author
---
Marie-Helene Bertino is the author of 2 A.M. at the Cat's Pajamas and the story collection Safe as Houses. She was the 2017 Frank O'Connor International Short Story Fellow in Cork, Ireland. Her work has received The O. Henry Prize, The Pushcart Prize, The Iowa Short Fiction Award, The Mississippi Review Story Prize, fellowships from MacDowell, Sewannee, and NYC's The Center for Fiction, and has twice been featured on NPR's Selected Shorts.

Formerly the associate editor of One Story and Catapult, she now teaches at NYU, The New School, and Institute of American Indian Arts in Santa Fe.
Praise For…
---
EDITORS' CHOICE AT THE NEW YORK TIMES BOOK REVIEW
LONGLISTED FOR THE 2021 CARNEGIE MEDAL

A Best Book of 2020 at Electric Literature, Refinery29 and Lit Hub
A Best Book of Summer at Vulture, Refinery29, Yahoo! Life, Alma, Subway Book Review, and Lit Hub
A Best Book of the Month at Entertainment Weekly, Hello Giggles, and PopSugar
Most Anticipated at The New York Times Book Review, The Millions, The Rumpus, and Belletrist

"What is Parakeet about? It's about an ambivalent bride. It's about PTSD, grief, forgiveness, bad mothers, womanhood, monogamy and the nature of time itself. It's about being a woman trapped by her subconscious and social conventions."
—Bess Kalb, The New York Times Book Review

"Mournful, witty, and heartbreakingly honest."
—Seija Rankin and David Canfield, Entertainment Weekly

"The fantastic infiltrates the story in overtly metaphoric ways . . . But Ms. Bertino establishes a rationale for the madness beyond matrimonial jitters . . . Like most trauma fiction, Parakeet becomes narrowly preoccupied by a single, all-defining moment that somehow both reconfigures the past and sets the course for the future . . . But unlike most books in the genre, the novel isn't lugubrious, instead steering into the experience of absurdity with a recklessness that keeps you guessing."
—Sam Sacks, The Wall Street Journal

"An utterly humane, beautiful, weird, and accepting book."
—Alexandra Kleeman, Lit Hub

"I've been a wee bit obsessed with this hypnotic, semi-surrealist jewel of a book ever since I tore through a galley in the first two days of the new year . . . Strange in all the most wondrous ways, Parakeet is a dazzling hybridic work of riotous humor and aching pathos, a cold feet fantasia of outlandish and extraordinary proportions, and, above all else, an exquisitely written mediation on buried trauma and grief. I'll bet good money that this shimmering, dreamlike novel is unlike any you've read before."
—Dan Sheehan, Lit Hub

"In this brilliant romp . . . the voice is madcap, mythic, and exact—a tender, potent tragicomedy written with unapologetic panache . . . This is a book with a rare and brave hunger for feelings. Chaos and mystery are not something done to its people. The magic rises from who they are . . . [and] the spiral of a deep emotional intelligence asking earnest, unanswerable questions."
—Claire Vaye Watkins, Electric Literature

"Parakeet contains so much more than the typical wedding narrative: it's a surrealist rendering of an ambivalent bride and the traumas she can't outrun no matter the occasion . . . As more of the bride's memories are unfurled and dissected, her forays into other dimensions become both rational and revelatory."
—Hillary Kelly, Vulture

"In embarking on Parakeet . . . one should never think they know what to expect . . . [T]he bride does not lead us down predictable paths. And perhaps this checking of expectations might make for good practice, depending on where you stand on the ceremony of weddings, and to a larger extent, the presumed behavior of women within marriage, relationships and society at large . . . sly, funny, heart wrenching, head-spinning and anything but expected."
—Juliet Helmke, Observer

"Dazzling . . . a simultaneously hilarious and gutting exploration of trauma, loss and displacement . . . Parakeet asks how we reconstruct a personal geography after trauma, how we assemble those elusive fragments into a coherent self, situated in a coherent timeline, a coherent set of relationships . . . Witty, raw and masterfully chaotic, Bertino's novel works for more than a moment—it's revelatory all the way through."
—Claire Fallon, Huffington Post

"A twisting, strange delight, Parakeet shimmers a soft and generous light on the darkest of a woman's innermost thoughts."
—Kristen Iversen, Refinery29

"Parakeet is a fever dream of a novel that you'll find yourself attempting to understand and longing to return to weeks after you've finished it . . . Believe it or not, anthropomorphic birds are not the strangest thing to happen in this book but, with each outlandish development, the story imparts lessons on aging, loss, acceptance, and love. Marie-Helene Bertino is a rare writer — one whose wit and eloquence is obviously innate but who will quietly knock you out with the alarming importance of what she has to say."
—Caroline McGregor, Buzzfeed News

"[Parakeet] could not be more perfect. It was everything that I wanted . . . bizarre, smart, heartbreaking, a funny, poignant story. The writing is almost ethereal."
—BookRiot

"Untold surprises, phantasmagorical segues, and jarring shocks await . . . Parakeet is a virtuosic, perplexing, challenging trip."
—Drew Hart, The Arts Fuse

"Bertino effectively weaves together complex timelines, dark humor, and sometimes too-strange coincidences into a tale of healing, intimacy, and womanhood."
—Zoe Hwang, Washington Independent Review of Books

"A weird, ultimately uplifting journey, equal parts whimsy and wisdom . . .[Marie-Helene Bertino] makes readers vulnerable, more connected, laughing along the way . . . The magic in Bertino's writing comes when her individually laudable sentences are pieced together like a mosaic . . . The effect is delightful, seamless, and unexpected."
—Taylor Hickney, World Literature Today

"Brilliant, chaotic, and fantastically untethered from humdrum reality . . . Bertino playfully, precisely builds a big world in these pages, somehow making the case that there's too much love, pain, and magic to ever fit in one story, and fitting it in all the same."
—Booklist (starred review)

"Self-assured, strange, and winning . . . in the bright, prismatic, and fleeting language of the internet age—Bertino traces The Bride's ping-pong journey in and out of the lives . . . [of] many memorable characters . . . The book's linguistic pyrotechnics and the shimmering, miragelike nature of Bertino's images demand a lot of the reader, but the relatability of The Bride's honest and earnest attempts to do her best with the uncooperative life she has been given resonate on a deep, perhaps even universal, frequency. A vivid book about lives visited by violent strangeness but lived with authentic humor and hope."
—Kirkus Reviews (starred review)

"Marie-Helene Bertino's fiction is miraculous: spry and mordant, with sentences that lull you with their rhythms, then twist suddenly and sting. Parakeet is a strange book in the greatest sense: it sunders reality in sudden transformations and slippages, in the depth of its aches, in the beauty it insists upon in the face of violence, and in the powerful joy that Bertino dowses deep under the surface of even the bleakest moments of her characters' lives."
—Lauren Groff, author of Florida

"[A] weird (in a good way!) and surrealist novel . . . Parakeet captures the frantic, fragmented life of the narrator. She is simply trying to do her best with the cards she has been dealt, and navigate her own tumultuous brain."
—Emily Burack, Alma

"Bertino impresses with this dreamlike, sardonic novel . . . Fans of Rivka Galchen will delight in [this] subtly fantastical tale."
—Publishers Weekly

"Marie-Helene Bertino is an expert in breaking a heart so cleanly that it releases actual magic. Give up your idea of what a book is allowed to be, and she will show you the whole quivering universe."
—Mira Jacob, author of Good Talk

"Bertino skillfully weaves together reality and flights of fancy as she tackles a wide variety of issues women face and the different ways to navigate these issues. An amusing yet instructive work about how personal perspective can change everything; highly recommended."
—Joanna Burkhardt, Library Journal (starred review)

"Marie-Helene Bertino is one of my favorite writers working today, and her latest is one rare gem of a novel. In Bertino's hands, anything seems possible, from a dead grandmother returning in the form of a bird to finding unexpected wonder in our strange and broken world, profound redemptions of the heart. Parakeet enchants and enthralls."
—Laura van den Berg, author of The Third Hotel