Now That I've Found You (Paperback)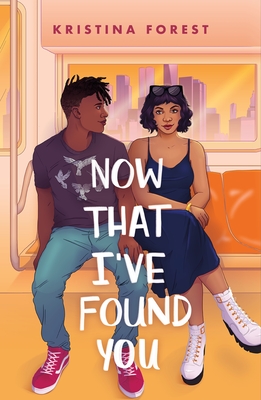 $10.99

Available In Store Now (while supplies last)
Staff Reviews
---
A month ago, I realized that in my two years at this bookstore, I have never had 1 romance novel as my staff pick. That means that customers and staff think that I am a person who does not read romance. The horror! The agony! Do you want to swoon over a Black YA romance? In Forest's sophomore novel, a young Black actress tries to revive her career after a sabotage from her "best friend" by going to Brooklyn to convince her legendary Black actress grandmother to do a TV appearance together at an award's show. Evie meets a Black boy named Miles, aka the sweetest musician EVER, a friend of her grandmother's. When the grandma goes missing one day, the pressure to secure Evie's future increases. Evie reluctantly teams up with Miles to find her grandma. The more time they spend the together, the more Evie realizes that maybe Miles was not sent as an obstacle to her plans after all.
— Danni
Description
---
"Through this pitch-perfect rom-com, Kristina Forest explores the legacy of family and what it means to be young and full of artistic passion. I was utterly charmed from start to finish." —Maurene Goo, author of Somewhere Only We Know

Now That I've Found You is a YA novel about searching for answers, love, and your eccentric grandma in all the wrong places.

Following in the footsteps of her überfamous grandma, eighteen-year-old Evie Jones is poised to be Hollywood's next big star. That is until a close friend's betrayal leads to her being blacklisted . . .

Fortunately, Evie knows just the thing to save her floundering career: a public appearance with America's most beloved actress—her grandma Gigi, aka the Evelyn Conaway. The only problem? Gigi is a recluse who's been out of the limelight for almost twenty years. Days before Evie plans to present her grandma with an honorary award in front of Hollywood's elite, Gigi does the unthinkable: she disappears.

With time running out and her comeback on the line, Evie reluctantly enlists the help of the last person to see Gigi before she vanished: Milo Williams, a cute musician Evie isn't sure she can trust. As Evie and Milo conduct a wild manhunt across New York City, romance and adventure abound while Evie makes some surprising discoveries about her grandma—and herself.
About the Author
---
Kristina Forest is the author of the Young Adult romance novels, I Wanna Be Where You Are, which The New York Times called, "a big hearted story about being brave enough to go for what you want," and Now That I've Found You, a Book Riot Best Book of 2020. Her next YA romance, Zyla & Kai, will publish in Summer 2022 with Kokila/Penguin Young Readers. She earned her MFA in Creative Writing at The New School, and she can often be found rearranging the books on her huge bookshelf.
Praise For…
---
"In Now That I've Found You, a sweet love story unfolds on the streets of New York City alongside an old Hollywood mystery. Through this pitch-perfect rom-com, Kristina Forest explores the legacy of family and what it means to be young and full of artistic passion. I was utterly charmed from start to finish." —Maurene Goo, author of Somewhere Only We Know

"This glowing blend of romance, mystery, and New York City warmed my heart and made me laugh out
loud." —Ashley Woodfolk, author of The Beauty That Remains

"[A] swoonworthy ending straight out of the movies." —Kirkus Reviews