Anita de Monte Laughs Last: A Novel (Hardcover)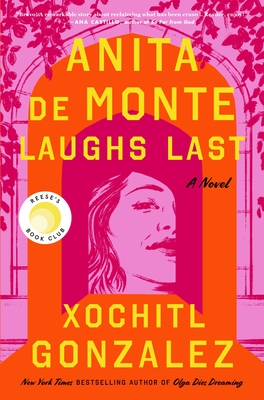 $28.99

Coming Soon - Available for Pre-Order Now
Description
---
New York Times bestselling author Xochitl Gonzalez delivers a mesmerizing novel about a first-generation Ivy League student who uncovers the genius work of a female artist decades after her suspicious death

"Incandescent." —Publishers Weekly (starred review)

Who gets to leave a legacy?

1985. Anita de Monte, a rising star in the art world, is found dead in New York City; her tragic death is the talk of the town. Until it isn't. By 1998 Anita's name has been all but forgotten—certainly by the time Raquel, a third-year art history student is preparing her final thesis. On College Hill, surrounded by privileged students whose futures are already paved out for them, Raquel feels like an outsider. Students of color, like her, are the minority there, and the pressure to work twice as hard for the same opportunities is no secret.

But when Raquel becomes romantically involved with a well-connected older art student, she finds herself unexpectedly rising up the social ranks. As she attempts to straddle both worlds, she stumbles upon Anita's story, raising questions about the dynamics of her own relationship, which eerily mirrors that of the forgotten artist.

Moving back and forth through time and told from the perspectives of both women, Anita de Monte Laughs Last is a propulsive, witty examination of power, love, and art, daring to ask who gets to be remembered and who is left behind in the rarefied world of the elite.
About the Author
---
Xochitl Gonzalez is the New York Times bestselling author of Olga Dies Dreaming. Named a Best of 2022 by The New York Times, TIME, Kirkus, Washington Post, and NPR, Olga Dies Dreaming was the winner of the Brooklyn Public Library Book Prize in Fiction and the New York City Book Award. Gonzalez is a 2021 MFA graduate from the Iowa Writers' Workshop. Her nonfiction work has been published in Elle Decor, Allure, Vogue, Real Simple, and The Cut. Her commentary writing for The Atlantic was recognized as a finalist for the Pulitzer Prize. A native Brooklynite and proud public school graduate, Gonzalez holds a BA from Brown University and lives in her hometown of Brooklyn with her dog, Hectah Lavoe.
Praise For…
---
"Gonzalez crafts excoriating and whip-smart commentary on the art world's Eurocentric conceptions of beauty and the racism faced by first-generation students of color. This is incandescent." —Publishers Weekly (starred review)

"Funny, piercing, and full of moxie, Anita de Monte Laughs Last is unsparing in its assessment of what goes on behind the castle walls, the price people pay to be accepted into those hallowed halls, and what it takes to liberate oneself from the dangers that lurk within. Really, what Xochitl Gonzalez has written is an affirmation for anyone who's ever had to 'work twice as hard to get half as much.' Anita de Monte Laughs Last is rollicking, melodic, tender, and true. And oh so very wise." —Robert Jones, Jr., author of The Prophets, a finalist for the National Book Award for Fiction

"Bravo! A remarkable story about reclaiming what has been erased. Reader, enjoy!" —Ana Castillo, author of So Far From God