Victories Greater Than Death (Unstoppable #1) (Paperback)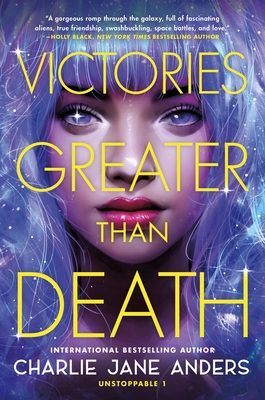 $9.99

Available In Store Now (while supplies last)
Other Books in Series
This is book number 1 in the Unstoppable series.
Staff Reviews
---
Maybe you (or someone you know) aren't aware you need a queer-teen-romance-meets-space-opera in your life—but YOU DO! Charlie Jane Anders is a pioneer of utopian fantasy fiction, imagining better worlds rather than worse ones, though there are plenty of bad guys to battle and lots of derring do by our swashbuckling multi-gendered heroes. (And it's the first of a trilogy!)
— Jessica
Description
---
Outsmart Your Enemies. Outrun the Galaxy.

"Just please, remember what I told you. Run. Don't stop running for anything."

Buckle up your seatbelt for Victories Greater Than Death, a thrilling YA sci-fi adventure set against an intergalactic war from internationally bestselling author Charlie Jane Anders.

Tina never worries about being 'ordinary'--she doesn't have to, since she's known practically forever that she's not just Tina Mains, average teenager and beloved daughter. She's also the keeper of an interplanetary rescue beacon, and one day soon, it's going to activate, and then her dreams of saving all the worlds and adventuring among the stars will finally be possible. Tina's legacy, after all, is intergalactic--she is the hidden clone of a famed alien hero, left on Earth disguised as a human to give the universe another chance to defeat a terrible evil.

But when the beacon activates, it turns out that Tina's destiny isn't quite what she expected. Things are far more dangerous than she ever assumed--and everyone in the galaxy is expecting her to actually be the brilliant tactician and legendary savior Captain Thaoh Argentian, but Tina....is just Tina. And the Royal Fleet is losing the war, badly--the starship that found her is on the run and they barely manage to escape Earth with the planet still intact.

Luckily, Tina is surrounded by a crew she can trust, and her best friend Rachel, and she's still determined to save all the worlds. But first she'll have to save herself.
About the Author
---
Charlie Jane Anders is the author of Victories Greater Than Death, the first book in the young-adult Unstoppable trilogy, along with the short story collection Even Greater Mistakes. Her other books include The City in the Middle of the Night and All the Birds in the Sky. Her fiction and journalism have appeared in The New York Times, The Washington Post, Slate, McSweeney's, Mother Jones, the Boston Review, Tor.com, Tin House, Conjunctions, Wired Magazine, and other places. Her TED Talk, "Go Ahead, Dream About the Future" got 700,000 views in its first week. With Annalee Newitz, she co-hosts the podcast Our Opinions Are Correct.
Praise For…
---
Praise for Victories Greater Than Death
"Charlie Jane Anders has a rich and delicious talent—and a wickedly funny voice that the world really needs right now." —LeVar Burton, Reading Rainbow, Roots, Star Trek

"Victories Greater Than Death is a gorgeous romp through the galaxy, full of fascinating aliens, true friendship, swashbuckling, space battles, and love." —Holly Black, New York Times bestselling author

"A stunning, strange, and highly entertaining novel, one I hope ushers in a new wave of YA science fiction." —Mark Oshiro

"I loved it, so much fun - you have more ideas in a paragraph than most people put in an entire book [and] a fun spaceship adventure. Wonderful work!" —Javier Grillo-Marxuach, writer and co-executive producer of The 100

"Victories Greater Than Death bursts off the page, brimming with life, love, humor and adventure. It's Charlie Jane Anders's galaxy, we just live in it." —Amie Kaufman, The Illuminae Files, The Aurora Cycle.

"A story of enduring friendship, fighting for what's right, and the complications of claiming destiny-- an effervescent, fast-paced journey through the stars." —Veronica Roth, author of the Divergent series and Chosen Ones.

"It's properly, wickedly exciting - I devoured it! How Anders packs so much power and energy into her prose is astonishing. These characters - and the adrenalin, the sheer excitement- will live on in my head long after the last page. Glorious. And the most amazing thing of all is her imagination - to think of a new evil superpower for a villain should be impossible. Completely impossible. Everything's been done, every sodding thing. Until this arrives. Dazzling. Horrifying. GENIUS. A beautiful book. I loved it, can you tell?!" —Russell T. Davies

"Charlie Jane Anders's Victories Greater than Death will refresh and rehydrate you. Funny, tender, vivacious, it focuses on saving the universe by making friends and fighting fascists... This book bubbles over with charisma." —The New York Times

"A thrilling intergalactic adventure perfect for fans of classic sci-fi storytelling." —BookPage, Most Anticipated YA 2021

"Charlie Jane Anders has been quietly building a reputation as one of the most imaginative writers working in sci-fi and fantasy today, and Victories Greater Than Death just confirms it." —BookBub, Best Fantasy and SciFi 2021

"Charlie Jane Anders has written the super-fun, out-there fantasy sci-fi space opera adventure that we all need to lose ourselves in right now." —Ms. Magazine, Most Anticipated Reads 2021

"Anders's multi-faceted and sparklingly distinct worldbuilding...make this book such a smashing read." —Shelf Awareness

"Anders' storytelling is fleet-footed and clever, bursting with fun quips . . ." —New York Journal of Books

"This compulsive read perfectly captures teenage voices and feelings even as it travels from a normal teenage life on Earth to galactic battles." —Buzzfeed

Praise for Charlie Jane Anders and The City in the Middle of the Night

The City in the Middle of the Night has been nominated for a 2019 Hugo in the Best Novel category

"Charlie Jane Anders' imagination is one of the most vital in science fiction." —Brian K. Vaughan

"A stunning novel." —Edan Lepucki, author of Woman No. 17

"Wildly inventive." —Audrey Niffenegger, author of The Time Traveler's Wife

"Like a classic from another timeline… This book has notes of Ursula K. Le Guin and Philip Pullman." —Robin Sloan, author of Mr. Penumbra's 24-Hour Bookstore

"I highly recommend [it]." —Anthony Rapp, Broadway star

"I f—ing love this book. It is really, really breathtaking."—Daveed Diggs, Grammy and Tony Award-winning actor