Your Houseplant's First Year: The Care and Feeding of Your First Grown (Hardcover)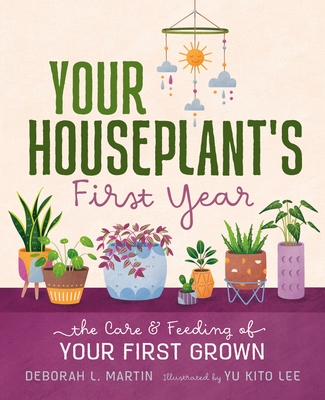 Description
---
Grow joy in your home with Deborah L. Martin's Your Houseplant's First Year, featuring illustrations by artist Yu Kito Lee!

Being a good plant parent doesn't mean lavishing your plant with artisanal water, the shiniest pots, or the fanciest fertilizers. It's about consistent, loving care. No matter whether you choose to bring home an easy-growing peace lily or a strong-willed fiddle-leaf fig, the friendly, expert advice packed inside these pages will help you give your plant everything it needs to thrive.

-Discover the care that's best for your own special sprout
-Troubleshoot problems and help your plant achieve its full potential
-Expand your plant family with simple propagation tips
-Record special moments—from your plant's arrival in your home to milestones in growth

Get ready to enjoy a natural, healing bond; new confidence in your plant-parenting abilities; and pride in every achievement your sprout reaches. Your Houseplant's First Year will be your trusted guide as you grow together!
About the Author
---
Deborah L. Martin has been sharing her love and knowledge of indoor and outdoor gardening for decades. A former extension agent in the USDA's urban gardening program, she has contributed to numerous books and magazines, including The Complete Compost Gardening Guide, Rodale's Organic Life, and GROW: The Magazine of the Pennsylvania Horticultural Society. When she's not gardening or writing, she manages the Bethlehem Farmers Market at Lehigh University in Pennsylvania.

YU KITO LEE is a Japanese illustrator and motion designer based in Los Angeles. She draws inspiration from the tiny details of everyday life and exploring vibrant sceneries during her travels. Her work ranges from stationeries, greeting cards, books and magazines. When she's not drawing, you can find her out and about with her family, listening to live music, visiting museums, trying new food, reading, and traveling to faraway places. She is the illustrator of Your Houseplant's First Year.